Paul Ryan wants to rock, but Dee Snider's not going to take it.

The vice presidential candidate had been blasting Twisted Sister's "We're Not Gonna Take It" at his rallies, but But Twisted Sister's fishnet clad front man has demanded Ryan stop using the hit-song.

The Queens, N.Y., front man said that his band didn't want to be associated with the congressman's "social agenda that we find particularly disturbing," adding, "there is almost nothing he stands for that I agree with except the use of the P90X."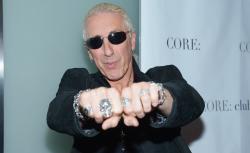 Ryan's camp responded, "We're Not Gonna Play It anymore." 

Snider joins a long line of musicians who have asked politicians—more often Republicans—to stop using their music while campaigning. And he's the second to already voice his political differences from Ryan, whose apparent love of the band Rage Against the Machine was not returned by Occupy Wall Street-loving guitarist Tom Morello.
Hey—Ryan can always find something in the oeuvres of Megadeth, Ted Nugent, or Hang Williams Jr..
Video by Krishnan Vasuvedan.