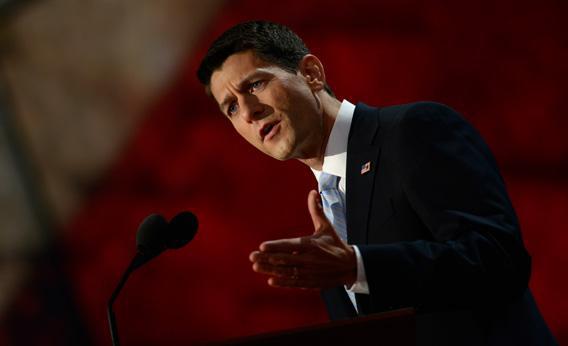 On Wednesday night, the Tampa Bay Times Forum belonged to a man of crystal-blue eyes and numerous lies: Paul Ryan. Ryan's speech was also notable for its aggressive, combative tone (As John Dickerson observes, the veep nominee has so far neglected his role as the ticket's "idea man" in order to play the attack dog). Unsurprisingly, the second Slate/SurveyMonkey snap poll—posted at the end of the address and closed at 9:30 Thursday morning—reveals an electorate torn between approval for Ryan's steeliness and dislike for his pitt-bull style.
We asked registered voters across the country: "Did Representative Paul Ryan's speech make you more likely or unlikely to vote for Mitt Romney and Paul Ryan in the upcoming election?" (Information on respondents is available here. More information about SurveyMonkey Audience is here.) Overall, answers confirmed an election in stalemate, as around 53 percent of survey takers reported that they felt moved neither one way nor the other. But Ryan's broadsides uncorked passionate feelings in viewers, too: Almost 24 percent said they were "much more unlikely" to vote Republican after watching the nominee talk, while 14 percent declared themselves "much more likely."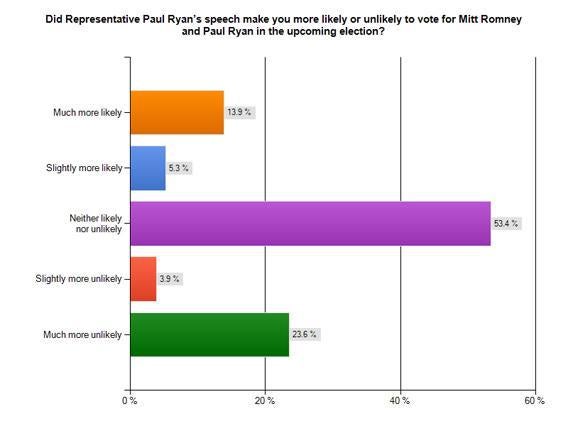 Paul Ryan's words Wednesday night did not help Mitt Romney's problems with the fairer sex. Men responded more warmly than women did to Ryan's bare-knuckled show of strength. About 17 percent of male survey-takers claimed they were "much more likely" to cast a ballot for Romney and Ryan after hearing Ryan fume about shuttered factories and lapsed leadership. Only 10.6 percent of women said the same.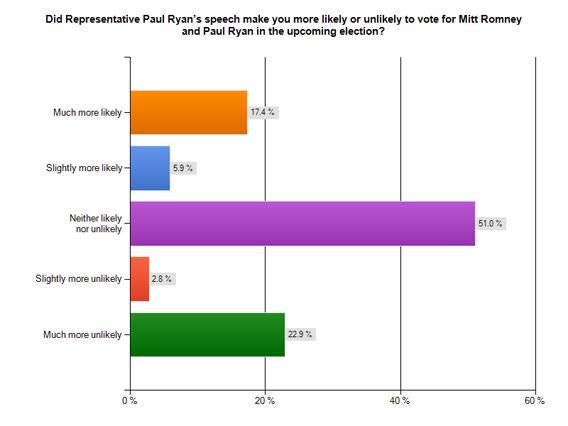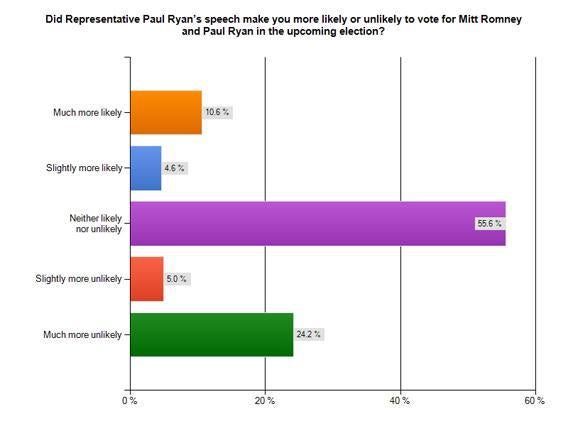 Not surprisingly, Ryan's divisive approach has led to a splintered result. On Thursday night, we will find out how Mitt will build on the words that went before him. Will he try to deal the final blow or will he to take the stage in a calmer, more affable style? After Ryan's performance, there may be no more need for this team to show its teeth.
---