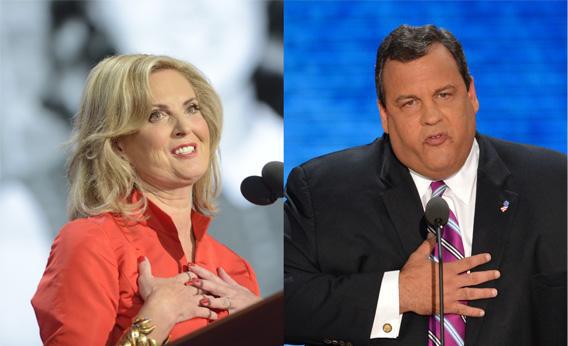 Read the rest of Slate's coverage from the GOP convention.
The spin machines are a-whir in the wake of Tuesday's speeches at the Republican National Convention. Did Ann Romney succeed in making women across the country fall in love with her husband? Was New Jersey Gov. Chris Christie secretly testing the waters for a presidential run? We're as interested in romance and long-term campaign strategy as the next person, but what we really want to know is: Did Ann Romney or Chris Christie affect the way Americans will vote in November? We teamed up with SurveyMonkey once more to conduct an overnight survey of registered voters throughout the nation. (Information on respondents is available here. More information about SurveyMonkey Audience is here.) The questions were posted right at the end of each speech, and responses were gathered up until 9:30 a.m. sharp on Wednesday. Here's how the snapshots developed.
The query "Did Ann Romney's speech make you more likely or unlikely to vote for Mitt Romney and Paul Ryan in the upcoming election?" elicited the poll equivalent of a blank stare. Almost 64 percent of respondents reported that Ann Romney had failed to sway them in either direction. While roughly 17 percent felt that the speech nudged them toward voting Romney-Ryan, a comparable 19 percent were repelled from the GOP ticket.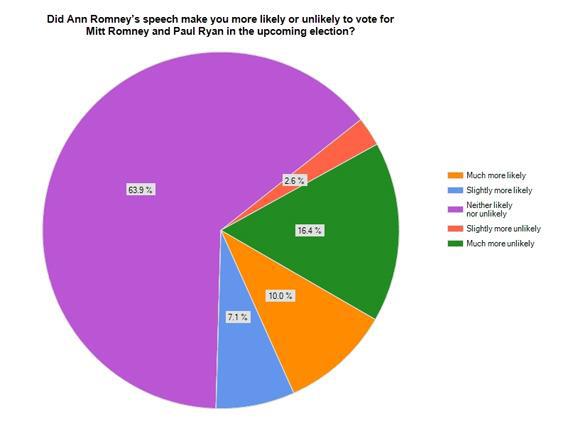 Next, we asked, "Did Governor Chris Christie's Keynote Speech make you more likely or unlikely to vote for Mitt Romney and Paul Ryan in the upcoming election?" Again, survey takers seemed to be on autopilot. Sixty-three percent revealed that Christie's fiery disclosure of "hard truths" didn't affect the way they'd cast their ballots one way or the other, and 17 percent resolved anew to vote for Romney after hearing the speech. About 20 percent said that the address made them less likely to vote for Romney.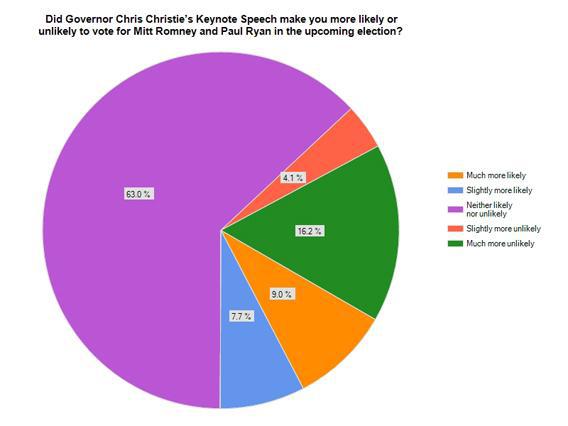 These numbers indicate that, while media pundits may have drawn strong conclusions about Ann Romney and Chris Christie's performances Tuesday night, the electorate had a far more muted response. Neither speaker was really able to move the needle (or shake up the Etch A Sketch) in terms of projected voting behavior. Now it's up to the men on the ticket to win voters to their side Wednesday and Thursday nights.
---