Monday markets have taken Friday's Apple vs. Samsung verdict and run with the results.
The South Korean company's $1 billion in penalties can be added to bigger losses, after taking a 7.5 percent hit in early trading Monday that represented a $12 billion loss of market value. Apple meanwhile enjoyed a significant bounce, with shares up 2.3 percent in early trading—amounting to a $15 billion boost. Nokia—the struggling Finnish phone maker—also moved upward in market share, likely because of a strategic move not to rely on the Android operating system but rather Microsoft's Windows OS, which wasn't threatened by the case.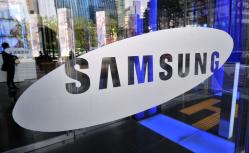 Along with wins and losses on the trading floor, the landmark case in which Apple argued the Android phone maker was infringing upon its designs may also deliver other market waves. Some analysts guessed the ruling could allow the iPhone maker to try and stop sales of Samsung products in the United States.—currently the largest global market for smartphones. And sure enough, Apple has done just that. Hide your Galaxy S III's everyone! Apple's transformation from scrappy outsider to competition-crushing behemoth continues.
Video by Dallas Jensen.