Team Kristen Stewart is currently out—but perhaps after his interview with Jon Stewart on The Daily Show, Team Robert Pattinson is back in … the limelight at least.

The Twilight star made his first real public appearance on the show this week following news last month that his girlfriend and co-star of the popular movie series Kristen Stewart had cheated on him with Snow White and the Huntsman director Rupert Sanders.
Pattinson, who has been quiet about the scandal, joked with Jon Stewart that he made the mistake of not hiring a publicist to handle the flap because he was too cheap. And though the Daily Show host tried to get some gossip out of Pattinson with some Ben & Jerry's, the English actor didn't offer much insight into his personal travails while promoting his new movie, Cosmopolis.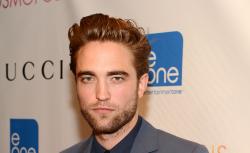 Pattinson better get that publicist soon though—the second part of Twilight Saga: Breaking Dawn is set to be released in November.
Video by Dallas Jensen.