There was a time when Mitt Romney preferred to address the American electorate while standing on a good old-fashioned wooden soapbox.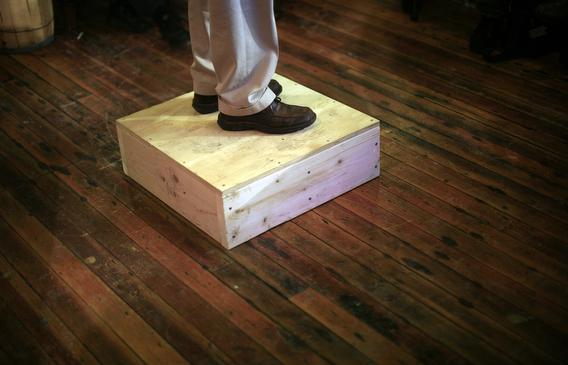 But as the presidential campaign has worn on, the candidate has become more adventurous. Here, he demonstrates his folksiness—and agility—by delivering a stump speech from atop a picnic table outside the Jefferson County Fairgrounds building in Golden, Colo., last week.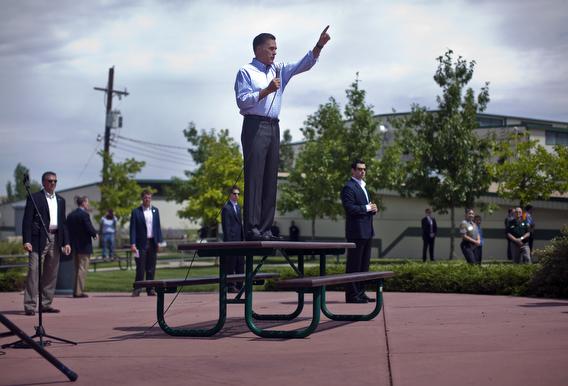 When there's no table available, Romney has proven his versatility by speaking to his followers while perched on a chair.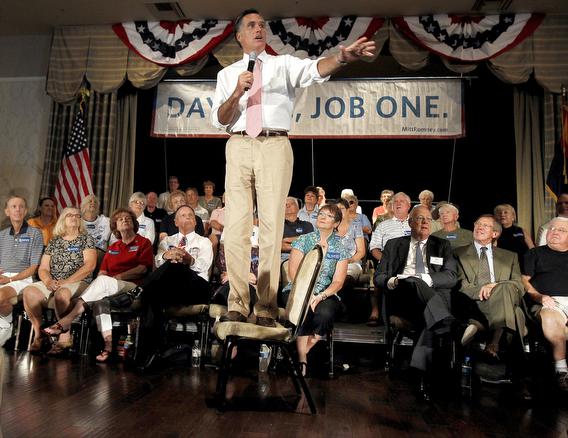 … though when it's a wobbly chair, Romney wisely enlists the assistance of a strong staffer, such as Garrett Jackson (below).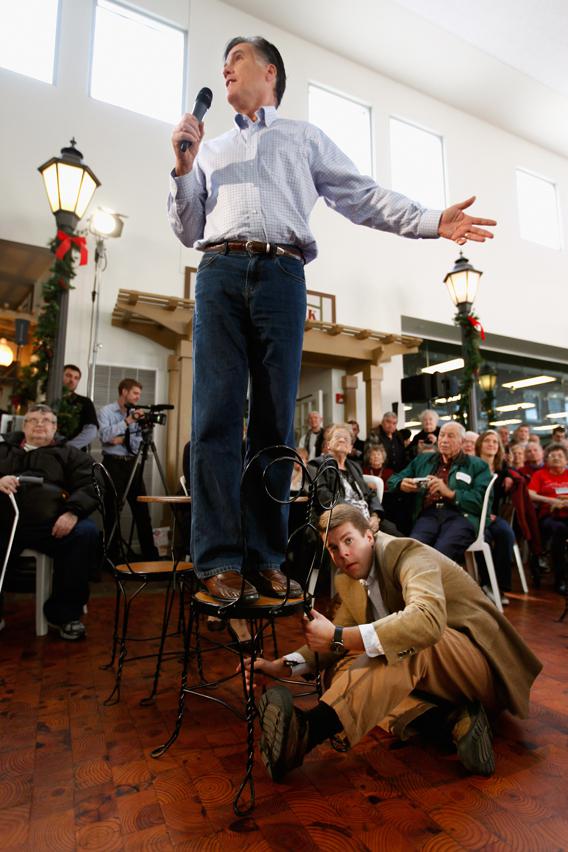 Romney appears to live by the motto Any chair is fair game. Homely upholstered chairs, stately alumni chairs—they've all served as  pedestals for the former governor during his two presidential campaigns.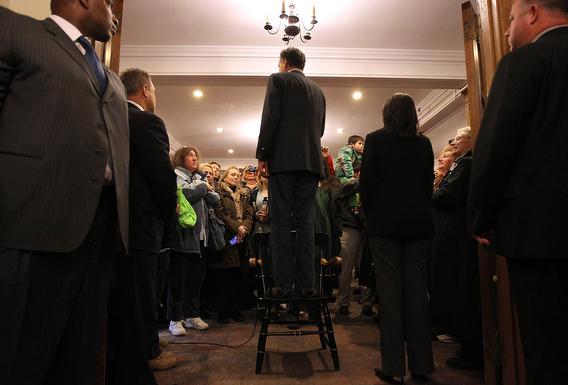 Sometimes, Romney asks his wife, Ann, to join him for some chair-standing—but only after she's taken off her heels. The campaign can't be going around poking holes in people's upholstery.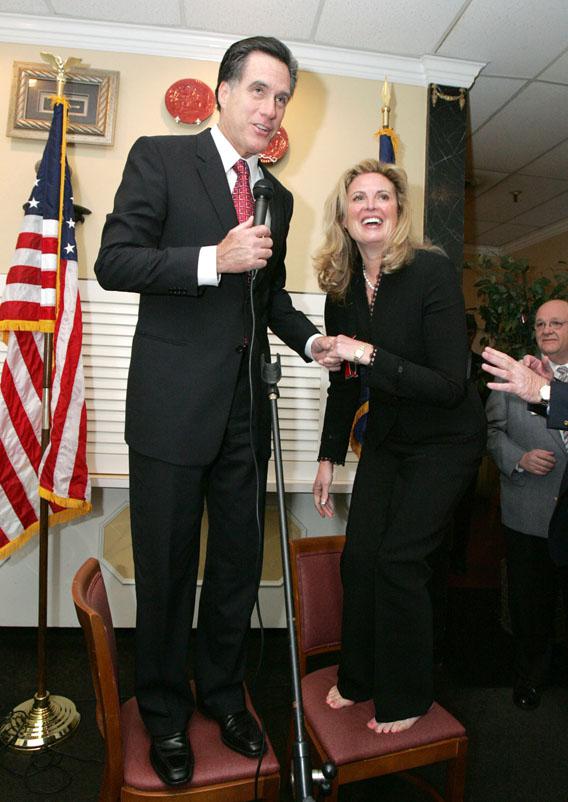 Romney's gusto for standing on things allows him to show off a down-to-earth side of himself. It says, "Maybe I'm not the presidential contender you want to drink a beer with, but I'm not too rich to stand on your cooler."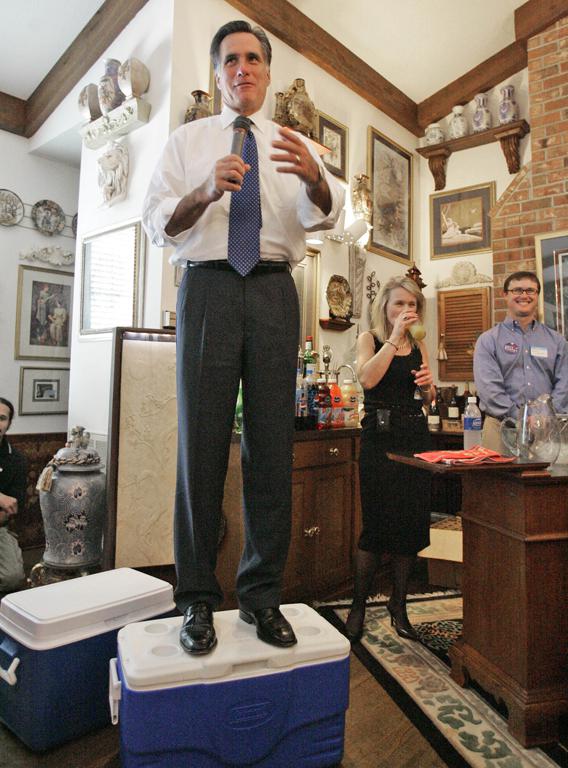 Is standing on things always a good idea? Take this speech at Happy Joe's in Clinton, Iowa. Even without the chair, Romney would be way taller than all of the diner's seated patrons. Is it really necessary to elevate himself further? Does it give him an air of command—or just make him seem out of touch?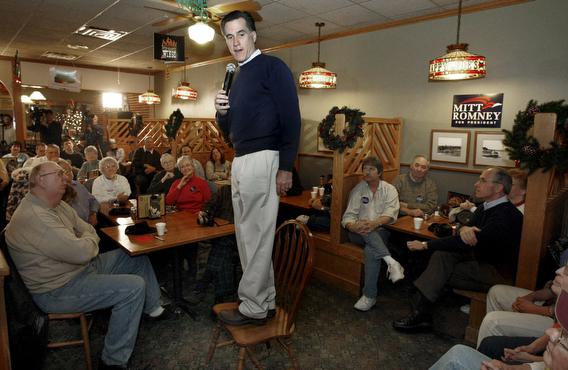 Still, you have to hand it to Romney. Chair/table/cooler standing is no easy feat. Many politicians try it, but only a few succeed in pulling it off with dignity. Missouri Gov. Matt Blunt's expression, as he joins Romney atop a Dave & Buster's pool table back in 2008 during Romney's first bid for president, suggests he'd have preferred to remain floor-bound. Romney, by contrast, looks like a man who is passionate about making his pitch to the American people from a table covered in felt.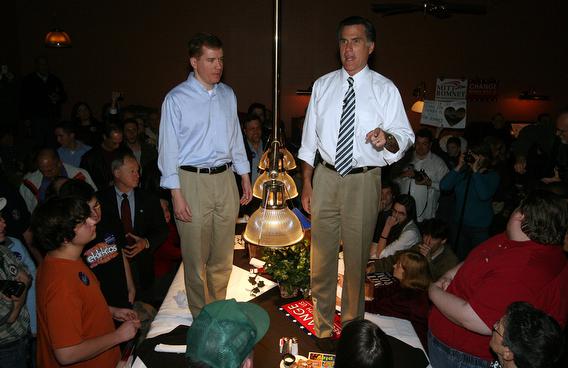 Related Slideshow: Let Them Eat Cake, But Not 7-Eleven Cookies, Dissecting Romney's Sweet Tooth

---