Remember Mark Sanford, the former South Carolina governor who found his true love in Argentina despite being married to his wife? The affair is over… and it's been replaced by a new engagement.
According to the Argentine paper Clarin, Sanford popped the question to Maria Belen Chapur by getting a restaurant they were eating at to tell her she had won a prize: a bag with an engagement ring inside. The paper reports the two lovers kissed and cried and traded "promises of eternity."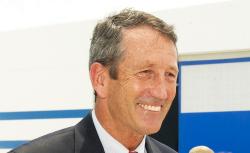 Sanford disappeared while serving as the governor of South Carolina in 2009, first telling reporters he was hiking the Appalachian Trail. The rising Republican star later revealed he was actually having an extramarital affair with Belen Chapur in Argentina. In the wake of the scandal, Sanford was censured by his party, and though he spoke of trying to "fall back in love" with his wife Jenny Sanford, eventually divorced her. He also called Belen Chapur his "soul mate," and, you have to admit, he HAS now proposed to her. So, Mazel Tov! Good luck with marriage No. 2?
Video by Paca Thomas.