Sloppy, computer-using eaters of the world, rejoice!
Logitech wants to help you enjoy watching movies on your computer and still be able to keep the popcorn kernels out of your daily keystrokes—so the computer peripherals company released the K310, its first fully washable keyboard.
Designed to be submerged in up to 12 inches of water, the keys are also laser cut so the letters won't fade from repeated scrubbing. Logitech does recommend you keep the USB port out of the water, but otherwise, after washing the keyboard, simply leave it to air dry.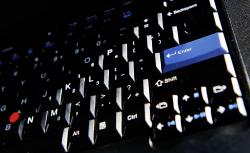 We look forward to the invention of the waterproof laptop, considering some of us have had to replace our whole rig after spills. But a cleanable keyboard is certainly welcome … ice cream sundaes for the whole office!
Video by Jim Festante.