In HBO's Game of Thrones, the political messaging and positioning is brutal. So perhaps it's no surprise the author of the books, George R. R. Martin, has decided to weigh in on some real world politics with the subtlety of a 50-pound-mace swing.
Blogging on his hilariously vintage website, R.R. Martin laments efforts of "Republicans and their Teabagger allies" for what he describes as voter suppression in important swing states ahead of the presidential election. Speaking of recent GOP pushes for stricter voter ID laws, the best-selling author said the people behind such efforts are clearly not actually Republicans, "since clearly they have scant regard for our republic or its values. They are oligarchs and racists clad in the skins of dead elephants."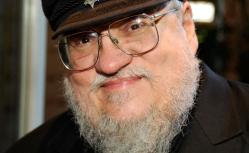 Recent studies suggest voter fraud is largely nonexistent in the United States, so perhaps Martin's Stark-like anger is warranted. Either way, we're starting to doubt HBO producers' claims that putting a George W. Bush head on a spike in Season 1 wasn't political.
Video by Paca Thomas.