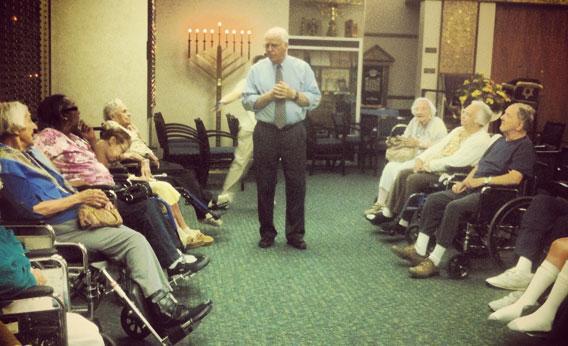 DANBURY, Conn.—The New Milford Patriots' fourth annual Tax Day Tea Party took place on April 15, near a flag-bedecked gazebo in the center of town. Former Republican congressman and current U.S. Senate candidate Chris Shays found the stage and grabbed a microphone.
"Thank you for loving your country!" said Shays. He spotted a Gadsden flag, the semi-official banner of the Tea Party, and rubbed the fabric. "This is our heritage," said Shays. He turned and walked toward the modern American flag, and repeated the laying-on of hands. "This is our heritage, it's our present, it's our future."

Many hacks and strategists have struggled to define the "Tea Party candidate." Almost no definition is broad enough to cover Chris Shays—elected to the Connecticut legislature in 1974, moved up to Congress in 1987, losing his seat in the 2008 Obama wave. He was one of the GOP's trustier pro-choice votes. He sponsored campaign finance reform legislation. Anybody holding a vote on gun control? Better call Chris.
In the past year, though, since announcing his comeback bid, Shays has tried to hotwire a connection to the new Republican Party. The sponsor of a health care reform bill that demanded state-by-state insurance mandates now pledges to repeal Obamacare. In New Milford, Shays apologized for his last vote to raise taxes, in 1991. "I voted for a luxury tax," he sighed, "and all I did was put boat manufacturers out of work."

He's slowly won over some critics. "I got the impression that he learned from his mistakes," said Al Brant, organizer of the New Milford group. To prove it, all Shays has to do is win the Republican primary on Tuesday
It's tough to find people who think he can. The odds-on favorite to win the nomination here is Linda McMahon, co-founder (with her husband, Vince) of World Wrestling Entertainment, net worth around $232 million, the 2010 Republican candidate, spender of more than $62 million on her two campaigns. McMahon beat Shays at the state GOP convention, and the last poll of the race gives her a 68-20 lead on the Last Republican Moderate.

"If I win this election, I won't be surprised," said Shays on Friday. "If I lose this election, I won't be surprised, because it all depends on who votes. Mrs. McMahon has broader support, and [it's as] thin as paper."
I caught up with Shays on Friday at the Jewish Home for the Elderly in Fairfield. He was scheduled to talk to retirees at 10 a.m. He arrived early to be introduced to a Korean War veteran named Archer Karnes.
"Thank you for your service," said Shays.

"Why don't you send me a check, then?" said Karnes.
Shays laughed; he could brag about his old constituent service if he wanted, but maybe this wasn't the year for it. He worked a steadily  filling synagogue of residents, most of them in wheelchairs, sometimes putting his hand on one chair as he took a knee and talked to two people. When the residents were assembled, he told them some decades-spanning anecdotes about the wise voters and statesmen he'd known. He accidentally referred to the prime minister of Israel as "President Netanyahu," then apologized: "I keep thinking of him as Bibi." He'd been to Israel 15 times.

The pitch, when he gets around it, was a softer, gentler remix of the Paul Ryan plan. "You don't need to be afraid that Social Security won't be there," he said. "You don't need to be afraid that Medicare won't be there. You don't need to be afraid that Medicaid won't be there. The people you need to worry about are your kids, and your grandkids."
After the meeting, as Frank Sinatra tunes played over the P.A. system, Shays chatted with reporters about the winnability of the race and about just how conservative he was willing to be. "At one of those first [Republican presidential] debates," he said, "when they had, like, 10 candidates, they were asked if they'd take $10 of spending [cuts] for $1 of tax increases. They all said they wouldn't. I'd have said: 'Would you repeat the question again?' When they repeated the question, I'd have said, 'I'll take it.'"
Fiscal policy was cake. Social issues were a little trickier. As pro-choice as he is, Shays couldn't endorse the new HHS rule that requires health care plans to pay for birth control. "You have a separation of church and state," he said. "It means religious freedoms for individuals, but also religious freedoms for institutions. If you work for an institution that has certain religious beliefs, you have to respect them, and understand you might not have the same." He'd back Mitt Romney's position on the rule, but he wouldn't endorse the "war on religion" line Romney's used to describe it. "I don't think there's a war on religion," said Shays, "and I don't think there's a war on women. People use these terms, and it stifles debate. Let's have an honest discussion."

Shays wrapped up and headed to his next meet-and-greet, in Stamford. I headed to Danbury, where Linda McMahon would appear to open her ninth campaign office. (Shays has only one.) A helpful volunteer in a LINDA shirt waved me to a parking space, "right there behind the BMW." Inside the office, staffers were handing out four kinds of free T-shirts, two thick campaign-policy brochures on full-color cardstock, and a cornucopia of Italian sandwiches and pasta salad. The WWE fortune buys one hell of a spread.
Once the room was full, McMahon and Danbury Mayor Mark Boughton emerged to rally troops. She lumped in Shays with her likely Democratic opponent, Rep. Chris Murphy—"career politicians" who never so much as moved a widget. They didn't have economic plans, and she did. "It's detailed. It's online. No other candidate has that kind of plan. As a matter of fact, Congressman Murphy says his is a work in progress. It's time to stop having things in progress. The people of Connecticut want action."
McMahon plunged into crowd, ping-pong-ing between people with ultra-specific local issues ("We've got to get rid of that sludge") and homemade energy-independence plans and just plain fans who still wore LINDA 2010 gear. Then she stopped to talk to reporters, who asked how her vaunted plan actually added up to the campaign's promise— "$6,000 in savings per year for the average Connecticut family." To get to that number, McMahon assumed that all of the Bush tax cuts would expire in January 2013 (something neither Republicans nor Democrats want) and define the "average" family as one that makes $125,000 per household per year.

"I'm talking about a plan that goes into effect in 2013," she said. "You can go online and plug it right in. I'm basing my plan on the fact that the current tax law, which Congress voted on last week to not expire—that will be the tax law." I asked how McMahon would pay for the tax cuts, and she pointed at the campaign brochure tucked under my arm. "I have a total six-point plan. You have it there. Part of it is to reduce spending."

The candidate moved on. Her supporters kept on talking, and signing up for grass-roots campaign tasks, and explaining why they'd ruled out voting for Chris Shays, the old congressman who'd reformed his moderate ways.
"He's the man who came to dinner," said Randolph Summ, a retired marketing manager. "If you stay in Washington too long, you start doing what you're told to do. Here's my idea. In January, we move the House of Representatives out to Alaska, and the Senate out to some unpleasant place in North Dakota."
---