Antarctica has yielded implications about global warming that are chilling.
Drilling deep into the seabed just off Earth's southernmost continent, researchers have discovered remnants of a near-tropical rainforest that existed 50 million years ago.
During this period, known as the early Eocene era, the Earth experienced dramatic greenhouse conditions with high atmospheric carbon dioxide counts and palm trees growing around the South Pole.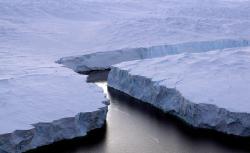 Ancient history, right? Not according to an article in this week's issue of Nature, where Antarctic researchers warn that, while the 30 percent growth of our CO2 levels since the Industrial Revolution are still a fraction of the Eocene's, they are projected to see those very same prehistoric greenhouse gas levels within decades, issuing in the start of another Eocene-like epoch.
Looks like it might be time to start passing out sunblock to those penguins.
Video by Paca Thomas.