While most of us rely on Google maps to get us where we're going, some are using the service to search for locations from thousands of years ago that we might have forgotten—like ancient pyramids.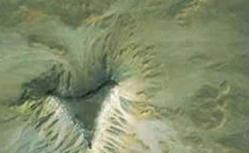 A satellite archaeological researcher from North Carolina claims to have found images of sites in Egypt that may be lost pyramids and other man-made structures. Located 90 miles apart along the Nile River, the satellite images show mounds of earth in strange groupings and features unusual for the natural environment. One image shows four distinct mounds with a larger triangular-shaped plateau; another looks to contain a four-sided mount approximately 150 feet wide; and a third shows three small mounds in a similar configuration to the Giza Plateau pyramids.
Of course, observers thought they had found the lost city of Atlantis off the coast of Africa earlier this year, only to have Google point out that the apparent grid under the ocean was a computer glitch. Still, we have to wonder, what would Indy have done in the era of satellite images?
Video by Jim Festante.