Climate scientists explain the record-breaking heat this summer by saying the planet is experiencing strange weather from man-made global warming.

Columnist George Will, whose level of expertise on the matter seems to originate from growing up in Illinois without air conditioning, has a different take:
"How do we explain the heat? One word: Summer."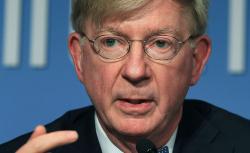 Speaking on ABC's This Week, Will scoffed at the heat waves and drought that so far have killed 35 people, broken over 3,000 all-time heat records across the United States, and spurred some of the worst western wildfires in recorded history. "Come the winter, there will be a cold snap, lots of snow, and the same guys … will be lecturing us," he said. "We're having some hot weather. Get over it."
Will has argued that global warming has stopped, while data collected around the globe increasingly shows a warming planet.
Video by Paca Thomas.