Penn State failed miserably, again and again and at the highest levels, to stop Jerry Sandusky. That's the conclusion of the independent investigation the university's Board of Trustees delegated to former FBI director Louis Freeh. His report indicts Penn State's vaunted football culture, its most powerful officials—including late football coach Joe Paterno and former President Graham Spanier—and doesn't spare the Board of Trustees either. The report turns cold fact after fact into a bloodbath.
What's amazing about the factual recitation, in retrospect, is what Freeh calls the "striking lack of empathy" of Spanier, Paterno, former athletic director Tim Curley, and former Senior Vice President Gary Schultz. Freeh is right: The four men failed utterly to think from the point of view of the nameless boys they had to know, on some level of consciousness, were at risk. Instead, the Penn State officials made the terrible mistake of saving their concern for Sandusky. He was the one whom Spanier talked about being "humane" toward—an impulse that kept him and his colleagues from properly investigating the reports of Sandusky's misconduct in the Penn State showers and referring the whole matter to the police or state child welfare authorities, which is where it belonged.

The Freeh report ascribes much of the Penn State leadership's behavior to "a culture of reverence for the football program," calling the athletic department "an 'island' where staff members lived by their own rules." There's convincing evidence to support these claims. For one, the football program chose not to participate in sexual abuse awareness workshops provided by the university (and the university apparently agreed to exempt the program). Even more damning is the resistance to a comprehensive review of Penn State's athletic department in November 2011. Regarding the creation of a body to review the school's sports programs, Penn State general counsel Cynthia Baldwin told Spanier, "If we do this, we will never get rid of this group." Penn State's president agreed—the athletic department didn't want anyone looking over its shoulder, and the university's leadership was happy to comply, even after the extent of Sandusky's crimes had become clear.
The scattered evidence that Spanier and his colleagues were thinking first about bad publicity, second about Sandusky, and hardly at all about the children involved, goes back to 1998 and continues up to the moment they lost their jobs. That, of course, followed the indictment of Sandusky for dozens of counts of sexual abuse in 2011. He was convicted of 45 counts last month. Through his lawyers, Spanier still avows that he was never told about the 2001 incident in which assistant coach Mike McQueary said he saw Sandusky rape a boy in the locker room showers. It's hard to believe him and in some ways it hardly matters.

What comes through, even in the elliptical emails of an administrator who knows better than to write too much down, is their concern about negative attention, legal liability, and pesky oversight committees. Schultz's handwritten notes from 1998, when he first heard about Sandusky showering with a young boy on Penn State's campus, ask the following haunting questions: "Is this opening of pandora's box? … [O]ther children?" Freeh believes that Schultz, Spanier, Paterno, and Curley cared more about their own reputations than the answers to those questions—that "to avoid the consequences of bad publicity, the most powerful leaders at the University … hid critical facts relating to Sandusky's child abuse from the authorities, the University's Board of Trustees, the Penn State community, and the public at large."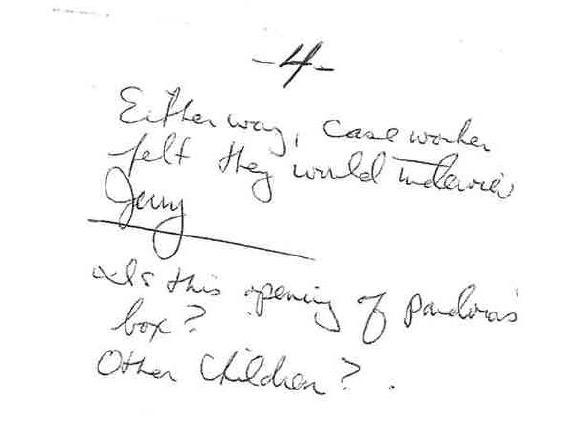 There is also a telling section about Penn State's failure to comply with the Clery Act, which passed in 1990 to keep students and parents informed about campus safety.* Named for Jeanne Clery, a Lehigh University student who was raped and murdered by a man who went into her dorm at night through unlocked doors, the law requires colleges and universities to report the number of "sex offenses, forcible or nonforcible," including rape, acquaintance rape, attempted rape, and unwanted fondling or touching, that take place on and off campus. The law says schools must disclose all sex offenses reported to local police or "campus security authorities," and since 1999, the Department of Education has had rules telling schools how to follow these safeguards. Penn State was out of compliance with those rules. Other schools have been, too, to be fair. But the university's disregard for the Clery Act is telling: Spanier knew little about it. The law is a powerful tool for tracking sex crimes. If Penn State had taken it more seriously, they could have ended Jerry Sandusky's monstrous reign over his victims years earlier.

One particularly heartbreaking passage in Freeh's report reveals how Penn State officials allowed Sandusky to continue to operate as a predator. The football coach's behavior first came to light in May 1998, when the mother of a boy Sandusky showered with on campus reported the Penn State coach to university police. During an interview with a psychologist, the boy said he felt "like the luckiest kid in the world" to attend Penn State games as Sandusky's guest. "The boy did not want anyone to talk to Sandusky because he might not invite him to any more games," the report continues.
Even after he retired in 1999, Sandusky used his connections to Penn State to lure victims who wanted to be close to the inner sanctum of Nittany Lions football. Spanier, Schultz, Curley, and Paterno provided the coach the continued visible connection to the program that he needed. In a 1999 article announcing Sandusky's retirement, Paterno called his former defensive coordinator "a person of great character and integrity"—a description that came after the revered head coach had been clued in that Sandusky was a possible sexual predator.
Joe Paterno lurks in the shadows of the Freeh report, his name invoked repeatedly in communications between Spanier, Curley, and Schultz. Though Paterno is not always in the room when the school's ostensible leadership meets, his presence is felt. In 1998, for instance, Curley emails Schultz to say that "Coach is anxious" for an update on the initial investigation into Sandusky showering with a young boy.
There is no direct evidence of Paterno's role in the decision not to report the rape Mike McQueary witnessed. Freeh, though, makes strong insinuations that Paterno was a puppetmaster behind the scenes, quoting a senior Penn State official's description of Curley as the coach's "errand boy." The report states that witnesses "consistently told the Special Investigative Counsel that Paterno … knew 'everything that was going on.' " A janitor who saw Sandusky showering with a young boy didn't report it, Freeh says, because "football runs the University" and that it "would have been like going against the President of the United States."

The Freeh report will allow Paterno's supporters to cling to the belief that the coach played a limited role in the university's horrific decision-making. But the lack of a smoking gun shouldn't convince us, as Paterno's family declares in a statement, that the coach had no fear of bad publicity and was "fooled" by Sandusky. Paterno, like Spanier, Curley, and Schultz, heard enough to know that Sandusky needed to be reported to law enforcement. During his long tenure at Penn State, nothing happened with regard to the Nittany Lions football program that Joe Paterno didn't want to happen. The school's abdication of its duties rest in large part on his shoulders.
Graham Spanier, too, bears responsibility for what happened at Penn State. Schultz and Curley are facing charges for lying to a grand jury about the Sandusky investigation. Freeh's report doesn't state directly that Spanier should be indicted, too. But that's the decided implication. Spanier knew enough to suspect Sandusky. As Penn State's president, he could have spared those kids by picking up the phone and calling the police. He could have done that throughout the years on any number of occasions. He didn't. He should face the consequences now.
Correction, July 13, 2012: This article originally stated that the Clery Act passed in 1998. It was amended that year but originally passed in 1990. (Return to the corrected sentence.)