Following is an excerpt from Little America: The War Within the War for Afghanistan, by Rajiv Candrasekaran, out this week from Knopf.
As top Army commanders cast about for spare troops to go to Kandahar in 2009, they settled upon a brigade that had never deployed to a war zone and had spent the previous year preparing for a tour in Iraq. The unit's commander, Col. Harry Tunnell, got the message about his new mission while he and his troops were conducting their last major exercise before shipping off to Iraq.
Tunnell had been gravely wounded in Iraq, where he led a battalion of paratroopers with the 173rd Airborne Brigade. In October 2003, his convoy was ambushed by insurgents near the city of Kirkuk. He was shot through the leg when he stepped out of his Humvee. Although he eventually regained the ability to walk, running long distances was out of the question. That would have been a career ender for most officers, but the Army didn't want to lose Tunnell. He was among the very few African-American infantry battalion commanders, and his aggressiveness on the battlefield had led senior officers to predict that he would eventually become a general. He was allowed to substitute the running portion of his annual physical fitness test with a bicycle ride.
In 2007, he was given command of a newly formed unit—the 5th Brigade of the 2nd Infantry Division. The 3,800-strong contingent was equipped with what was then the Army's newest combat vehicle, the Stryker, an eight-wheeled armored transport that can carry 11 soldiers and travel up to 60 miles per hour. Strykers offered much better protection to the occupants and contained far more sophisticated computer systems than the Humvees the Army had used during the first five years of the Iraq War. But they had one massive design flaw: Their hulls, which were flat, could not deflect the force of bombs buried in the road. As Tunnell was forming his brigade, the Army replaced Humvees in other units heading to Iraq and Afghanistan with MRAPs, heavy trucks that had V-shaped hulls that could diffuse roadside bomb explosions. But Tunnell's brigade got only a few. The Army had invested billions of dollars in designing and building the Stryker, and the Pentagon brass wanted to see it in action.
With little time to instill cohesion in a team of soldiers who had never worked together, Tunnell had drilled them repeatedly and aggressively. But he also encouraged his officers to seek guidance outside the military bubble. A young captain spent a few months studying small-business economics at the University of Washington. Another officer took a weeklong executive program on negotiation at Harvard. Tunnell himself went to an MIT seminar on innovation.
Despite his emphasis on education, Tunnell had a dim view of the intellectual underpinnings of counterinsurgency theory. He didn't think insurgencies were defeated by protecting villages and winning over residents through reconstruction and development projects. He believed that the top priority was to kill the bad guys. As he had convalesced in 2005 at the Army War College, he had written a short book about his experiences in Iraq that included a spirited prebuttal to the COIN (counterinsurgency) fever that would sweep the military a few years later:
Military leaders must stay focused on the destruction of the enemy. It is virtually impossible to convince any committed terrorist who hates America to change his or her point of view—they simply must be attacked relentlessly. … It is appropriate for military units to develop goals that include appreciating local culture, improving quality of life for the populace, and promoting good governance whenever these concepts improve access to the enemy. However, if the pursuit of them does not advance one's knowledge of threats and a unit's capability to maintain the offensive, then they are of little practical value as tactical or operational objectives. Destruction of the enemy force must remain the most important step to defeating terrorists and insurgents.
By the time Tunnell took over the brigade, every other infantry commander preparing to go to Iraq or Afghanistan was using Gen. Petraeus' COIN manual as his lodestar. But not Tunnell. He told his soldiers that their approach to security operations would be drawn from an Army manual that outlined counterguerrilla operations, which had long been superseded by Petraeus' playbook. Instead of emphasizing the protection of civilians, it instructed commanders to "give priority to destroying the guerrilla forces." He called his unit the "Destroyer Brigade" and ordered that its vehicles be painted with the motto SEARCH AND DESTROY. When the brigade was at the National Training Center in Fort Irwin, Calif., officers there grew concerned about Tunnell's aggressive approach, but more senior Army commanders did not force him to abandon it. And selecting another brigade for the Kandahar mission was out of the question—the Army's force generation command was emphatic: No other units were available for an Afghanistan rotation.
The counterguerrilla orientation influenced preparations. Tunnell boasted that his soldiers expended more ammunition during training than any other brigade headed to Afghanistan. In order to get higher scores than their peers at combat exercises, he left more experienced officers in command of platoons instead of using the opportunity to train newly arrived second lieutenants, who would have to take charge once they got to Afghanistan. One lieutenant in the brigade told me that the first time he spoke to his entire platoon over the radio was when they were in combat.
One of that lieutenant's responsibilities was to disburse money for small reconstruction projects. Such outlays were a priority for Petraeus, who called cash his most important weapons system. But the lieutenant never received any training on how to requisition funds or how to properly distribute them. "Almost all of our training focused on combat," he said. "All of the other stuff—learning about the culture, the language, the plan for reconstruction—that was an afterthought."
Tunnell's brigade set up its headquarters at the recreation-packed Kandahar Airfield in August 2009. Instead of concentrating near the city, which was a priority for Gen. Stanley McChrystal, then-commander of U.S. troops in Afghanistan, the brigade's four battalions were sent in different directions by Mart de Kruif, the Dutch general who ran the NATO headquarters in Kandahar at the time. He said he had Taliban problems everywhere and did not possess enough force to deal with all of them. With the Marines augmenting the British, neighboring Helmand province had almost 20,000 foreign troops. Kandahar province, which was larger and more important, had fewer than 10,000. "The prize was Kandahar city, but we didn't act like it," said Tunnell's deputy, Lt. Col. Karl Slaughenhaupt.
Top Canadian officers told Tunnell's staff that no more than 30 to 40 insurgents were in the district. The Stryker battalion in Shah Wali Kot, the 1-17 Infantry, soon learned how wrong the Canadians were. On their first patrol into Arghandab, they were pummeled with gunfire and lost a Stryker to a roadside bomb. A week later, during a mission to guard polling sites for the presidential election, Sgt. Troy Tom stepped on a mine while crossing a footbridge. The bomb was so massive that Tom, a strapping 21-year-old Navajo from New Mexico, disappeared entirely.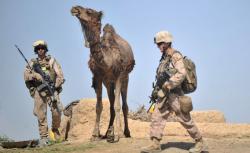 His platoon mates heard the loud explosion, but they had spread themselves so far apart that they had not seen what occurred. Some thought Tom might have been kidnapped, prompting the battalion commander to declare him missing and push more men into the area to conduct a search. Soon thereafter, a soldier looking for Tom stepped on another large bomb, and he too disappeared. With two soldiers gone, Tunnell dispatched his fourth battalion, which had been designated as a rapid reaction force for all of southern Afghanistan, into Arghandab to help with the search. It devolved into a 40-hour firefight with insurgents, many of whom operated in dozen-man squads as the Americans did. Although the soldiers eventually recovered some remains of both missing men, five more comrades were wounded. Among them was 25-year-old Lt. Dan Berschinski, a 2007 West Point graduate who lost both of his legs to a mine.
Tunnell decided to rewrite his battle plan. Based on Canadian reports, he had assumed Shah Wali Kot was the principal Taliban sanctuary north of Kandahar. But the fighting in Arghandab indicated otherwise. His intelligence officers soon estimated that there were between 300 and 400 enemy fighters in the area. In late August, Tunnell devoted half his forces to a two-battalion operation intended to clear insurgents from the northern part of the district. The 1-17 was to focus on a trio of villages not far from where Tom had been killed. Another battalion was to flush insurgents out of the south.
On the second week of the operation, I met with Lt. Col. Patrick Gaydon, an artillery officer who had been put in charge of the Stryker brigade's special troops battalion, which was responsible for governance, reconstruction, and development. After he spent an hour telling me about the universities at which his fellow officers had taken classes before deploying and the sophisticated computer network that allowed soldiers to send and receive vast quantities of data while in the field, I mentioned that I would be heading to Arghandab in two days to attend a shura, a meeting of local elders. Gaydon asked how I was getting there. I told him the general who was Tunnell's boss had arranged a flight. Gaydon was delighted; it meant he'd have a chance to get there as well. Gaydon's unit had been in Afghanistan for a month, but it had not yet received any vehicles suitable for travel beyond the Kandahar Airfield. Because his team's mission was not to kill bad guys, it was at the end of the list for supplies.
I was astounded. Given his focus on government and reconstruction, Gaydon seemed like the officer who really needed to attend the shura. Over in the Marine areas, then-Brig. Gen. Larry Nicholson had insisted that his battalion commanders hold districtwide shuras within 48 hours of their arrival in Nawa and other parts of the central Helmand River Valley. But Tunnell did not regard community meetings as a priority for his operation. The brigade's State Department political adviser, Todd Greentree, had to meet with Tunnell three times to persuade him to authorize the shura. His ability to flout COIN, despite McChrystal's unambiguous embrace of it, revealed the lack of control the supposedly disciplined U.S. military had over officers who were spread across a vast country and sometimes reported to non-American generals. Tunnell was fighting the war he wanted to fight, and nobody stood in his way.
Gaydon spent the day after our meeting drafting a speech he would deliver to the crowd of turbaned elders. "I want you to know that we are undertaking this military operation so that we can create an environment where we can work shoulder-to-shoulder with district leaders, elders, and the people of Arghandab over the long term," he wrote. But the morning we were supposed to leave, we learned our flight had been canceled. A delegation of visiting members of Congress wanted to fly around the south, and our helicopter had been reassigned as an airborne tour bus. We settled for an early breakfast in the chow hall with Greentree, who fumed over an omelet and hash browns that the brigade was missing an opportunity to win over residents and steel them against Taliban intimidation. "This is really, really bad," he said.
He couldn't understand why a few vehicles could not have been diverted to transport them to the meeting. "Is this the most important thing we could have done in the operation today? Absolutely."
 Gaydon tried to put the best spin on it. The shura would go on, he said. He planned to have an officer in Arghandab read the speech he had written. At least Tunnell will be there, I said consolingly. He's the one who matters. The Afghans always want to talk to the man in charge.
"Tunnell won't be attending," Greentree said. "He said he'll be too busy directing the combat operations."
The next day, I asked Greentree how it had gone. Fine, he said, for the first 30 minutes. Then two AH-64 Apache attack helicopters strafed a nearby building, and the attendees fled.
The following months would yield more missteps. Tunnell's soldiers once drove a Stryker with loudspeakers through a village during an insurgent's funeral, announcing "This is what happens when you fight us." At a meeting with State Department officials, one Stryker officer dismissed a request that the brigade focus more on development, saying, "Come on, buddy, we're just here to rack 'em and stack 'em." The word around the Kandahar Airfield was that Tunnell had told his men that by the time they were done with their tour, the Afghans "will be praying to Mecca 10 times a day." The brigade spent almost nothing from a multimillion-dollar military account for reconstruction projects during its first three months. And when a company commander posted on the wall of his base a quote from McChrystal's COIN guidance—"sporadically moving into an area for a few hours or even a few days solely to search for the enemy and then leave does little good, and may do much harm"—a senior officer ordered him to take it down. Not long after, Tunnell reassigned that company commander to a desk job.
Senior military officials at the Kandahar Airfield and at NATO headquarters in Kabul grew alarmed. Their concern extended well beyond Tunnell's rejection of COIN strategy. The 1-17 seemed to be making tactical mistakes. It quickly pulled out of areas it assaulted, which allowed insurgents to return. But its most egregious sin, the officials said, was using Strykers in places where its soldiers should have been walking. Barreling through the district in a vehicle that afforded the driver only a narrow slit of a window meant the soldiers couldn't scan the ground for bombs as effectively as if they had been on foot.
Stryker after Stryker hit roadside bombs. Sometimes there would be a fatality. If the vehicle's occupants were lucky, there would be just a bunch of broken bones and concussions. But the insurgents began to adapt by building bigger and bigger bombs. In late October, when a Stryker rolled over one buried in the banks of the Arghandab River, seven soldiers and their interpreter died.
The second-ranking U.S. commander in Afghanistan, Lt. Gen. David Rodriguez, raised the question of whether Tunnell should be relieved of his position. But the top U.S. general in Kandahar, Mick Nicholson, told Rodriguez he thought Tunnell could change. A few months later, Nicholson confided to colleagues that he regretted not having pushed for Tunnell's removal.
Some officers who worked for Tunnell told me the brigade had been thrust into an untenable position. Its four battalions were spread across a huge swath of southern Afghanistan, often forcing them to remain in their vehicles for drive-by patrols instead of bedding down in villages and walking the beat. Their area was crawling with far more insurgents than they had expected. And every time they thought they were gaining traction, senior commanders upended their mission. In mid-September, de Kruif ordered the second battalion that had participated in the Arghandab operation to move to the far western part of Kandahar province to replace a departing U.S. Army unit that had been working for the Canadians. That left the 1-17 responsible for all of Arghandab.
With so many insurgents holed up in Arghandab, Tunnell's men needed to take forceful action. But they failed to offer enough carrots with their sticks, and they failed to grasp the political winds within the NATO headquarters. Had Tunnell been just as tough but described his methods as COIN—instead of counterguerrilla operations—he would have run into less trouble with his superiors.
In November, British Maj. Gen. Nick Carter took charge of southern Afghanistan from de Kruif. He immediately concluded that the Stryker battalion was the wrong unit for Arghandab. He pushed it back to Shah Wali Kot and brought in a battalion of the 82nd Airborne Division, which had originally been sent to Afghanistan to help train the country's army.
By then, 21 soldiers from the 1-17 had been killed in Arghandab. It was the highest death toll of any U.S. Army battalion in Afghanistan.
Two months after the Stryker brigade returned home to Washington state, five soldiers from the battalion Tunnell had sent to far western Kandahar province were charged with murdering unarmed Afghans for sport and keeping their fingers as trophies. A subsequent Army investigation by a one-star general absolved Tunnell of any direct blame for the killings. By then Tunnell had relinquished command of the brigade. Had he still been on the job, he should have been relieved of command, the general determined, in part because of "his failure to follow instructions and intent."
Tunnell's stubbornness cost the United States a critical chance to pacify key areas around the most important city in southern Afghanistan during the first year of Obama's presidency. "We had a great opportunity," Mick Nicholson told a fellow general. "Sadly, we lost a year."
Excerpted by permission of Knopf, a division of Random House, Inc. All rights reserved. No part of this excerpt may be reproduced or reprinted without permission in writing from the publisher.