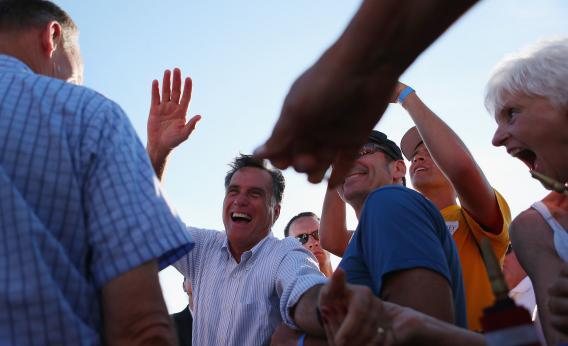 Democrats cleaned up in Michigan four years ago, Barack Obama winning the normally competitive state by double-digits after John McCain's campaign publicly abandoned it weeks before election day. But a new poll shows Mitt Romney, who grew up in suburban Detroit and whose dad was the state's governor in the mid 1960s, leading the president 45 to 43 percent, within the margin of error.
Romney's opposition to the auto bailout, which saved tens of thousands of jobs and prevented the collapse of the major car companies headquartered in the state, doesn't seem to be damaging him. The same goes for his absurd attempts to connect with the electorate during the GOP primary, including his now-famous line that "the trees are the right height."
Neither campaign has been advertising in the Wolverine State, but polls like this one might inspire Romney's team to invest some cash – which, in turn, will force Obama's re-election campaign to divert attention from must-win swing states like Ohio and Florida to defend what was supposed to be safe territory.
It seems unlikely the GOP will be able to carry the state's 16 electoral votes in November, but if President Obama is compelled to spend time there in September or October, it will mean he's in deep trouble nationally.
---