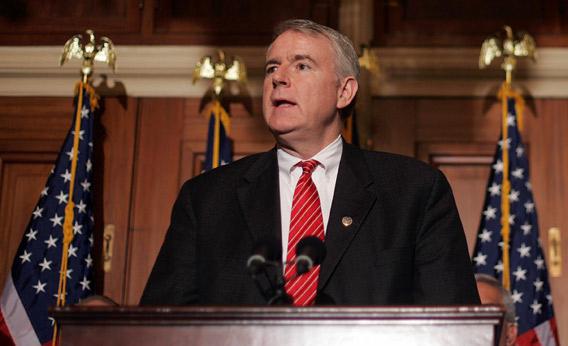 MILWAUKEE—Please don't ask a Wisconsin Democrat if he's excited about his new candidate for governor, Tom Barrett. Don't ask if he thinks Democrats can win next month's recall election and expel/martyr Gov. Scott Walker. The second question makes folks nervous. The first is just unfair. Barrett's victory party, at a spiffy Hyatt Regency in the town he's governed since 2004, brings together the kind of desperate, whoever-can-win activists that you usually have to hit a Mitt Romney rally to meet.
"Look at the alternative," explained Phil Sanborn, an AP history/government teacher relaxing in the hotel ballroom with a Miller beer. "They don't have any choice to be unified behind this guy. Scott Walker's the best unifying force the Democratic Party's ever had in my estimation. All he has to do is get up and talk." Not to dump on the victor, anyway. "It's not like Barrett's a bad candidate. He's a great candidate."
The Barrett campaign is the final political stage of a protest movement that began 15 months ago. Walking through his victory party is like touring an interactive Disney World ride about the Scott Walker backlash. Outside the ballroom—a bluegrass band called Mudriver Lee, singing the labor movement songs that once rang out in the occupied Capitol dome. Near the door—state legislators and aides for other Democratic campaigns, talking about how Walker's tax and labor reforms could be undone. Near the bar—a full-time, Russian-born protester who prefers to be called "Chilly Chill" swapped stories with an old UAW activist named John Stokes. Chill is wearing a "Mr. Bubbles" T-shirt. Stokes is missing the tips of two fingers, lost in a work accident years ago. These are the sorts of people who populated the pro-collective bargaining, anti-Walker movement at the beginning, when it was more fun.
"There was such a big movement," muttered Chill, "and then it accomplished nothing. America stopped working. Hundreds of thousands come to the Capitol, they protest, and all their effort is fruitless?"
"No, no," said Stokes. "All of that made people aware." The protests turned into recalls against Republican state senators, which turned into a recall of Gov. Walker. "He promised 250,000 jobs, right? We don't have that. He's not sharing revenue with the schools. He screwed a lot of people. He screwed people that voted for him, man!"
The dreamy movement stage of the Wisconsin battle is over. The raw political stage—a  four-week campaign between Barrett and Walker—has begun. It's a rematch of the campaign Barrett lost two years ago. This primary was a rematch of the campaign Barrett lost 10 years ago, a fight for the Democratic nomination with the Madison-based Dane County Executive Kathleen Falk. (Both of them lost to Jim Doyle, who went on to actually become governor.)
This was not the campaign that the left dreamed of. Sure, it'll do. Walker's Act 10 has to be repealed. But when I covered the Capitol protests, the first inklings I saw of a recall campaign were handmade signs begging recently-defeated Sen. Russ Feingold to run against Walker. After Democrats won two state Senate recalls—they'd needed three to take over the chamber—Feingold demurred, and said that "28 continuous years as an elected official" was enough.
As soon as the Walker recall was certified, Falk rushed in to fill the Feingold-shaped void. She had the cred: In her final months as Dane County executive, she'd filed the first lawsuit against the Walker "Budget Repair Bill" that started the backlash. She reeled in support from the state's alphabet soup of anti-Walker unions—AFSCME, AFL-CIO, AFT, SEIU. And then, on March 30—right before the deadline—Barrett entered the race.
This wasn't ideal. Unions didn't just endorse Falk because she put her hand up first. They did not trust Barrett the way they trusted her. As mayor, Barrett had attempted to take more control of Milwaukee schools away from the unions. After Walker's Act 10 passed, unions thought they saw Barrett taking advantage of the new powers it granted municipalities to scrap and renegotiate union contracts. Falk said she would veto any budget that left Act 10 intact. Barrett wouldn't say that. "If there is no budget," he explained in an April debate, "we will have a permanent Scott Walker budget."
On Election Day I drove to Green Bay, where the AFL-CIO was going door to door for Falk. There was a polling place right inside the labor hall—no relationship to the campaign, obviously—and a wall of trinkets from previous lost causes. (An editorial attacking the nascent NAFTA agreement in 1993. Wisconsin-shaped "blue fists," the logos of the 2011 protest campaign.) When volunteers arrived at the Election Day nerve center, they grabbed walk lists, data about the doors they needed to knock in the suburbs. If the voters weren't home, they'd leave door-hangers informing them of Falk's "true progressive" record.
"She's been a straight shooter with unions," explained Donovan Juss, a supporter manning the volunteer station. "Barrett's been all over the place."
Heck, Falk was just better at the job than Barrett was. She understood why collective bargaining needed to be restored to state employees. "She saved thousands of jobs," explained Julie Jansch, who'd retired from the police department after Walker's reforms took away the incentive of staying longer to increase retirement benefits. "You don't do that unless you actually sit down and talk to people."
It felt a little rote. I tagged along with one canvasser as she dropped off signs. Her jeep wore two stickers with the "RECLAIM WISCONSIN" slogan—one with the blue fist, one for Falk. After that, I drove down to Madison to catch Falk at her final campaign rally. At 4:30, three and a half hours before polls closed, 10 volunteers were waiting and waving Falk signs outside the Willy Street Co-Op. One sign displayed the digits Falk had been given when she joined the co-op in the 1970s—member number 368. Falk herself was a few minutes late.
"She went home for a second, to drop something off," explained a volunteer from the Sierra Club—another Falk-not-Barrett group.
Falk arrived moments later, wearing a green blazer to match her campaign signs. Music blasted out of Jamerica, a business across the street, as she waved at cars and chatted up old friends. "He was my son's soccer coach!" she said, pointing at a man wearing a blue-fist/red background T-shirt. A cyclist slowed down to say hello. "I ride, too!" said Falk. "I ride a hybrid Trek, built right here in Wisconsin."
The candidate put her best spin on a race that she was about to lose badly. "It's been a positive campaign," she said, "and we worked hard to keep it that way. But I'm the only candidate who's offered a plan to undo Act 10—a special session of the legislature." I asked her why polls showed Barrett running slightly stronger against Walker than her. "We've both run statewide, and I got more votes the last time I ran than he got in 2010." The electability case was coming "from politicians, and he's one of them. We've got the grassroots on our side. Right here, you can see—we've got great people from the Sierra Club, from AFSCME."
As the event slowed down, Falk met a mother who wanted a special poster—images of every governor of Wisconsin, all male, all black-and-white, with a full-color Falk at the bottom. She scrawled "it's about time" on the back of it, and walked back to make the delivery.
I left in order to make it to Barrett's party. The crowded ballroom didn't even murmur when the AP called it for their man—it was too early to pay attention. Barrett held off his speech until 10 p.m., right after TV had cut to Falk and right before it would cut to Walker. The Democratic victor milked this for all he could. He waded slowly through the crowd—only a couple hundred people—as a symphonic anthem played and cameras snapped his photo. When he reached the stage, he high-fived his children, turned toward the cameras, and spoke with loose notes for eight minutes.
"We cannot fix Wisconsin as long as Scott Walker is the governor," he said. "Scott Walker started an ideological civil war in this state that's divided this state like it's never been divided before." He would use the phrase "ideological civil war" three more times. "Family members shy away from talking to family members because it's become too bitter. It does not have to be that way!"
Barrett didn't actually mention Act 10, the ostensible reason why Walker was facing recall. He didn't mention "collective bargaining," either. His message, to a national audience, was that Scott Walker was too divisive and "decided he's got to be the right wing's rock star." And the left wasn't going to try and beat him with a rock star of its own.
---