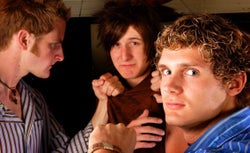 Florida prosecutors announced charges against 13 people on Wednesday in the hazing death of Florida A&M University drum major Robert Champion. Members of the school's marching band beat Champion as he ran down the aisle of a charter bus, and he later died from the trauma. What's the difference between a regular college initiation ritual and illegal hazing?
Serious injury or death, as a practical matter. Some states are stricter than others when it comes to legislating hazing. Alabama's anti-hazing law, for example, criminalizes any action that "recklessly or intentionally endangers the mental or physical health of any student." New York prohibits physical abuse in initiation rituals but says nothing about psychological torment. A handful of states have no specific anti-hazing laws, relying instead on criminal battery or manslaughter statutes to deter and punish miscreants. In practice, however, these distinctions are somewhat unimportant. Prosecutors typically pursue hazing crimes only when someone is killed or badly injured; other cases are left to university administrators. They're also more likely to file criminal charges in the months after a high-profile incident like the Champion death.
Hazing can also be the subject of a civil suit. In the past, defendants relied on the "assumption of risk" defense: The victim understood the risks of the initiation ritual, just like a boxer does when he steps into the ring. Anti-hazing laws are intended, in part, to negate that defense, and many victims have won multimillion-dollar settlements in recent years. A victim has to show that he suffered damage in order to win a judgment, though.
Supporters of anti-hazing laws point out that sororities and fraternities now condemn virtually all forms of hazing. The Fraternal Information and Programming Group, which offers risk management guidelines to fraternities and sororities, includes in its definition of hazing not just physical abuse, but "wearing of public apparel which is conspicuous and not normally in good taste," "engaging in public stunts and buffoonery," and "treasure hunts." Many national Greek organizations offer questionnaires to help local chapters determine whether their initiation rites constitute hazing. Questions include "Is alcohol involved?," "Does the activity risk emotional or physical abuse?," and "Would you object to the activity being photographed for the school newspaper or filmed by the local TV news crew?" Many Greek organizations hire speakers to lecture local chapters on the dangers of hazing.
Critics note that these actions might assuage insurance companies, but hazing remains alarmingly common. A 2008 survey found that 55 percent of college students involved in clubs, teams, or other student organizations experienced hazing, defined as any activity "that humiliates, degrades, abuses, or endangers." A survey from 2002 suggested that 1.5 million high school students suffer some form of hazing annually, with 22 percent of those incidents involving physical danger.
Anti-hazing crusaders also argue that when charges are brought, perpetrators receive only mild sentences. After Radford University sophomore Sam Mason died of alcohol poisoning in October 2010, police charged seven of his would-be fraternity brothers with hazing and supplying alcohol to an underage person. One of the defendants served two months in prison, while the rest reached agreements to avoid jail time. Two California Polytechnic State University students who required fraternity pledge Carson Starkey to guzzle alcohol, then failed to take him to the hospital when he passed out, received 120- and 45-day jail sentences after Starkey died of alcohol poisoning. (Heavy drinking is involved in around 90 percent of hazing deaths.)
Attorneys and prosecutors also complain about a culture of silence surrounding hazing incidents. Fraternity brothers allegedly clam up or coordinate their lies, making it difficult to prosecute crimes that happen inside the frat house. As part of a settlement in the Carson Starkey case, the Sigma Alpha Epsilon fraternity agreed to post all disciplinary actions taken against chapters, but most infractions are described in vague terms like "violation of university rules" or "violation of SAE's risk management policies."
Got a question about today's news? Ask the Explainer.
Explainer thanks Marc Edelman of Barry University's Dwayne O. Andreas School of Law and Douglas Fierberg of Bode & Grenier, LLP.
---