Here are this week's top must-read stories from #MuckReads, ProPublica's ongoing collection of the best watchdog journalism. Anyone can contribute by tweeting a link to a story and just including the hashtag #MuckReads or by sending an email to MuckReads@ProPublica.org. The best submissions are selected by ProPublica's editors and reporters and then featured on ProPublica and @ProPublica.
Ghost Factories: Poison in the Ground, USA Today
Smelting factories that closed years ago are still a danger today, having left behind lead particles and that put neighborhoods across the country at risk. In this interactive, multimedia report, USA Today shows that though the EPA received warnings of dangerous lead levels about a decade ago, the government has done little to investigate, clean up, or warn residents. The EPA has said it will look into the results of this investigation.
Contributed by @MichaelGrabell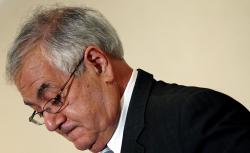 Derivatives Lobby Has U.S. Regulators on the Run, Bloomberg
In an effort to control and diminish regulation, the derivatives industry has launched a multipronged lobbying and legal attack that's had a "chilling effect" on regulatory agencies like the SEC and the Commodity Futures Trading Commission. "The derivatives industry," writes Roger Lowenstein, "is squeezing Washington like a python."
Sex Offender Listing Intended To Protect the Public Riddled With Errors, Indianapolis Star
According to Indiana's sex-offender registry, a convicted rapist lives on the 1300 block of Indianapolis' Burdsal Parkway. The address now belongs to a daycare. Accurate information feels like a prerequisite for useful sex offender listings, but Indiana's is riddled with errors.
Contributed via @starwatchtim
Few Answers in Abuse Probes at Homes for Disabled, KQED, California Watch
Reports of patient abuse at California's state-run developmental centers jumped 40 percent between 2008 and 2010, but advocates say adequate investigations—even into deaths—haven't followed. One physician who worked at a state developmental center for 10 years even believes administration removed incriminating injury photos from patients' files.
Contributed by @charlesornstein
Convicted Defendants Left Uninformed of Forensic Flaws Found by Justice Dept., Washington Post
A nine-year internal investigation by the Department of Justice found many cases of flawed forensic work that may have led to wrongful convictions—but the government hasn't told convicted defendants about the problems. The Justice Department says it fulfills its legal obligations by informing the prosecutors in the case, and doesn't need to tell defendants.
Contributed by @iDiplomacy
Photos: Welcome Home, The Story of Scott Ostrom, Denver Post
Craig F. Walker's haunting, photo essay that chronicles an Iraq vet's struggles with PTSD. The photos, which just won a Pulitzer, were originally published in January. They're worth a second look.

Getting Plowed, Maisonneuve
A great long read on the rampant bid-rigging, violenc,e and sabotage in an unlikely place: Montreal's snow-plow industry. Quebec's construction companies are notorious for rigging contracts—and it costs the province about one-third more for construction projects than it should.
These stories and many more can be found at ProPublica. You can also subscribe to a daily #MuckReads email or follow ProPublica on Twitter. Reader submissions are key to making #MuckReads a success—please contribute!