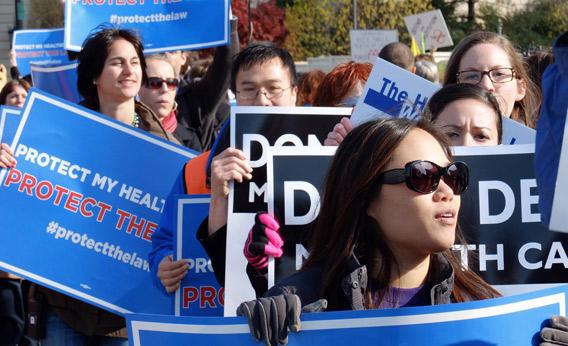 Read all of Slate's coverage about the Affordable Care Act.

As the nation's highest court listened to arguments over the Affordable Care Act this week, the justices were considering abstract questions about power, precedent, and purpose.
My work this month implementing the Affordable Care Act began with the Sneetches.
At about 10 on a cool morning in Annapolis, Md., I ran to the front of a large room full of advocates, lobbyists, and concerned citizens. They were waiting to hear about dozens of proposed amendments to legislation that will set the terms for our state's health insurance exchange. This is the new marketplace scheduled to launch in the fall of 2013 and help more than 300,000 Marylanders find health insurance.
The crowd was anxious, and I was late. I had lost track of time reading Dr. Seuss classics to a room full of fourth-graders in Baltimore, as part of the Read Across Maryland program. I had especially enjoyed reconnecting with the The Sneetches, a story about status-conscious creatures who are convinced by the charismatic salesman McBean to jump into machines that add or remove stars from their bellies.
I went straight to the podium, apologized, and announced that state government would not mandate insurance coverage for the placement or removal of belly stars.
Some confused looks, a few chuckles, and then off we went. We reviewed draft amendments on how dental benefits will be offered to consumers, how transitions between health plans will be managed, and how community organizations will reach people who have all but given up hope of ever being insured. 
For nearly two hours, two state health officials and I listened, answered questions, and took notes. Winding up with a package of amendments with very broad support, we had good news to report to Gov. Martin O'Malley and Lt. Governor Anthony Brown, who are both interested in seeing steady and sustained progress.
In Maryland, the Affordable Care Act is not a special three-day miniseries that interrupts regular programming. It's the evening news. It's not a controversial visitor from out of town, but rather the family that lives down the street. Here health care reform is far less political football than it is daily exercise—deploying a new set of tools to help individuals, families, and small businesses obtain health coverage and to address longstanding problems in the health care system.
Some of these tools are pretty simple and require little extra effort at the state level. In Maryland, seniors have received about $44 million in subsidies to help them afford prescription drugs. Young adults stay on their parents' insurance, and children are no longer denied coverage for having a pre-existing condition. 
Other aspects fly so far under the radar that hardly anyone realizes that they were tucked into the Affordable Care Act. Its funding supports home visits for high-risk pregnant women, our electronic immunization registry, and testing to identify HIV infections. In September 2011, we developed 39 public health metrics and encouraged local coalitions to address them. Today, hospitals, health officers, businesses, and others are working together on challenges as diverse as obesity, drug addiction, and infant mortality.  Support to jump start all of this came from the health reform law.
Of course, some aspects of the law are more public, complicated, and controversial. Our health exchange will offer access to subsidies for individuals and families with incomes less than four times the federal poverty line and will create a forum for competition between health plans. Naturally, some worry about changes to existing coverage. The main concern that I hear is not with the insurance mandate per se; it's whether coverage will be affordable.
So I spend a lot of time meeting, listening, explaining, and working through the details of how we can mitigate risk and keep costs down. Our exchange's four advisory committees held more than 20 meetings with citizens of all stripes. Their recommendations helped shape the state's proposed legislation.  To my very pleasant surprise, many thorny issues that once seemed impossibly complex have yielded to consensus solutions.  We have plans for which insurers will be required to participate in the exchange, how the exchange can set requirements for health plans, and when our state's insurance commissioner can intervene to protect consumers.
A week after the Sneetches, I found myself on a small stage in an enormous hotel ballroom at the Thurgood Marshall BWI Airport. About 500 insurance brokers and other industry representatives came to hear about how the new exchange markets would roll out. As I took the microphone, I recognized this was not the moment to linger on the more arcane details of risk adjustment or plan qualification. This was a chance to make a connection and build trust.
I asked the group to imagine an alien landing from Mars and being handed the challenge of enrolling hundreds of thousands of uninsured people. If smart, the alien would look around for allies. It would see there were thousands of insurance brokers who understand the value of insurance and know how to sell it. The astute alien would want to figure out how to join forces. 
With such a natural overlap in our goals, I said, it would be crazy for us not to take the alien's perspective. I explained that insurance agents in Maryland, with some basic training on tax credits and subsidies, will be able to sell insurance in the exchange—while still being paid commissions, as they are today.
Then, even though I had not expected him to speak, one of the industry's most respected leaders walked to the stage. I drew a long, slow breath.  A few adverse words would be a huge setback. Instead, he recalled when Maryland's health insurance market for small businesses was established in the early 1990s and some had been wary of any partnership with government. But he noted that effort had fared well, and he offered that the exchange could prove to be a similarly productive and important public-private venture. I exhaled.
Other March events are a blur. I remember a meeting with Montgomery County Council members on how the Affordable Care Act will allow safety-net clinics to expand.  I heard a young woman tell a press conference in Baltimore how the federally funded high-risk insurance pool allowed her to receive treatment for kidney disease, get back on her feet, and find a new job. I spoke with senior lawmakers in Annapolis about how Maryland will choose the required coverage known as the "essential benefits package" by Sept. 30—a meeting that may or may not have ended with my promise to dress up as an essential benefits package for Halloween.
Twice this month, I drove to Washington, D.C., to talk about Maryland's experience with the Affordable Care Act. To a large audience at the annual meeting of America's Health Insurance Plans, I shared my experience on a recent panel with conservative Republican lawmakers from Ohio and Alabama. After each gave an apocalyptic review of health reform, there was an uneasy silence when I leaned forward to speak. As a pediatrician, I said, I would like to remind everyone of the Sesame Street segment that one of these things is not like the others.
In such settings, I acknowledge that Affordable Care Act is not a magical solution to all of the health care system's problems. But I argue that the law's tools and resources give states a fighting chance to reverse ongoing erosion of coverage and to pursue critical innovations in health care.   As we have written this week in the Journal of the American Medical Association, Maryland is using our state's unique all-payer hospital system, health data information exchange, and primary care infrastructure to obtain better health outcomes at lower cost. Our options have only improved since the health law came to be.
To those hostile to health reform, I point out the irony that Maryland, a state whose leaders support the Affordable Care Act, is working hard to design and run our own exchange. Under the law, states with a nyet attitude get a federally run program in their own backyards.
A few days later, I visited the National Coalition for Cancer Survivorship, a small gathering of advocates and senior officials from insurance and pharmaceutical companies. There was some parsing of recent statements from the Department of Health and Human Services and not a small amount of handwringing about what could go wrong. I noted that the Affordable Care Act's Medicaid expansion and insurance exchanges will make comprehensive cancer treatment, including access to clinical trials, possible for millions of Americans. I felt like a high school coach: All hands in, let's get this thing to work!
Last Thursday, our Medicaid director told me that the Centers for Medicare and Medicaid Services awarded Maryland more than $100 million in special funding under the Affordable Care Act to expand community services for the elderly. When implemented, thousands more Maryland residents will be able to age in the comfort of their own homes, rather than in nursing homes. Of course, his smile is constrained by the recognition that all of this could be taken away.
I have tried to avoid Supreme Court previews and the initial reactions to the oral arguments—unsuccessfully. There seems to have been a lot of talk about broccoli, cars, and burial insurance. Not so much about the vast policy failures the Affordable Care Act is aiming to address. Very little about the many people whose health and lives may well hang on a single vote.
Between now and when the Supreme Court is expected to rule in late June, I am going to keep myself busy. Maryland's proposed exchange legislation, with our consensus amendments, is on track to become law. There is a computer system to build and an outreach campaign to plan.
It helps me to recall that even Dr. Seuss' creatures were able to overcome their short-sightedness. One day, the Sneetches got "really quite smart" and recognized that belly star or not, "Sneetches are Sneetches."  Were we to come to a similar conclusion, the Affordable Care Act would have nothing to fear.
---