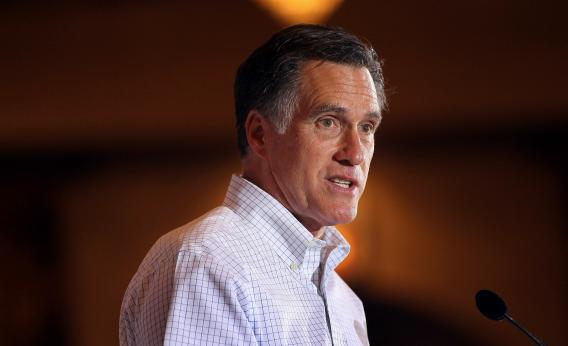 "The Conversion: How, when, and why Mitt Romney changed his mind on abortion," by William Saletan. What, exactly, is Mitt Romney's platform on abortion? No one's actually sure. But William Saletan assembles videos and audio clips detailing his purported "conversion" from being a pro-choice Republican governor of Massachusetts to a pro-life presidential candidate.
"Get Your Kitchen Out of My Parking Space!: City governments across the country are threatening to kill the food truck revolution with dumb regulations," by Matthew Yglesias.
Food trucks minimize upfront capital and maximize overall access to consumers, and the threat they present to existing restaurants makes them subject to a frenzy of anti-food-truck lobbying. Yglesias provides a complex portrait of food truck regulation—and its consequences.
"America's Best Weather Forecast: It's on Weather Underground, and you should start using it now," by Farhad Manjoo. Weather Underground's new forecasting algorithm—one that accounts for microclimactic variances—is making waves in meteorology.  Thanks to its huge network of constantly updating automated weather stations, users can simply type in their ZIP code for longer-range forecasts with better accuracy.
"How To Win an Oscar Without Saying a Word: Eight great silent performances from the sound era," by Eric Hynes. What exactly goes into a "non-speaking" role?  The answer lies in the history of silent performances. From Ray Milland in The Thief (1952) to Harpo Marx in Duck Soup (1933), Eric Hynes analyzes eight acting greats who captured our hearts without the benefit of dialogue.
"How To Save Smash: Make it more like the real Broadway," by Jason Zinoman. It'd be an understatement to say that New York's theater scene is frequently romanticized. Smash, NBC's new Broadway-based series, is no exception. As Jason Zinoman writes, it's no wonder that Smash's hesitance to delve into the true intrigue, strategy, and monetization of its subject matter leaves viewers thirsting for theater's "dirtier side."
"All Aboard (Not): Why has Amtrak stopped letting children take the train on their own?" by Emily Bazelon. Should children younger than the age of 13 be able to take the train without adult supervision?  Not anymore, says Amtrak. Yet Emily Bazelon argues that Amtrak, which claims to be "streamlining procedures and minimizing inconveniences"  with its new policy, is doing so for its benefit, not ours.
"Runaway Juror: Can I use science to get out of jury duty?" by Joel Warner. What makes a juror good or bad?  Is there, as many sociologists argue, a true "science" to juror selection and elimination? The truth is that we know very little about jury box dynamics, making the jury a "lousy laboratory for the study of human behavior." Joel Warner examines why hundreds of studies have failed to shed light on the "inner workings" of these groups.
"Santorum's Martyr Complex: His camp says he is being attacked because of his faith. Forgive me, but that's downright sinful," by John Dickerson. Is Rick Santorum's faith under siege? His campaign insists that the emphasis placed on "specific tenets of Rick's faith" is unfair. But as John Dickerson argues, there's a pointed difference between being attacked because of one's faith and being held accountable for borderline extreme statements regarding contraception, prenatal screening, and abortion. 
"No More Chinks in the Armor: The Jeremy Lin controversy suggests it's time to retire the phrase for good," by Huan Hsu.  Hokey puns have been an unfortunate byproduct of Jeremy Lin's rising stardom, especially a particular racial slur that got one ESPN.com headline writer fired. True, the phrase "chink in the armor" has no racial connotations, but the fact that it makes use of a derogatory anti-Asian term saddles it with offensive undertones. Here, Huan Hsu details the origins of the word "chink," and claims that eliminating it from our daily vocabulary doesn't limit our language.
---