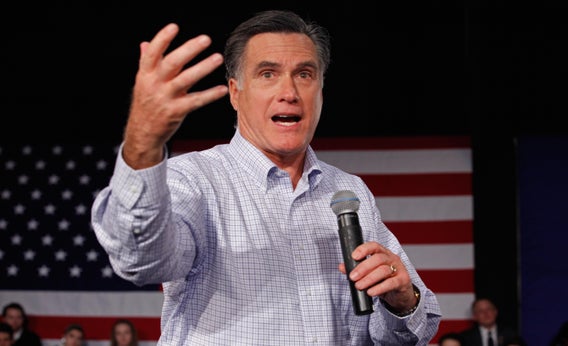 "Romney Takes Iowa, but Santorum Really Won: Can Rick Santorum derail the front-runner by replicating his amazing Iowa surge in New Hampshire?" by John Dickerson. Mitt Romney and Rick Santorum each captured 25 percent of the vote in the Iowa caucus, with Ron Paul taking 21 percent. But Dickerson stresses a different number, 46, arguing that the combined sum of Santorum and Paul ballots may indicate that key GOP voters will follow their hearts, not their heads, in a final contest between electable Romney and his truer-blue conservative runner-up (whoever it is). 

"Face It: Romney's the Nominee: The media will desperately try to persuade you there is still a Republican race. Do not pay attention," by Jacob Weisberg. Weisberg takes aim at the notion (no more than wishful thinking on the part of drama-starved journalists, he says) that any of the Republican presidential contenders might still unseat Mitt Romney. It could happen, he allows, but it won't. Just like a Congress that transcends its partisan differences to make laws. 
"Marilyn Monroe's Two Secrets: What I learned about the icon by folding her capri pants," by Simon Doonan. In an excerpt from his new book, Gay Men Don't Get Fat, Doonan recounts the surreal experience of designing an auction exhibit for the sale of Marilyn Monroe's personal belongings. Two revelations survive the filmy bustle of dresses, sweaters, and old shopping bags: the first depressing; the second, astounding. Find out why Marilyn Monroe will always be first in Doonan's "cavalcade of tragic lovelies."

"Can We Really Unplug? The illusion of Internet freedom," by Katie Roiphe. Is it possible to escape the Internet? The short answer, according to Roiphe, is "not really." Though a new computer program—and select resorts—will charge you for the luxury of being offline, maybe our minds have adapted irrevocably to the pace and dazzle of the web. "The advent of our online lives is so transforming, so absorbing, so passionate that daily life beforehand is literally unimaginable," Roiphe claims. "We don't use the Internet; it uses us."
"How'd My Avatar Get Into That Sneaker Ad? The ethical questions surrounding building consumers into commercial advertising," by Evan Selinger and Shaun Foster. Advertising technology that beams your physical likeness onto store mannequins and TV screens may be just around the corner. But do you really want to be trailed by a cuter version of yourself every time you go shopping? And as knowledge of consumer psychology expands, what are the ramifications of ads growing more and more persuasive?

"Against Pepper: Salt needs a new companion," by Sarah Dickerman. Though great at prickling the tongue, pepper's not as subtly versatile as lemon zest, or as aromatic as cumin. Has the time come to find a new seasoning staple—like chili flakes? Plus, Dickerman explains how our reliance on standard-issue black pepper is an accident, inked into history when the piper nigrum vine wound west from India to become the poor man's alternative to fancier spices.   
"In Montana, Corporations Aren't People: Can Montana get away with defying the Supreme Court on Citizens United?" by Dahlia Lithwick. Montana's high court refused to overturn a ban on corporate spending in political campaigns last week, citing the state's past problems with government corruption. The decision is a stunning revolt against Citizens United, the 2010 Supreme Court case that paved the way for unlimited corporate spending on political campaigns. And it just might get the Montana justices re-elected.   
"The Movie Club," by Dan Kois, Michael Phillips, Dana Stevens, and Stephanie Zacherek. Slate's movie critics convene to unpack the year in film. Dan Kois plots some of the most notable titles on a New York magazine-style matrix of Devotion-Disdain and Delight-Distress. Find out if The Artist keeps its savor weeks after viewing and why the latest Mission Impossible installation "is fantastic even though it threatens to revive Tom Cruise's career."
"Weak-Willed? There's an App for That: Meet GymPact, a new company that wants to charge you for not exercising," by Matthew Yglesias. People who resolved to "be healthier" in 2012 may have a friend in GymPact, the iPhone app that fines you every time you skip a workout. But those who download GymPact to incentivize their exercise are probably more likely to hit the LifeCycle anyway, notes Yglesias. He applauds the company's goals while questioning its business model.  

"The Greatest Paper Map of the United States You'll Ever See: Made by one guy in Oregon," by Seth Stevenson. "The Essential Geography of the United States of America," which snagged best in show honors at the country's biggest cartography competition this year, took David Imus 6,000 hours to finish. The map is a miracle of dense detail and ethereal color. And, Stevenson writes, it testifies to the "simple, ancient joy of paper"— something that should make Google Earth green with envy.
---