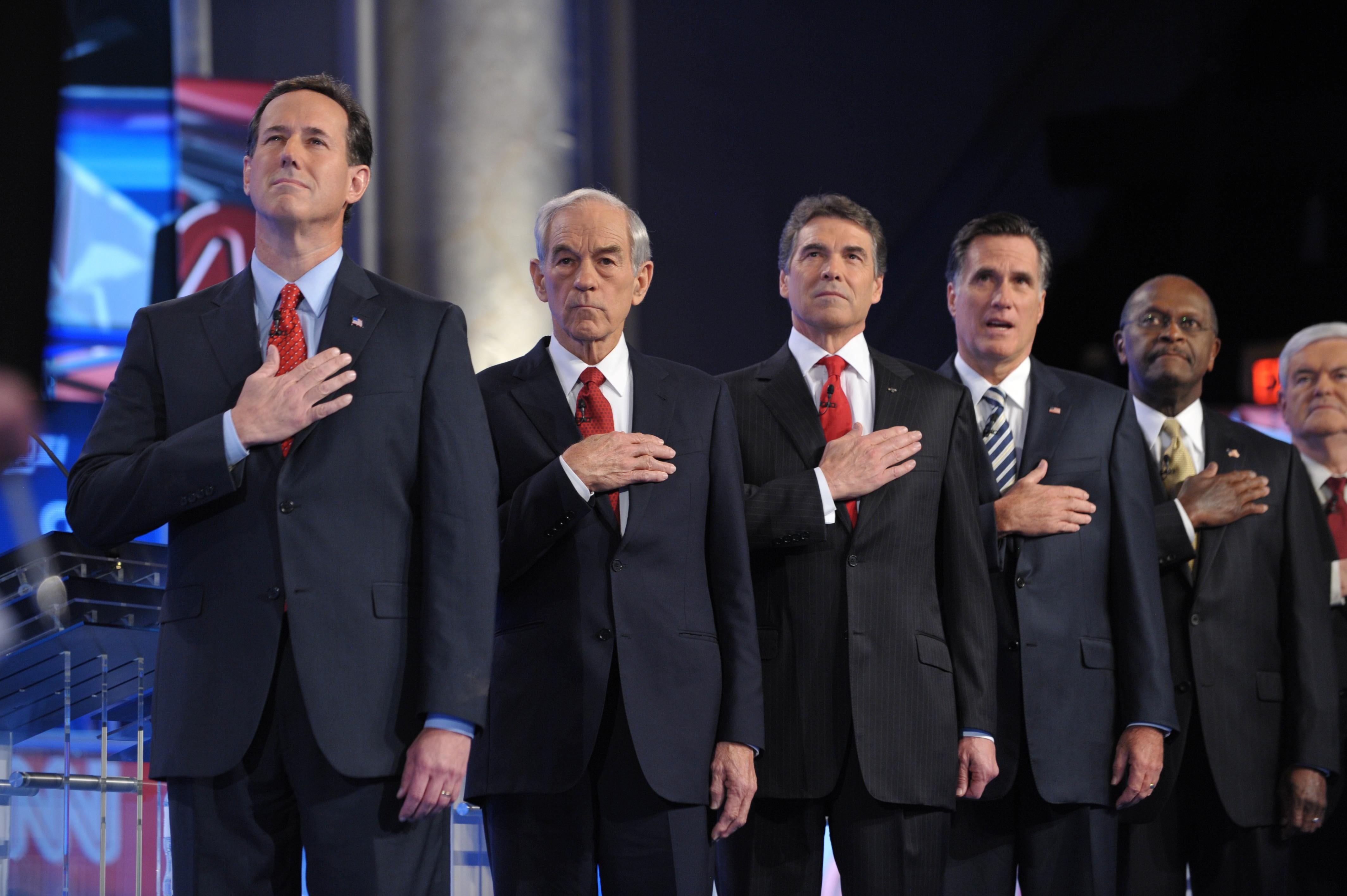 The Newt Gingrich surge came on like some winter storm preceded by cooling air – everyone knew it could happen, and yet no one had bought enough rock salt and shovels to be ready. It was just… inevitable. Every candidate has had a chance as the anti-Romney, so why not Newt? As this handy chart from the National Post shows us, there is an amorphous blob of anti-Romney sentiment that can be attached to anyone who bids for it.
I was one of the schmucks who missed the Newt surge, assuming that the candidate's countless position changes and heresies – led by his critique of the Ryan plan – would make him anathema to the Tea Party. I'm not about to miss the next surge. Thus: Santorum Surge Watch, a feature that will track possible breakout potential from the former Pennsylvania senator who has done just about well enough to be ignored. Fourth place in the Ames straw poll; third place in the Florida straw poll; good enough in the debates; no major gaffes to speak of. Today's SSW item comes from the Washington Times. It fits snugly in the Santorum story mold, which has three components.
1) Santorum does lots of events
2) Santorum is accessible
3) Iowa is unpredictable and he has a good organization.
The Times eschews the usual evidence of home schoolers et al rallying for Santorum and focuses on chin-stroking from Republicans who agree that, eh, sure, he could surge.

John Feehery, a GOP strategist, said Mr. Santorum could shock pundits at the Iowa caucuses.
"He could be this year's version of Mike Huckabee," he said, alluding to the former Arkansas governor, an ordained minister, who surprisingly won the Hawkeye State in 2008. "He is a true social conservative with no baggage whatsoever."
[Craig] Robinson shared a similar sentiment.
"If you were a Huckabee supporter four years ago, I think Santorum is the more natural fit for those people than maybe even a Michele Bachmann," he said. "I think he tends to speak their language."
Santorum Surginess Rating: Low. Pundits have been wrong before, but Robinson has a little clout, and he has been explaining for months why the other possible Iowa surgers are falling flat.

---