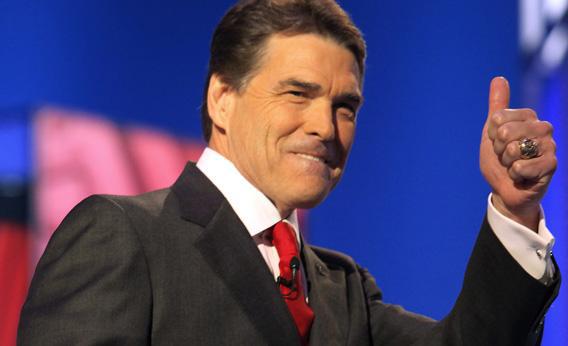 "The Big Oops: How Rick Perry killed what was left of his campaign at the Republican presidential debate in Michigan," by David Weigel.  A verbal gaffe may seem superficial in relation to, say, four sexual harassment claims. But after Texas Governor Rick Perry forgot the name of a government agency he vowed to cut, political pundits began penning campaign post-mortems.  But will Perry's major slip-up in this week's Republican debate really topple his presidential prospects? Find out what Weigel thinks of Perry's potential coup de grace.
"Internal Affairs: Were J. Edgar Hoover and Clyde Tolson lovers?" by Beverley Gage. For years, J. Edgar Hoover – the first director of the FBI – and his right-hand man, Clyde Tolson, were an inseparable duo. But was there more to their relationship than meets the eye? Gage sifts fact from fiction, speculating on the possibility of same-sex romance in an age of "brutal anti-gay repression." 
"Gatorade Is the Antichrist: How coconut water suddenly became ubiquitous on American shelves," by Seth Stevenson. These days, less is more in the refreshment industry:  Hoards of consumers now swap sugary soft drinks for healthier "single-ingredient" beverages. But is coconut water really the next POM—and can it enjoy mass-market success outside circles of yoga hippie chicks and health nuts? Stevenson examines the same "wellness trend" that turned small-time vendors like Vita Coco and Zico into multimillion-dollar enterprises.
"Google+ Is Dead: The search behemoth might not realize it yet, but its chance to compete with Facebook has come and gone," by Farhad Manjoo.  In June, Google trotted out its newest social network service, looking to gain a competitive edge against Mark Zuckerberg's cyber empire. Yet five months since its much-hyped launch, Google+ is practically a ghost town—and things aren't looking up for the poorly designed underdog. Manjoo details Google's various missteps, from its failure to accommodate businesses to its own bewilderment over what users should "do" after joining Google+.
"Like She's the Only Girl in the World: The improbable, unstoppable success of Rihanna," by Jonah Weiner. Rihanna might not boast a "larger-than-life" persona—but that hasn't stopped the freakishly prolific songstress from becoming the fastest solo artist to snag 20 Top 10 hits. What's responsible for Rihanna's mainstream superstardom? For one, Weiner argues, Rihanna's chameleon-like appeal—i.e. her talent for genre-hopping—lets her ride "shifting commercial tides" with more ease and flexibility than, say, Beyonce or Lady Gaga. Read on for a lesson in Pop Marketing 101.
 "I'm the Victim Here: Herman Cain tries to turn the tables at his press conference about accusations of sexual harassment," by John Dickerson. Sit back, folks, and get ready for some real rhetorical acrobatics: Herman Cain is at it again. This time, he's playing the "conspiracy card" to explain away multiple accusations of sexual harassment. His problem? The claims levied against Cain—the same ones his campaign suggests are little more than "shady whispers"—assemble real names, real complaints, real legal documents, and real checks written to settle the charges. Read on for John Dickerson's take on this veritable circus.
"Shame on You, Joe Paterno: Penn State's horrific sex abuse scandal reveals the school's moral hypocrisy," by Torie Bosch. There's enough blame to go around in Penn State's hushed-up sex scandal.  Read the Penn State graduate's fiery take on the ethics of silence, and one "virtuous" benefactor's surprising failure to observe "moral duty" in the face of sexual misconduct.
 "An Atheist's Evolution: Why Charles Darwin's great-great-grandson stopped believing in God," by Matthew Chapman. At the tender age of 7, Charles Darwin's great-great-grandson experienced a short-lived religious awakening. Decades later, the English journalist, screenwriter and director—now an atheist—will argue for the motion that "the world would be better off without religion" at the Nov. 15 Slate/Intelligence Squared U.S. debate in New York. Read Chapman's scathing take on the "dangers of faith"—and the "universal potential for harm" ingrained in religious dogma.
"Cheer Up, Berlusconi: Vladimir Putin's sweet attempt to bolster the flagging spirits of his dear Italian friend," by Heather Murphy. Everyone needs a shoulder to cry on—and Italian Prime Minister Silvio Berlusconi, who recently announced his plans to resign, is no exception. Luckily, Silvio's got his best buddy Vladimir Putin to hoist him from rock bottom in a time of personal crisis. Look over Slate's tongue-in-cheek record of Vladimir and Silvio's heartfelt correspondence, along with a slideshow illustrating  their tight-knit political friendship. 
"How To Save Israel: The three steps that could rescue it from endless conflict and international ostracism," by Gershom Gorenberg. Where will Israel be in five years, or 20? American-born Israeli writer Gershom Gorenberg tackles this hefty question and others in one of three excerpts from his latest book, The Unmaking of Israel. The social, political, and economic impracticalities of a "one-state" solution, Gorenberg argues, necessitate three critical changes that might very well resolve decades of ethnic conflict while updating – and revitalizing – Israel's national identity.
---