PONTIAC, Mich.—To get to city hall, you drive up I-75, past the empty Silverdome where the Detroit Lions used to play, and into a nondescript concrete municipal building. The city clerk was laid off a few days ago, but the door to her office hangs open. The mayor, Leon Jukowski, gives me a brief tour of the desks where people no longer work. Cubicles sit empty, little tchotkes and calendars left behind when their owners were laid off.  
"At one time we had 800, 900 city employees," says Jukowski. "We have 150 now. And we have the same services that we always had."
The unemployment rate in Pontiac is pegged at 25 percent. In 2009, as GM restructured under a government bailout, it shuttered its plant in Pontiac and ceased production on the line of cars named after the city, calling it a "damaged brand." So what happens to the people that the city lays off?
"Some of them go on unemployment," says Jukowski. "Some of them, like the police, keep their jobs because they merge with the county. Most of them are out on the street. In a city of 59,000, the issue of city jobs going away isn't the major break[ing point]. It doesn't help. But we're a town that used to have an automotive industry. We had more money coming in than we knew what to do with, so we didn't really have to be real serious about city government. People began to view city government as a job creator; a jobs bank, if you will. We tended to look at development projects, city government, everything as an opportunity to put local people to work, instead of as an opportunity to create infrastructure, provide services."
The short tour ends at the office of Jukowski's boss. Jukowski, elected in 2009, does not run the city of Pontiac. That is the job of the "emergency manager," a state-appointed technocrat who has the power to do basically anything he needs to if it'll set the city right. Under this system, the City Council isn't paid. Jukowski is paid as a consultant—$30,000 a year for a job that used to pay six figures—answering to Emergency Manager Louis Schimmel. He was a fellow at the Mackinac Center, Michigan's free-market think tank; the mayor is a Democrat. Jukowski is fine with this. "I ran," he says, "because I just got sick and tired of watching the city go sideways."
If you don't feel like sugar-coating it, the emergency manager—Pontiac is one of three Michigan cities currently run by one—is an admission that democracy occasionally doesn't work. Michigan introduced an emergency "financial" manager law in 1990, as a way to straitjacket cities that were failing. Schimmel made his reputation running turnarounds in the small, benighted cities limning Detroit. He succeeded, largely, but he was frustrated by limits.
"When I was running Hamtramck, for example, the unions could drag me out for years," says Schimmel. "They'd say, 'We don't have to settle with you.' And they didn't. They could delay and delay—they could schedule meetings then cancel them as they were about to start. They could take me to arbitration. I had to spend a lot of time dealing with union contracts."
That changed this year. Gov. Rick Snyder, a Republican, and a GOP legislature passed Public Act Four, which changed the "emergency financial manager" to an "emergency manager," giving him a slew of new powers. He can "terminate 1 or more terms and conditions of an existing collective bargaining agreement." He can "make, approve, or disapprove any appropriation, contract, expenditure, or loan, the creation of any new position." The changes track closely the recommendations of a report on reforming the "emergency managers" law, published by Mackinac in January 2011, co-authored by one Louis Schimmel.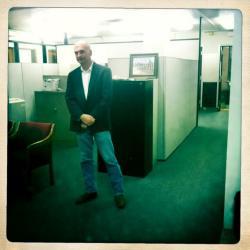 Schimmel arrived in October, estimated the budget deficit at $12.5 million, released his plan, and announced his targets—pensions, public services. "The City," he wrote in the plan, "has engaged in activities and made promises that the City did not have the ability to properly manage or financially support." So the police department was given over to Oakland County. Schimmel just ignored the community-activist protests over that one. If everything pans out, the fire department will be paired up with that of neighboring Waterford's, flattening out the costs. The law department was shuttered. The shrinking number of public employees are going to get smaller benefits.
Pontiac was ready for this, sort of. It had been run by the old sort of emergency czar since 2009. There was Fred Leeb, who didn't have expansive powers, then a roving turnaround experiment named Michael Stampfler. Leeb says he was on the right track and was doing better in Pontiac than the new guys are doing. "The new emergency manager's trying to portray Pontiac as this god-forsaken city that's hopeless," says Leeb. "You can't cut your way to success, and you can't tax people to death when they don't have means."
Schimmel laughs at the sour grapes. "I hear that critique: What are you doing about community development? My answer is this is not an attractive town to come to because it's a financial disaster. If you want to develop here, at least now you're not coming into a town that's a chaotic mess."
I took that debate to some locals on the city's main street. It's busier since the city realized it was losing money by trying to collect parking fees and ripped out the parking meters.
"The last guy wanted to run everything himself, and you couldn't get a meeting with him," says Maureen Young, co-owner of Bo's Smokehouse, referring to Stampfler. "Lou's local—he's from Pontiac—and he gets it." The way they tell it, working with an emergency manager who has no limits on power is a dream. "The last bunch we elected didn't do anything," says Young. "Personally, I like city managers. They're educated not so much in city politics as in government."
Kyle Westberg, who co-owns a construction company, recalls how the first meeting between Schimmel and the downtown business association went. "We met with him and brought up some of our concepts of economic development," says Westberg. "He stopped us, and said, 'Right-sizing the city, that's how we bring back business.' Well, that's not what we want to do. But we brought up the Strand, an old theater that's almost been rehabbed, and the idea of sharing it with the county. He said, 'Done.' It was that simple."
There are critics, including much of the City Council, local activists, and nationally known progressives like Michael Moore. A government that cuts at one manager's discretion, with no voter accountability until his plan is implemented, is "a power grab to disenfranchise voters," if you ask one of the attorneys on the other side. The stakes are high, because the Schimmel/Pontiac model is poised to be copied in larger cities. Last week, political leaders in Flint declined to challenge the state's decision to assign an emergency manager. This week, Snyder said he'd decide shortly whether to open an inquiry into Detroit, which may run out of money in six months. The Motor City could be taken over by an autocratic wonk.
The critics could end up stopping these takeovers. Act Four has galvanized Michigan progressives and unions, and a movement to repeal the act by initiative claims that it has enough signatures to start the process. If they do, the law could be paused until voters decide on it.
It's all so predictable, says Jukowski. "You're not going to have the political class coming up and saying, 'Oh thank you for removing my authority over our police department,' " he says. " 'Thank you for making it impossible for me to place my relatives in positions in city hall.' There's this dichotomy of a political class saying, 'You know, this is horrible, this is a travesty, this is the worst thing that could ever happen, they're violating our right to vote, etc.' But the man on the street is saying, 'You know what? I've got better police service than I had six months ago. The toilet still flushes, and when I turn my shower on the water still comes on. And they're fixing the problem downtown.' I don't think your average citizen gives a damn whether or not city council and I are being respected."