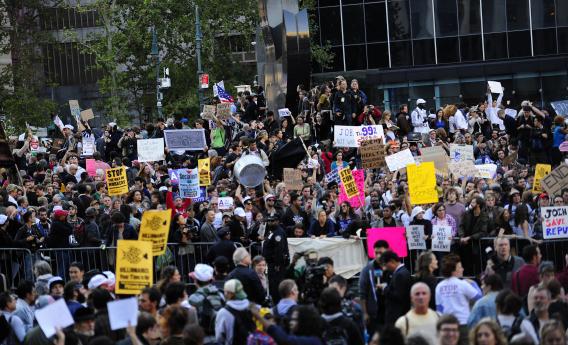 From my over-taxed inbox this morning – a holiday morning! – two different fundraising appeals. The first comes from the Democratic Congressional Campaign Committee, an official arm of the Democratic Party, tasked with winning back the House of Representatives. It's a full-on endorsement of Occupy Wall Street.

Protestors are assembling in New York and around the country to let billionaires, big oil and big bankers know that we're not going to let the richest 1% force draconian economic policies and massive cuts to crucial programs on Main Street Americans.

Out-of-touch Republican Majority Leader Eric Cantor said he is "increasingly concerned by the growing mobs." Mobs? That must be what Republicans refer to as the middle class, or maybe the millions of unemployed Americans across the country.

As Democratic Leader Nancy Pelosi told reporters, "The message of the American people is that no longer will the recklessness of some on Wall Street cause massive joblessness on Main Street…"

Help us send a message straight to Eric Cantor, Speaker Boehner, and the rest of reckless Republican leadership in Congress:

Sign our petition right now and help us reach 100,000 strong standing with #OccupyWallStreet protestors across the country >>
Also out today: A new appeal from the Tea Party Express.

The media continues to insist that the Occupy Wall Street protests are motivated by the same problems that the Tea Party coalesced around and that they are the Tea Party of the left!
We here at the Tea Party Express find those comparisons to be insulting.   Three weeks into the Occupy Wall Street protests,  it is still not exactly apparent what they are protesting about.  The motivation behind their rage seems to be anything from corporate greed, redistribution of wealth, free college tuition, guaranteed wages (whether you work or not), defending the people against the man, all the way to anarchy.  The only commonality that we have is that we are both opposed to the bailouts of Wall Street - and that is it. 
Their motivations, their behavior and their disrespect for the principles that made this country great could not stand in starker contrast to ours.  We stand for free market capitalism, individual responsibility, self reliance, individual liberties, and a limited federal government. 
This is important that we stand up to these comparisons and stand up for our principles. Click here to contribute!
Congratulations, Occupiers. You've made it.

---