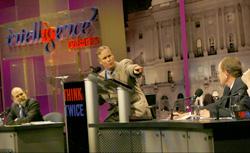 If you're an average Slate reader—don't worry, you're undoubtedly above average in all other respects—you've probably spent a significant chunk of your life arguing. You began by badgering your parents, graduated to squabbling with your siblings, and have spent most of your adult life sparring with your friends and co-workers about abortion, immigration, and The Wire. Perhaps you argued your way to trophies on the high-school debate team or ran the table at your law school's moot-court competition. (And judging by our boisterous comments section, you may devote some of your spare time to arguing with Slate writers and other readers.)
This is why Slate is so pleased to announceour new partnership with Intelligence Squared U.S., the celebrated New York-based live-debate series. Based on Britain's highly successful Intelligence Squared, Intelligence Squared U.S. stages provocative, timely, Oxford-style competitive debates with brilliant thinkers and talkers.
The IQ2US format is dead simple: Two speakers on each side, arguing for or against a motion ("repeal Obamacare" or "organic food is marketing hype"). The audience votes before and after the debate: Whichever side sways more votes wins. 
Slate will be the exclusive digital media partner for IQ2US's fall 2011 to spring 2012 season. This means Slate will be the go-to digital resource for the series of 10 debates, providing online access to pre- and post-event information and coverage. IQ2US audiences will be able to submit questions on Slate that will be posed to the debaters. Some debates will be live-streamed, and next-day video footage will be available at Slate. And Slate readers will receive discounts on tickets to the debates, which take place at the Skirball Center for the Performing Arts at New York University.
We're still finalizing the fall schedule, but, to whet your appetite, here's a tentative lineup:
Wednesday, Sept. 7: "It's Time to End the War on Terror"
Tuesday, Sept. 20: "Men Are Finished"
Tuesday, Oct. 4: "Let's Phase Out Grandma's Entitlements"
Tuesday, Oct. 25: An "Insta-Debate" on the Week's Most Interesting News.
Tuesday, Nov. 15: "The World Would Be Better Off Without Religion."
If you can't wait till September, please join IQ2US at the Skirball Center this Wednesday night, June 8, for a debate titled: "Freedom of the Press Does Not Extend to State Secrets." Arguing for the motion:Michael Chertoff, former Secretary of Homeland Security, and Gabriel Schoenfeld, a Hudson Institutefellow and the author of Necessary Secrets: National Security, the Media and the Rule of Law. Arguing against the motion: Alan Dershowitz, a renowned civil-libertiesattorney and consultantto JulianAssange's legal team, and David Sanger, the New York Times' chief Washingtoncorrespondent and an integral part of the Times' WikiLeaks coverage team. John Donvan is the moderator of Intelligence Squared U.S., and Dana Wolfe is executive producer. For more information and tickets, visit Intelligencesquaredus.org.
---