The Internet, for so long a visual and auditory medium, is increasingly a tactile one. Anyone who uses an iPhone, iPad, Droid, or other touch-screen device knows the great pleasure of racing through the Web with their fingertips, expanding the teeny, pinching the huge, swooshing away the lame, and poking everything in sight. Slate has embraced the tactile web with both hands: We have great free apps for the iPad and Android as well as an iPhone app that's about to get a makeover.
Today, Slate is launching a new version for the hands-on Web: a swipe-able version of Slate designed just for tablet users. Until now, tablet users have had a couple of choices when it came to Slate. iPad users could download our free app. Non-iPad tablet users or iPad users who didn't want to bother with an app could use the traditional browser version of Slate. But that browser version is optimized for a keyboard and mouse, not a touch screen. So now there's a third choice. Starting today, when you navigate over to Slate from a tablet, you'll be shown a swipe-able, tablet-optimized version of the site.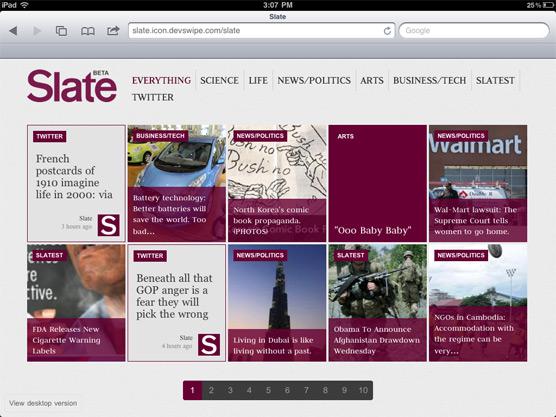 This site, developed for us by OnSwipe (and sponsored at its launch by Sprint), works slightly differently from traditional Slate. Instead of our typical table of contents, this new tablet version shows everything Slate has published in a grid, displayed in reverse chronological order. You can sort the site by section, viewing all of our Arts stories, for example, or everything from The Slatest. One cool new feature: You'll see that some of the boxes in the grid contain tweets: Tablet Slate pulls in recent Twitter commentary about our stories.
Navigation through the site is dead-simple: Horizontal swipes take you from one page to the next and from one story to the next. The Slate logo at the top takes you back to the home page. There are four action buttons on the bottom right. The speech bubble allows you to see all of the recent Facebook and Twitter activity about a story. The arrow button allows you to share a story via Twitter, Facebook, or email. The heart button allows you to save stories for online or offline reading. And the rocket ship button shows a page of related stories. If you decide you prefer the traditional browser version of Slate, you can poke the "View desktop version" button at the bottom of the screen and it will take you there.
You'll notice that we've labeled tablet Slate a "beta." It is a work in progress. For example, you can't comment on Slate stories on the tablet platform. We're working on that! Please swipe, poke, and pinch us to your heart's content, and if you notice other kluges or bugs, tell us about them by email at mobile@slate.com.
---