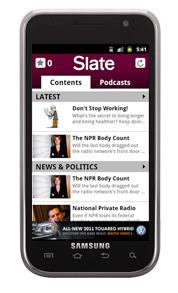 Slate is proud to present our new, free mobile app for Android phones. The app—which devoted Android fans have been clamoring for ever since we launched our iPad and iPhone apps—lets readers keep up with Slate's analysis and commentary no matter where they go. (And even if they eschew Apple mobile devices.)
Download Slate's Android app here.
The new app, sponsored at launch by Volkswagen, lets readers enjoy our articles and blogs with Android-friendly navigation designed especially to allow for easy browsing. It's studded with illustrations and photography. It also allows Android users to stream Slate podcasts (no iTunes required). And if you find a story you can't resist while waiting online at Chipotle, you can share it through Facebook right from the app or save it to read later, offline or on Instapaper.
Give Slate's new Android app a try. And post any thoughts or suggestions about the app in the comments below, or send them to mobile@slate.com.
---