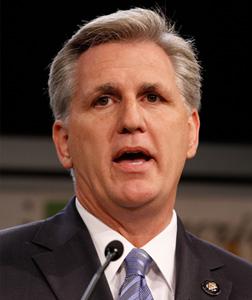 The battle over the first continuing resolution to keep the government operating didn't end with as much drama as some reviewers would have liked. Like most sequels, CR2 is likely to be even less dramatic. This time, Congress and the White House are facing a March 18 deadline, but all signals point to an agreement before then that will keep things running for two or three more weeks.
The big question is where the flag will come to rest in the tug of war between Democrats and Republicans over how much to cut in the remaining six months of fiscal year 2010. Republican House leaders have proposed $57 billion in additional cuts. The White House has proposed $6.5 billion. In the end, there will have to be a compromise. In mathematical terms, it will look like this: Democrats will accept  6.5 + X in cuts. Republicans will accept 57 - Y. Both sides have said they don't want a shutdown, and no one is saying it's all or nothing.
Finding X and Y is taking some time. The Senate has yet to vote on the proposals favored by the House GOP and White House. (Those votes are now scheduled for Wednesday.) The body will vote down both proposals, because there aren't 60 Democrats and Republicans for either route, so then the deal-making for the Goldilocks route can continue. But there are only 10 more days until the government has to shut down. That's not enough time. So the White House would like to agree now to an extension after March 18.
Coming to an agreement now, rather than pushing right against the deadline like last week,  gives negotiators more time to work on the underlying issues. Also, it means President Obama can take his trip to Brazil on March 18 without looking like he's skipping town while a shutdown looms. (Remember all those trips he had to cancel during "turning points" in the health care fights?)
At a breakfast with reporters this morning sponsored by the Christian Science Monitor, House GOP Whip Kevin McCarthy said Republicans were preparing a new funding mechanism that would keep operations open for two to three more weeks with cuts of about $2 billion per week. At three weeks, that nicely matches the $6.5 billion the White House has already suggested cutting (though John Boehner says this figure is inflated). A House leadership aide says they'd rather the money come out of earmark slush funds and some other cuts already proposed in the budget Obama proposed. Wherever the money comes from, the White House is not going to put up a big fight.
The dance steps seem pretty clear—everyone just has to go through them. But when this dance is over, say administration sources, that's it. The next debate will be more contentious. The president recognizes that these mini-funding mechanisms simply allow Republicans to get what they want in installments. If they continue, nearly $60 billion will be cut, and a big stretch of time will have been wasted.
So does this mean the president will come on stage to join the fight? He's already been on stage, say White House aides, it's just not the stage the pundits are watching. Obama traveled to Boston today to promote his plans for education to make America more competitive. That's what the White House wants the budget fight to be about: big economic priorities and the themes Obama outlined in his State of the Union address. "A budget that sacrifices our commitment to education is a budget that sacrifices our country's future," said Obama. "It is a budget that sacrifices our children's future, and I will not let it happen. I will not let it happen."
House Republicans would like the president to be more specific about the resolutions they're debating this instant. "Where is the president's proposal?" said House Majority Leader Eric Cantor, recounting a conversation he had with the White House Chief of Staff William Daley. Right now the public budget fight is about smaller things: continuing resolutions, funding levels for Planned Parenthood and public broadcasting, and so on. Important, perhaps—but also not the kind of fights the president can afford to wage if he's to have any stature left for the big fights he wants to have.
A full Hollywood version of the Budget Battle is coming. The stars are attached to the script. We're just going to have to wait a little while longer for it to go into production.
Become a fan of John Dickerson  on Facebook.
---