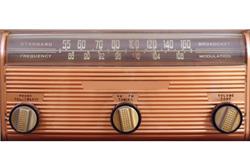 On Sunday's Meet the Press, NPR's Michele Norris argued that in Indiana, "if public broadcasting went away, there are people in small towns … that would not have access to news." The chairman of NPR's board, David Edwards, made the same argument last week. Are there really places in America where NPR is the only available news source?
Well, the only available broadcast source. The Corporation for Public Broadcasting counts 12 public radio stations that are the only radio or television broadcasters within a 50-mile radius. Nine of those stations are in Alaska, two are in West Virginia, and one is in Texas. The network also maintains transmitter networks that relay NPR affiliates' signals to distant parts of sparsely populated states, like South Dakota. (While there are anecdotal reports of other NPR-only zones all over the country, these claims are hard to assess. Broadcast availability depends on such local factors as topography and weather, and two homes separated by a hill might get different stations.)
Of course, rural Americans can buy a print newspaper, and those with a computer can probably dial up to the Internet. The Universal Service Fund provides subsidies for telecommunications companies to install land lines in remote areas. Today, the vast majority of the 5.6 million households (PDF) in America without telephone access are in their situation because of poverty or bad credit rather than geographic isolation.
In areas that get only one radio station, broadband is probably not coming along anytime soon. According to the FCC, broadband communication lines still haven't reached 24 million Americans, so they can't get high-speed Internet—that's four megabits * per second or faster—no matter how much money they're willing to spend. Television is more widely available. Today, 98.9 percent of American households have a TV set and receive at least one station.
Concerns over getting news out to the boonies are as old as the republic itself. The Founders cared—that's why they gave Congress the power to install post offices and post roads in Article I, Section 8, of the Constitution. The Communications Act of 1934 included provisions to push radio and telephone service into remote communities. And advocates for NPR have argued that it's a crucial information source for rural Americans since funding battles began decades ago.
Got a question about today's news? Ask the Explainer.
Explainer thanks Emerson Brown of NPR, Stacey Carp of the Association of Public Television Associations, Brian Dietz of the National Cable & Telecommunications Association, Mark Fratrik of BIA/Kelsey, Ed Malecki of Ohio State, Kathleen Mathus and Nicole Mezlo of Nielsen, Kim Myers of Arbitron, Jorge Reina Schement of Rutgers, Sharon Strover of the University of Texas, Marsha Ann Tate of Tate Research and Consulting Services, and Mark Wigfield of the FCC.
Correction, March 17, 2011:The article originally mischaracterized the FCC's definition of broadband Internet as four megabytes per second or faster. In fact, it is four megabits per second or faster. (Return to the corrected sentence.)
---