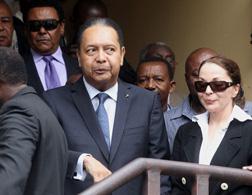 Former Haitian dictator Jean-Claude "Baby Doc" Duvalier returned to Haiti on Sunday. According to the BBC, Duvalier—who was ousted in a 1986 popular revolt—is unlikely to actually regain power, but his presence could lead to "further instability" and hurt Haiti's chances at constitutional rule. Are there other ousted dictators who might be planning a come back?
Why, yes—but they're unlikely to succeed.
Name: Moussa Traoré
Country: Mali
Date of Removal From Power: 1991. He was arrested by military officers in response to riots and heightened dissatisfaction with his administration.
Current Location: Mali
Crimes of Note: He ordered the murder of dozens of protesters. He and his family embezzled nearly $350,000 from the Malian people.
Chances of Return to Power: Low. Traoré has no support base within Mali, is old and infirm, and is currently serving out a life sentence.
Name: Charles Taylor
Country: Liberia
Date of Removal From Power: 2003. He accepted Nigeria's offer of asylum in response to growing tension with the Bush administration, which had demanded his resignation.
Current Location: The Hague
Crimes of Note: Taylor is facing 11 counts of war crimes and crimes against humanity at the Hague. While under Taylor's control, Sierra Leone's Revolutionary United Front murdered an estimated 250,000 people. The RUF has been accused of committing acts of cannibalism and burying civilians alive.
Chances of Return to Power: Low. He's under indictment for war crimes. Even in the event of acquittal, he is vastly unpopular with the current Liberian regime and the Liberian people.
Name: Hissène Habré
Country: Chad
Date of Removal From Power: 1990. He was deposed in a revolt led by current President Idriss Déby Itno.
Current Location: Senegal
Crimes of Note: Habré's 1980 war against political rival Goukouni Oueddei left thousands dead or wounded and resulted in hundreds of thousands of refugees. Habré is accused of ordering or sanctioning around 40,000 murders and more than twice as many cases of torture.
Chances of Return to Power: Low. He is wanted by the African Union. He would risk arrest if he left Senegal.
Name: Ibrahim Babangida
Country: Nigeria
Date of Removal From Power: 1993. He lost an election.
Current Location: Nigeria
Crimes of Note: He is suspected of having a role in the 1986 murder-by-letterbomb of magazine editor Dele Giwa. He is also believed to have accepted bribes and siphoned off public funds for his personal use, although supporters credit him with massively improving the Nigerian economy. He refused to recognize political parties other than the two he had created, and he maintained stringent military rule for the duration of his time in power.
Chances of Return to Power: High. He plans to run for president in the next election and retains a great deal of influence and many political alliances.

Name: Mengistu Haile Mariam
Country: Ethiopia
Date of Removal From Power: 1991. He was overthrown in a popular uprising.
Current Location: Zimbabwe
Crimes of Note: Mariam orchestrated the 1970s "Red Terror," during which tens of thousands of Ethiopians died or disappeared. In his quest to transform Ethiopia into a Soviet-style communist state, Mariam ordered the murder of thousands of intellectuals and political dissidents. His poor policies during the 1984-85 famine resulted in an estimated 1 million deaths. Mariam was tried in absentia by the Ethiopian Federal High Court, found guilty of genocide, and sentenced to death.
Chances of Return to Power: Low. His authoritarian regime turned much of Ethiopia against him, and the military is loyal to the country's current leader.

Name: Juan María Bordaberry Arocena
Country: Uruguay
Date of Removal From Power: 1976. He was deposed.
Current Location: Uruguay
Crimes of Note: In 2010 he was sentenced to 30 years in jail for violation of the constitution in a 1973 coup. He was also charged with the disappearance of nine opposition supporters and the murder of two. Thousands of Uruguayans disappeared during his three years in power.
Chances of Return to Power: Low. He's old and was sentenced to 30 years in prison last year.

Name: Raoul Cédras
Country: Haiti
Date of Removal From Power: 1994. He left "voluntarily" after the Clinton administration threatened to invade.
Current Location: Panama
Crimes of Note: Violently usurped control from Haiti's first elected president, Jean-Bertrand Aristide, in a 1991 coup. His administration murdered an estimated 5,000 activists and may have displaced as many as 400,000. His regime sanctioned rape as a means of silencing female protesters.
Chances of Return to Power: Low. He has no base of support, either internationally or within Haiti.

Name: Manuel Noriega
Country: Panama
Date of Removal From Power: 1989. He was arrested by U.S. forces on drug trafficking charges.
Current Location: France
Crimes of Note: A U.S. Court indicted Noriega on drug trafficking charges in 1992, and a French court sentenced him to seven years in jail last year for laundering up to $3 million in drug money.
Chances of Return to Power: Low. He's in a French prison.

Name: Alberto Fujimori
County: Peru
Date of Removal From Power: 2000. He fled Peru after a bribery scandal.
Current Location: Peru *
Crimes of Note: Peru charged Fujimori with murder and crimes against humanity in 2001. He allegedly ordered the murder of 15 people at a family barbecue in Lima in 1991.
Chances of Return to Power: Low.Fujimori will most likely spend the rest of his life in jail.

Explainer thanks Jennifer G. Cooke of the Center for Strategic and International Relations, Shannon O'Neil of the Council on Foreign Relations, Susan K. Purcell of the Center for Hemispheric Policy at the University of Miami, and Gary Sick of Columbia University.
Like  Slate and the Explainer on Facebook. Follow us on Twitter.
Correction, Jan. 20, 2011: This article originally stated that Alberto Fujimori is currently in Japan. He's in prison in Peru ( Return to the corrected sentence.)
---