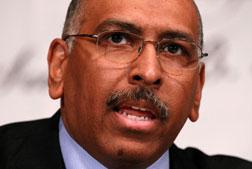 The best way to tell whether a politician is losing an election is to watch what happens when he or she is done talking. If he's in a hurry, he's winning. He has no time for grip-and-grins with voters and no interest in letting a reporter trap him in a gaffe. He has to be somewhere. The guy who sticks around does not have to be somewhere.
Michael Steele did not have to be somewhere Monday. He'd just finished a debate at the National Press Club in Washington with the four people challenging him for the chairmanship of the Republican National Committee. He dived into a scrum of reporters and answered questions ("Were you expecting tougher questions from your rivals today?").
The scrum dissolved, but Steele stuck around, schmoozing with allies and Tea Party supporters. Weekly Standard reporter John McCormack, seeing an opening, asked Steele about the support his RNC had given to territories like Guam, instead of competitive states or congressional districts. This was what people liked to mention when they asked how Steele had managed to leave the RNC $20 million in debt.
"Why do you think it's a zero sum game?" Steele huffed. "Tell me what election we lost because I gave $15,000 to Guam?" He gripped McCormack's arms, a sort of friendly, conversation-ending gesture. "You do the research, and you come back and ask me that question!"
McCormack, somewhat amazed that the chairman was debating this, kept asking about the money that could have gone to closer races.
"We won those close races," said Steele.
"A 70-year record!" said Holly Hughes, a Michigan Republican committeewoman who was shadowing Steele. Her job might have been done by RNC communications director Doug Heye or Steele chief of staff Michael Leavitt, except that both are leaving the RNC.
"We won. The bottom line is we won. Sixty-four seats," said Steele. "So you wanted 65?"
"I think some Republicans would have wanted 65," said McCormack.
"Yeah, but we couldn't count to 39 a year ago!" said Steele.
Steele had been less talkative in recent weeks. He limited his recent interactions with the media to a less-than-brutal interview with Fox's Greta Van Susteren (sample question: "Why are some gunning for you?"). Now he's likely to get a lot more time to talk. On Jan. 14, 168 RNC members will vote for a chairman to carry them through the 2012 elections. According to a Politico analysis published hours before today's debate, 88 of the 168 members will not vote to re-elect Steele. Only about a dozen members showed up to the debate, and Steele received tepid applause from them.
Ed Cox, the Republican chairman in New York, says he soured on Steele after Steele told him that Michael Faulkner, the GOP's challenger to embattled Rep. Charlie Rangel, was only four points down in internal polls. "We acted on that," said Cox. "We used some resources on that race." But Rangel won with 81 percent of the vote. "Whether the chairman just got the facts wrong, I don't know," said Cox, who is now backing Bush administration veteran Maria Cino over Steele
Steele won the RNC chairmanship in 2009 despite nagging suspicions about his executive skills. At the candidate debate that year, held in the same room, Steele supporters hoisted campaign signs. Those signs repurposed the logo from his failed 2006 U.S. Senate bid—the name "Steele," drawn to look like metal bolted into blue paper. The design suggested not that Steele could run a massive organization, but that he was a dynamic political celebrity, which in January 2009 sounded fantastic.
Now Steele's opponents are promising to be the anti-Steele. Reince Priebus, the youthful-looking chairman of the Wisconsin GOP and the contender with the most public endorsements, talked repeatedly and endlessly about how well his party had worked with Tea Party activists. * Michigan committeeman Saul Anuzis described how his party had stopped thousands of absentee ballots from being used in a voter-fraud scheme. Maria Cino took a shot at Steele by comparing his tenure to her time as the RNC's top political strategist in 2004, when it was well-funded and winning. "When we sent 350 volunteers to the state of Ohio in 2004, that's what pushed us over the top," she said.
Steele raised his hand to defend himself. "I think it's a little bit frustrating to hear people talk about fully funding the program," said Steele. "You're right. We didn't have that many volunteers coming out of Washington. We had 200,000 volunteers across the country making millions of calls."
This, to RNC members who felt the 72-hour pre-election strategy had collapsed since 2004 and 2006, was nonsense. Steele had shown a lot more contrition about RNC mistakes in the past. On Monday, he admitted nothing. When moderators asked the contenders what the GOP's biggest mistake of the past decade was, Steele started talking about the party's failure to win nonwhite voters—the very thing he'd pledged to fix when he got this gig.
"We are the party of Lincoln," said Steele. "We are the party that understands the value of the individual. … When we stop talking to our friends in the Hispanic community, and we made assumptions like, 'Oh, they won't vote for us anyway,' we lose." If Steele's about to lose this job, he wants people to know he was right all along, the whole time he's had it.
Watch Bill Scher of Campaign for America's Future and Kristen Soltis of the Winston Group discuss Michael Steele's mysterious hold on power.
Like Slate on Facebook. Follow us on Twitter.
Correction, Jan. 4, 2011: This article originally misspelled the last name of the chairman of the Wisconsin Republican Party. (Return to the corrected sentence.)
---