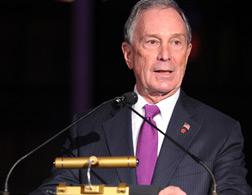 "No way, no how,"lied New York City Mayor Michael Bloomberg when Meet the Press host David Gregory asked him whether he intended to run for president in 2012. Well, maybe "lied" is too strong a word. Had Gregory asked Bloomberg whether he sought, like Caligula, to be crowned a god, I'll bet he would have gotten a straighter answer out of Mayor Mike.
After all, no mere presidency can contain the ambition of a man worth $18 billion. Being president would require power-sharing, consensus-building, and persuasion. Bloomberg, meanwhile, runs the world's greatest city as a personal fiefdom and reports to nobody. If he woke up in the White House tomorrow, every two-bit member of Congress, every over-reaching federal judge, and every journalist in the country would think him their equal and pester him with their demands.
He'd also have to deal with those pesky voters, whose enfranchisement annoys him. New York City voters twice passed initiatives to term-limit the office of mayor, first in 1993 and then again in 1996, when they killed a City Council proposal to extend term limits from two terms to three. But in 2008, when Bloomberg's appetite for power caused him to order a third term from the menu, the council bowed, giving him "his most personal triumph yet," reported the New York Times.
You've got to respect Bloomberg the entrepreneur: He made his fortune delivering high-quality financial data and information to traders. But you'd also be right to be skeptical about what he does with those billions. Just yesterday, his Bloomberg News operation added an editorial section, "Bloomberg View," to his portfolio. Jamie Rubin, one of Bloomberg View's two executive editors, said  in a press release that the section will offer "ideology-free, empirically based editorial positions about the pressing issues of our time." To my ears, it sounds like what they plan to ship is whatever centrist godspeak might be rattling around in Mike's skull.
This isn't the first time Bloomberg has teased the public with the idea of a presidential run. In 2007, everyone thought he was running after word leaked out that a former U.N. ambassador, Nancy Soderberg, was tutoring him on foreign policy. * Bloomberg continues to stir speculation about his political aspirations with appearances on shows like Meet the Press, wherehe denies such aspirations, and with attendance at rallies like the  No Labels conference at Columbia University this week, where he claimed a seat at the very middle of the middle.
Bloomberg—a life-long Democrat who ran for mayor as a Republican before becoming an independent—isn't the first wealthy press baron to exercise his political ambitions. Joseph Pulitzer won a safe congressional seat in 1889 but thought so little of the House that he did not complete his term.
Publisher William Randolph Hearst exhibited more patience for politics. Hoping to win the Democratic Party's 1904 nomination for president, he needed a political springboard and set his hopes on the 1902 New York gubernatorial race. The Democratic Party told him no, but as David Nasaw writes in The Chief: The Life of William Randolph Hearst, the party bosses expressed their "gratitude for Hearst's financial and editorial support" by awarding him the nomination for a safe congressional seat.
Like Bloomberg, Hearst didn't hesitate to spend money freely on the rallies, bunting, bands, and fireworks of a big-time campaign. "The Yellow Fellow has knocked the hoops off his money barrels and is spending it like water," reported the Oct. 29, 1902, New-Yorker newspaper. Elected to Congress, Hearst immediately used his office and his newspapers to plow a path toward the 1904 presidential nomination. But he lost. Like Bloomberg 100 years later, Hearst declared independence from the party system to run for mayor of New York in 1905. He lost that race and three more—New York governor in 1906, New York mayor again in 1909, and New York lieutenant governor in 1910—before quitting politics.
Whether or not Bloomberg the man decides to come to Washington to institute government by Bloomberg, he's placed a claim on the District with an offshoot of his news operation that hopes to do the sort of data-crunching for government that his Bloomberg terminal does for financial data. Named Bloomberg Government—don't you think that has a slightly fascistic sound to it?—it will employ a staff of 150 journalists and analysts by the end of 2011 and will charge $5,700 per user.
Washington has long been a magnet for wealthy people who thought they'd make enlightened officeholders. H. Ross Perot ran his campaigns for president, Donald Trump mouths off from time to time about running, and David Koch blew a bundle running as the Libertarian Party's vice presidential candidate in 1980. For millionaires who haven't known what to do with all of their free time, the Senate has operated as a faux social club for people like Jon Corzine, Jay Rockefeller, Elizabeth Dole, Edward Kennedy, Howard Metzenbaum, Frank Lautenberg, Dianne Feinstein, and Herbert Kohl. * Bloomberg has sensibly avoided joining this band of losers. He's an imperial club of one, and he likes it like that.
Bloomberg spent $108 million on his 2009 mayoral campaign and has spent freely on the campaigns of others, giving at least $740,000 over the years, splitting the money evenly between Republicans and Democrats and tossing in a few farthings for independents. Money makes the business of politics work, but having a bunch of your own money doesn't generally make you a good politician. The wealthy—especially successful businessmen who made their own money—grow accustomed to having their way without argument or resistance. They'll gladly trample or fire anybody who gets in the way. But politics doesn't lend itself to that sort of military-command structure, nor does being the president. What fun is it to have your finger on the nuclear trigger if you never get to pull it? Joseph Pulitzer's New York World bureau chief got it right when he endorsed the idea that Pulitzer resigned from Congress because he had "a much better position as editor of the World than any official in Washington."
Although Bloomberg has attempted to make New York City a nanny-municipality with his crusades against calories, tobacco, trans-fat, salt, sugar, and noise, he hasn't generated the negatives that kept Hearst from compiling a winning political record. Journalism scholar W. Joseph Campbell, who has written extensively on Hearst (see Yellow Journalism: Puncturing the Myths, Defining the Legacy and The Year That Defined American Journalism: 1897 and the Clash of Paradigms) *, calls Hearst "a lightning rod for contempt in New York and beyond. Many people despised him for the way he burst on the newspaper scene in New York, disliking him for his self-promoting ways, his flamboyance in spending money, and his disdain for journalistic convention of the late of the 19th century."
Bloomberg has avoided scorn by playing political small-ball, unlike Hearst, who was given to calling for either war or the dismantling of the trusts. By grooming himself as a sensible yet iron-fisted ruler who doesn't want to transform your life—just to nudge you for your betterment—Bloomberg excites no negative passions. In fact, he excites few passions at all. Even taking a stand for a stern and all-embracing speech, he could pass for the world's wealthiest elementary-school principal.
As my Slate colleague David Weigel put it in a 2007 Reasonpiece, Bloomberg doesn't think government exists to keep people safe or to guard their property. He think it exists to make them better people.

And isn't that all God wants for his children?
Correction, Dec. 16, 2010: This article originally misspelled Dianne Feinstein's first name. (Return to the corrected sentence.)
Correction, Dec. 17, 2010: This article originally misstated the title of one of W. Joseph Campbell's books. It is The Year That Defined American Journalism: 1897 and the Clash of Paradigms—not 1896. ( Return to the corrected sentence.) Also, it misstated Nancy Soderberg's title. She held the rank of ambassador at the United Nations but was not the ambassador. (Return to the corrected sentence.)
******
I tried but failed to work a Silvio Berlusconi reference in here. Where should it go? Send ideas to slate.pressbox@gmail.com and salute my Twitter feed. (E-mail may be quoted by name in "The Fray," Slate's readers' forum; in a future article; or elsewhere unless the writer stipulates otherwise. Permanent disclosure: Slate is owned by the Washington Post Co.)

Track my errors: This hand-built RSS feed will ring every time Slateruns a "Press Box" correction. For e-mail notification of errors in this specific column, type the word Caligula in the subject head of an e-mail message, and send it to slate.pressbox@gmail.com.
---