Correction, Nov. 29, 2010: An earlier version of this article used calculations that assumed David Harmer, not Jerry McNerney, won the race for California's 11th District. The article and statistics have been updated to correct for this mistake.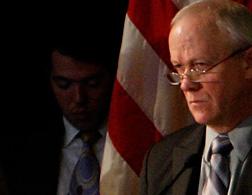 Last time we checked in on Lean/Lock— Slate's election-prediction game—four of the game's 36 featured races were still undecided: the Colorado and Alaska Senate seats, the Illinois governor's race, and California's 11th District. Now, with incumbent Rep. Jerry McNerney's win in the Golden State, we have the final results.
Alaska's three-way Senate race threw Lean/Lock a curveball, since we designed the game for traditional Democrat-vs.-Republican contests. We added the Alaska race in early September, after Lisa Murkowski lost the Republican primary to Joe Miller but before she announced her write-in candidacy. So Lean/Lock players could choose only between Miller and Democratic rival Scott McAdams. Murkowski prevailed, so every Lean/Lock player received zero points for that race, even though many would surely have picked Murkowski if given the option.
Even so, no Lean/Lock player correctly guessed the outcome of all 35 remaining races. Three players barely missed it, guessing 34 races correctly: Jeff Ingebritsen, Brian Hussein Stanton, and Susan Rodriguez. Ten more guessed 33 races correctly.
But because Lean/Lock players received more points if they locked to a winning candidate early, our leaderboard looks quite different. Many players offset a few incorrect picks with extreme prescience in the rest. Congratulations to Lean/Lock's top 10 scorers:
1) Owen Hughes (47,155 points, 32 correct picks)
2) Patrick O. Young (46,280 points, 30 correct picks)
3) Jean-Michel Laprise (45,677 points, 30 correct picks)
4) Doug Dudek (45,597 points, 31 correct picks)
5) Lou Silvers (45,515 points, 29 correct picks)
5) Cory Conrad (45,515 points, 29 correct picks)
7) Jimmy Sunshine (45,445 points, 31 correct picks)
8) David Michaels (45,285 points, 31 correct picks)
9) Joy Wolkovich (45,230 points, 30 correct picks)
10) Max Levine (45,220 points, 30 correct picks)
To see your score, log into Lean/Lock. Because players who joined Lean/Lock the earliest had an advantage over those who joined later, even though we offset that penalty by giving late-comers some points to start with, we also calculated the winners just among the late-comers. Those lists are at the bottom of the article.
How did Lean/Lock players do overall? Not counting Alaska, 74.2 percent of final picks in Lean/Lock were correct. Sure, there were some softballs, like Delaware's race for Senate between Christopher Coons and much-ridiculed Tea Party candidate Christine O'Donnell. But even in the nine Lean/Lock races that Congressional Quarterly considered "Toss Ups," 68.5 percent of final picks were correct. We'll take those odds.
We hope you enjoyed playing. We're already thinking about how to improve the game for the next round of major of elections. If you have suggestions, please leave them in the comments below or send them to slatelabs@gmail.com.
Alternate Standings
Among who joined after 8 a.m. ET on Sept. 2:
1) John Ray (39,510 points)
2) Keith Tarjanyi (38,875)
3) Lucas Brown (38,480)
4) Dan Fagnant (38,305)
5) Armas Cravins (37,900)
6) Matthew Kent (37,595)
7) Anonymous (37,457)
8) Brian Walters (37,245)
9) Adam Gossmann (37,205)
10) Sean Cole (37,200)
Among players who joined Lean/Lock after 8 a.m. Eastern on Oct. 2:
1) Bryan Scott (30,765 points)
2) Vlad Ghenciu (29,990)
3) Carlo Ubaldini (29,835)
4) Chase Cross (29,190)
5) Donnarose Russian (29,135)
6) Evan Stokley (29,127)
7) Rob Anderson (28,915)
8) John Egide Schumacher (28,877)
9) Tammi Rondinini (28,757)
10) Joshua Nye (28,742)
---