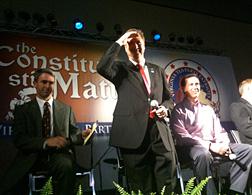 RICHMOND, Va.—On Saturday two men came here in search of the rejuvenating power of the Tea Party. Four years ago, both Rick Santorum and George Allen lost their bids to be re-elected to the U.S. Senate. The 2006 defeats had put paid to their national political ambitions. And both went down to defeat as punchlines, with Santorum's name turned into a sticky curse word by gay activists and Allen tainted by the word he used to insult an Indian-American Democratic tracker, "Macaca."
Ah, but then came the Tea Party. Allen and Santorum appeared before almost 3,000 activists at the Virginia Tea Party Patriots Convention, each recasting himself as a grass-roots hero unfairly maligned by the left. Before and after his speech, Allen stood in a hallway of the Greater Richmond Convention Center, wife Susan by his side, shaking the hands of people who'd voted for him before and were pleading with him to run again.
"We get along very well," Allen tells me. "They've invited me to speak to many of their events."
"You have a voting record that they all very much appreciate," Susan chimes in.
"Oh, yeah!" says Allen. "So many of these things they talk about were things I was fighting for as a delegate." He speaks with genuine-sounding admiration about how much the activists know. "I like these folks that carry around the Constitution."
A few steps away, Dennis O'Connor is handing out the most popular lapel sticker of the weekend: bright orange and visible from 20 paces, it says, "Guns Save Lives," a slogan of the Virginia Citizens Defense League. I ask what he'd think of a political comeback—which everybody now expects—from Allen.
"I have mixed feelings about him," says O'Connor. "He's not … bad. It depends, I guess, on who's running against him."
The Tea Partiers can afford to be choosy. While some in the movement are skittish about the elections next month, most are reading the polls and watching Fox News and finding out about candidate "moneybombs" and fully expecting a Republican landslide.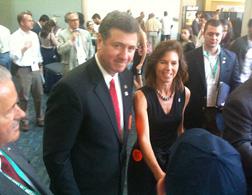 There was nothing to dissuade them in Richmond, at an event co-sponsored by 33 local Tea Party groups. Dick Morris, the former adviser to Bill Clinton turned Republican enthusiasm-peddler, appeared at the conference to announce that Republicans were leading in 10 Senate races, and if the party wanted it badly enough, it could win 100 House seats. He rattled off the names of the Democrats to beat in Virginia's competitive races, but the crowd's reaction revealed where their emotions were.
"You can beat Tom Perriello!" said Morris. * There was an eruption of boos—evidence of the deep unpopularity of the cherubic freshman House member representing Charlottesville and chunks of southern Virginia, who had voted for most of President Obama's agenda. Americans for Prosperity, the Tea Party group that co-sponsored the conference, has anti-Perriello literature at its table.
"And the man who's going to beat him is Robert Hurt!" said Morris. The cheers for that were much, much quieter. Hurt, a state senator whom Tea Partiers tried desperately to beat in the primary, generates next to no enthusiasm among conservatives, who fear he'll sell them out. (Many miss Virgil Goode, the man Perriello beat, who appears at the conference to say that billions of dollars can be cut from the budget "if you don't mind making some people mad.") While Hurt is not at the conference, some of the other establishment-backed candidates are. They aren't as popular as the guys with no chance.
Cases in point: Scott Rigell and Floyd Bayne. Rigell, a car dealer from the Democratic-held 2nd Congressional District, is an increasingly heavy favorite to win in November. No one expects Bayne to win.
At a Saturday candidate forum, joined by independent conservative Kenny Golden, Rigell says nothing to alienate a Tea Partier. He closes the event by reciting Ronald Reagan's quote about freedom being at risk in every generation: "It must be fought for, protected, and handed on for them to do the same, or one day we will spend our sunset years telling our children and our children's children what it was once like in the United States where men were free." Those final phrases reduce him almost to tears.
But the audience in the half-empty hall is only half buying it. "He plays both sides," grumbles Dan Talbot, a voter in the 2nd District who plans to support Golden. "He gave $1,000 to Obama. Maybe he'll be a good conservative, but I don't know."
In the room next door is Bayne, an independent challenging Rep. Eric Cantor, the Republican whip. Cantor is one month away from driving the party to a congressional takeover, but he gets no credit from more than 400 people packed into a too-small venue. Bayne, who recently crashed a Cantor book-signing to challenge him to a debate, wins them over with attacks on the Bush legacy and mad-as-hell answers to questions. For example, what makes him qualified to beat Cantor and serve in Congress?
"I'm old enough," says Bayne. "I live in the state. I don't have a criminal record. My family and I used to own three supermarkets in south Richmond. So I know how to balance a checkbook. I'd say that's a pretty good qualification." That gets a laugh, so he follows it with a line from Christine O'Donnell: "The bottom line is, I am you."
Bayne is bald, goateed, and built like the bouncer at a club with a $10 cover. Rigell is meticulously dressed, hair gone distinguished gray, and introduces himself by promising that he's running "a very media-friendly campaign." So I ask him what specifically he'd do to reduce unemployment if elected.
"It takes seven to nine years to get a wind farm permit," says Rigell. "Now, in Great Britain, it takes 24 months. I have a unique approach to this. Get the relevant department heads together, have them form a team—the EPA, the Department of Energy, the ones that have a stake in them—and challenge them to tighten up the regulations and make them entirely effective."
I ask Rigell a question that Tea Partiers want their members of Congress to ask: What in the Constitution would give Congress the authority to do this?
"Does Congress have constitutional authority to have some influence over natural resources and the topics I'm referring to?" Rigell wrestles with how to answer something so silly. "Absolutely."
I offer Rigell's idea up to Bayne. He dismisses it. "That would be something for the states to decide," he says. "If it's not enumerated in the Constitution, it's the duty of the people and the states."
The man with the more practical idea is the one who'll probably wind up in Congress. But if he wins, he will be swept in by the sort of people who walked the halls on Friday and Saturday. At the same time, those sorts of people—which is to say, Tea Party activists—fully expect to be ignored once the election is over.
"They're going to get the pollsters in there on Nov. 3, Nov. 4," says Steve Bannon, one of the convention's organizers and the director of documentaries that played onsite, "and they'll tell them they won because of the Pledge to America." He refers to the long-winded GOP manifesto with a sort of sneer.
Republicans sure look like they're listening. The Richmond convention, almost totally ignored by the national media, was the biggest such gathering since the start of the movement. Its sponsors included the NRA, FreedomWorks, the Heritage Foundation, and three members of the Virginia Legislature. After hours, attendees who paid $20 were treated to a massive party that conquered most of the ground floor of the downtown Marriott, with themed poker rooms, dance rooms, and one "coffee house" with a troubadour leading singalongs of "Puff the Magic Dragon" and "Where Have All the Flowers Gone." Virginia Attorney General Kenneth Cuccinelli came to pay his respects, as did Reps. Steve King of Iowa and Bob Goodlatte of Virginia.
It's clear to the movement that the Republican Party owes it any victories that come next month. It's just unclear what will happen to the Tea Party after that. "On Nov. 3, the Tea Party movement turns to Chapter 1, Page 1," says Mark Lloyd of the Lynchburg, Va., Tea Party. "Up to now we've only been reading the dust jacket."
Like Slate on Facebook. Follow us on Twitter.
This article was updated at 4:58 p.m. on Oct. 11 to remove Dick Morris' mistaken reference to Tom Perriello's district ("In the first district, you can beat Tom Perriello!"). Perriello is congressman for the 5th District. (Return to the updated sentence.)
---