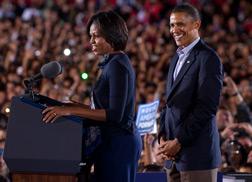 COLUMBUS, Ohio—Two days before Election Day in 2008, Michelle Obama bragged about her husband to a crowd here of 60,000. "Barack has built one of the most powerful political organizations, recruiting millions of folks from all different kind of backgrounds. … He has built one of the most powerful political fundraising machines. … Barack has helped to unify a party that some said could not be unified." He was "more than ready to be the next president of the United States."
Now that he is president, is the machine ready? That was the question Sunday night as Michelle Obama returned to Columbus with her husband for their first campaign rally since they were here two years ago.
The machine sure looked ready. Some 35,000 people stood at the center of Ohio State University in the cool clear night. "O-H," said the first lady when she stepped up to the microphone. "I-O," responded the crowd like it was at a sporting event. "That's very cool," she said, impressed with her ability to get the crowd to react so quickly and loudly.
If only Democratic voters would respond so faithfully. The party will need this kind of organizational triumph on Election Day to rescue the two key races in the state, neither of which is looking good. Incumbent Democratic Gov. Ted Strickland is behind Republican John Kasich by an average of six points in the polls. In the race for the U.S. Senate, Democratic Lt. Gov. Lee Fisher trails former Rep. Rob Portman by an average of 18 points.
The evening wasn't just about Ohio, though. Democrats hope that a show of force here will inspire their voters all over the country to go to the polls in an election where conservatives are highly motivated. The crowd was blasted with light. The event was made for broadcast. A boom camera streamed the event live to the Internet.
Michelle Obama was there to build up her husband, not attack his opponents. By adding her to the event, organizers hoped to rekindle the spirit of two years ago, particularly among first-time college voters. "So tell me something, Ohio. If you are still as fired up and ready to go as you were two years ago, then I know that we can keep bringing about the change that I know, that we all know, we can keep that American Dream alive," she said.
Meanwhile in California, Sarah Palin used the first lady's return to the campaign trail to revive another part of the 2008 campaign. In a rally in San Jose on Thursday, Palin said, "You know, when I hear people say, or had said during the campaign that they've never been proud of America, haven't they met anybody in uniform yet?" As first lady, Michelle Obama has tried to be an advocate for military families. But Palin was referring to Michelle Obama's statement in 2008 that for the first time she was "proud" of her country. (Later Mrs. Obama clarified her remarks to say what she was proud of was the level of political engagement, which was like never before.)
The White House has jumped at chances to attack conservatives from Rush Limbaugh to Minority Leader John Boehner. Michelle Obama is far more popular than Palin. Her approval rating was 65 percent in a recent CNN poll. Palin's is half that, with a 30 percent approval rating in a recent NBC News/Wall Street Journal poll; 48 percent disapprove. But a White House official says it will not respond to Palin. (The first lady has avoided talking about Palin before.) Michelle Obama's approval ratings are good, in part, because she avoids these kinds of fights.
In Columbus, the crowd was enthusiastic, but not at the level of 2008, when the roars at some Obama speeches made you wonder if a touchdown had been scored somewhere. The drop-off is to be expected—it's not a presidential-election year, and reality has intruded on the vague dreams of the last election. As President Obama admitted, "Let's be honest. This is a difficult election."
Obama wasn't just referring to the difficult economy. He knows that his supporters are disappointed with his performance. A recent AP poll shows that only 36 percent of Obama backers who expected change in Washington now think it can happen.  At the rally and later reception for Strickland, the president addressed that disappointment directly:
"I understand that some of you when you think back—you know, election night looked so good. Inauguration day, Beyoncé was singing. Bono was up there. And everybody had a good feeling. And then, you know what happens is, we start trying to solve these problems, and it doesn't happen as quick as we want. Suddenly the other side is obstructing, and people start looking around and seeing a family member of mine is still losing a job or another foreclosure sign has gone up in my neighborhood. And you're seeing all these TV ads and politicians are tearing each other down. And pundits are saying you can't really change politics. I know—I know it gets discouraging sometimes.  But don't let anybody tell you this fight isn't worth it.  Don't let them tell you you're not making a difference."
His voice hoarse, the president focused on the danger of giving Republicans control of Congress, as he has for the last several months. He said Republicans would reverse major achievements like health care reform and new financial regulations, putting special interests back in control. "The empire is striking back," Obama said about the GOP and their corporate backers. "To win this election, they are plowing tens of millions of dollars into front groups. They are running misleading negative ads all across the country." After 15 minutes of laying out the horrors of GOP control, the president said, without apparent irony, "The other side is playing on fear. That's what they do."
The president's pitch ended on a note of inspiration. Change takes time and patience and perseverance, he said: "Nothing in America has ever been easy. The very founding of this country was hard." He then wrapped the audience in the blanket of American history: The challenge of the moment calls for the same spirit that pulled Americans through the Civil War, slavery, World War II, the fight for workers' rights, and the civil rights movement. The rallying pitch approached the rhetorical power that was commonplace during 2008, when Obama called on voters to make history by electing him. This election, making history will be harder.
Become a fan of Slate  and  John Dickerson  on Facebook. Follow us on Twitter.
---