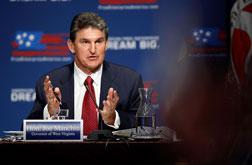 MORGANTOWN, W.Va.—It is pitch black outside of the television studio, but Gov. Joe Manchin can be spotted at 40 paces. He's the tallest and best-coiffed member of a well-dressed entourage moving inside for the only televised debate of this U.S. Senate campaign. He's the one inspiring two cheers and one jeer.
"Man-CHIN!" chants one group of young Democrats with signs. "Go Joe!" chants another group. They are all waving Manchin's sign, which has his name gently rolling over a mountain.
The Republicans are chanting something else: "NOBAMA!" Their biggest sign, bigger than their signs for Manchin's opponent, John Raese, is all black with white text: "Obama Says 'Vote Democrat.' "
And there's your West Virginia campaign for U.S. Senate. On one side, an immensely popular governor, who has won 64 percent and 70 percent of the vote in his two bids for the office and who presides over a state with an unemployment rate a full point lower than the national average. It's about half what the rate was during the last great recession, in the early 1980s. "If you look at West Virginia," Manchin says to reporters, "who ever would have thought we'd be the financial beacon of hope for the country?"
On the other side of the ballot, though: a Republican. This is almost all that matters about him. Polls have President Obama's approval numbers here in the mid-20s. Even though cap-and-trade has gotten nowhere in the Senate, there is anger about the EPA; anger about guns; anger about what is seen as a war on the coal industry. Raese beat Manchin to the airwaves by five weeks, accusing him of being a "rubber stamp for Obama."
But about coal. Drive through the state and you're buffeted with radio ads from the West Virginia Coal Association that explain how everyone is connected to the industry; they end with a dangerous-sounding male choir singing: "Coooooooal is West Virginia!"
"The coal industry," says West Virginia's AFL-CIO Secretary-Treasurer Larry Matheney, "has with little doubt succeeded in, uh, sharing its views with the public about the importance of coal."
Another ad features Mike Stuart, the state GOP chairman, delivering a monologue on how the state's habitual Democrats must wise up and vote Republican. "Our country's broke, livin' on borrowed time and borrowed money," says Stuart, dramatizing his script like a War of the Worlds audio play. "Liberals have the economy in a tailspin. Obama has been a terrible president. You have a right to be angry. Just like you, we're sick and tired of the liberals wasting our money. We can change it, but we need votes. Lots of votes."
The Democrats of West Virginia are not trying to survive by changing the voters' minds about all of this. Their strategy—Manchin's strategy—is to agree that their anger is legitimate, but to argue that the Democrats will channel it, too.
In Morgantown, home to both West Virginia University and Raese's real estate and business empire, a semi-retiree named John Rittenhouse waits at a desk in The Living Room, the Christian sitting room he helps manage. On the TV, there's a never-ending tape of devotional quotes and music. On the walls, 12 stills from The Passion of the Christ. On a table, an assortment of baked goods, which will disappear once hard-up workers and homeless people arrive.
Before they do, Rittenhouse explains that he wishes "they'd abolish all the parties," but that he has to vote Republican this year. "I'm really fed up with Obama," he says. "I'm for anyone who's against Obama. I hate to say it, but I might vote a straight Republican ticket, because I don't believe in communism."
He has to vote against the Democrats for economic reasons, but it's tough. He likes Manchin. He likes Mike Oliverio, the Democratic state senator who knocked off Rep. Alan Mollohan in the spring primary and is now running a pro-life, anti-debt campaign. "If either of them won, I could live with it," he allows, and that's partly because both candidates are pro-life Catholics who could possibly sympathize with Rittenhouse's view that evolution is a myth. "I think we still have dinosaurs," he explains. "All these so-called myths, and monsters, they're real."
Down I-79, in Manchin's home town of Fairmont, there's more openness to supporting his campaign. Inside the local Democratic club, where a $25 yearly membership fee will buy access to a bar, cafe, and slot machines, a retired Army translator named Andy Kavanaugh, drinking a $1.50 glass of Yuengling, gives Manchin credit for "holding off the downturn in the state." The Republican argument, he says, makes no sense. Manchin is the governor who made coal the state's official rock and who has never actually come out for cap-and-trade, only making some positive noise about a carbon tax. The argument that he'll turn into a rubber stamp for Obama, he says, doesn't jibe with Manchin's record.
"That's just fuckin' crazy," he says. "He'll be good no matter what the hell he does."
But the Democrats, who own every lever of power in the state, can't count on that kind of faith anymore. I talked to Oliverio before the debate. Seated in his Morgantown office, wearing a polo shirt striped with the WVU colors, he gestured to a sign he has (there's an iPhone app, too) enumerating the size of the national debt. He launched his campaign in front of the office of public debt; he launched the campaign, in part, because polling showed that Alan Mollohan could no longer win, but a conservative Democrat could. This election, he says, is a chance to "show the country what West Virginia Democrats are." One example of that: "The EPA is an agency of the federal government, not an agent acting on its own, and it has to realize that."
Once the debate starts, Manchin demonstrates the skill and strategy that could return him to the lead and make him West Virginia's next senator. The strategy is, more or less, class war. Manchin frames the debate as a choice between a rapacious businessman and a politician who name-checks FDR and Robert Byrd and speaks with pride about the earmarks and economic protections brought to West Virginia.
Raese is a perfect foil. He has made three runs for statewide office, coming close twice but never winning. He has not responded to these setbacks by moderating his views or thawing out his speaking style. It's the speaking style of a very well-off and well-educated man, not a bellowing populist. In the debate with Manchin, Raese leans on the phrase "I find that concerning." He knocks Manchin's spending habits by saying "he is for stimulus, here, in the country." And he pronounced global warming "a myth, I say, a myth." It feels like the manager of a rock band deciding that this gig can't be so hard, and awkwardly trying it out himself.
The Democrats' hope is that Raese misses his opportunities to out-populist Manchin. It nearly happens in the debate. Raese answers a question about the minimum wage—the Manchin team has tried to make an issue out of his opposition to it—by arguing that abolishing the minimum wage would lead to higher wages. "I want a better wage for everybody," says Raese, "and we have, in this country, to start lifting jobs and manufacturing where they should be. Not like Manchin and Obama. They enjoy people working for $7.25."
In a great year for his party, Raese isn't doing anything to soften or disguise a hard ideological libertarianism. Manchin sees an opening there, a way to blunt the Republican surge by selling himself as a budget-cutting, job-creating New Dealer, if there can be such a thing.

"I'm sure that [Raese] opposed regulations on Wall Street, too," says Manchin after the debate. "This recession didn't happen because someone was trying to meet the needs of Main Street. It was because of the greed of Wall Street."

There is some space for Democrats to win here. The Republican surge in West Virginia, as much as it is in other states, is not based just on anger about the economy, but on anger that the Democrats have done too much for Wall Street and have cut Medicare to pay for health care. Those are not conservative positions, per se. They just make voters furious. And I asked Manchin how he can convince angry voters, who are pledging to boot any and all incumbents and Democrats, that they can hate the establishment and still vote for him.

"I am asking them to think," he says.
---