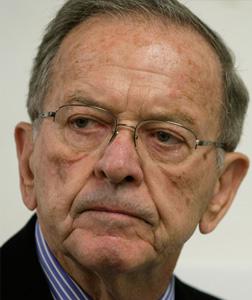 Five people, including former Sen. Ted Stevens, were killed in a plane crash Monday near Lake Aleknagik in southern Alaska. Just a couple of weeks earlier, a military cargo plane crashed at the Elmendorf base in Anchorage. In June, four out of five passengers survived a Cessna crash in Anchorage. And in January, two people died when their plane crashed near Sand Point. Why do planes seem to crash so often in Alaska?
Harsh weather and rough terrain. Storms are especially common in the Aleutian Islands, the Alaska Peninsula, and southern Alaska, with wind speeds of more than 50 miles an hour. Large swaths of the state are also jagged and mountainous, with mountaintops frequently obscured by clouds. And the places with the most treacherous weather and landscape also tend to be most remote, so air travel is the only way to get there. Poor infrastructure doesn't help: Many accidents occur on isolated dirt or gravel air fields, where it's easy for a plane to skid, especially if it's icy or muddy, or on lakes, where it's hard for seaplanes to land unless the water is flat. (About one-third of takeoff/landing accidents in Alaska involve seaplanes.)
Alaska's safety hazards also have to do with how people fly. Commercial airlines do operate in Alaska, but the state relies disproportionately on air taxis and commuter planes, which have worse safety records than jetliners. Private planes are common, too—Alaska has the highest number of pilots per capita in the country. Many of these private planes are single-engine, and if the engine fails, there's no backup. What's more, the National Transportation Safety Board has noted a cavalier attitude among pilots in Alaska, commonly called "bush syndrome." Compounding this problem, airfields in Alaska don't always adequately communicate landing and weather conditions to incoming pilots.
The general aviation accident rate in Alaska is much higher than across the rest of the country. ("General aviation" means private planes, as opposed to commercial airliners, which don't crash in Alaska any more than they do in the rest of the United States.) In the last decade, Alaska had 1,188 accidents, compared with an average of 351 accidents in each of the 50 states. The rate is so disproportionate that the Federal Aviation Administration singles out Alaska in its annual performance goals: In 2009, its goal was to reduce the number of general aviation accidents in the state to 99. Alaska logged 100—down from 108 in 2008, but up from 92 in 2007.
Got a question about today's news?  Ask the Explainer.
Explainer thanks Les Dorr of the Federal Aviation Administration and Keith Holloway of the National Transportation Safety Board.
Slate V: Former Sen. Ted Stevens Killed in Plane Crash
Like  Slate and the Explainer on Facebook. Follow us on Twitter.
---