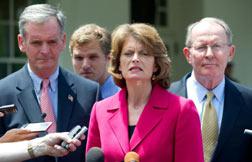 The life of an Establishment Republican used to be simple. If you dodged scandal and could produce polls showing you could get re-elected, the party back in Washington would go to bat for you. You'd win. Your biggest threat came from a group called the Club for Growth, a well-funded political machine that bundles money and bombs the airwaves on behalf of candidates who challenge wrong-voting "Republicans in Name Only"—RINOs. Stay out of the Club for Growth's way, and you're safe.
This is not how it worked in Alaska.
Shortly after Alaska attorney Joe Miller launched his primary bid against Sen. Lisa Murkowski, he met with the Club for Growth to make his case for an endorsement. He didn't get it. "We loved him," says club spokesman Mike Connolly, "and we saw a path to victory for him, but we didn't think it was terribly possible." Miller got down to campaigning, raised money elsewhere, won other endorsements. Polls showed him closing the gap, but not enough for the club to change its mind. Then something surprising happened: On Election Day, Miller edged Murkowski by more than 1,600 votes. The Club for Growth responded by doing something it had declined to do months earlier: On Friday, three days after the election, it endorsed Miller.
Did the mighty club, the terror of Lincoln Chafee and Arlen Specter, err by failing to jump in sooner? Not really. The rules for punishing wayward Republicans haven't changed. But there are more and more people eager to participate in the punishment, and they learn from every coup. Neither party appreciates how much animus exists between Republicans and their party, and how easy it can be to mobilize them against incumbents.
The Republican rank and file figured this out in the 2009 special election for New York's 23rd District. Most of the media covered it as a black eye for the GOP, delivered by the Tea Party. After conservatives like Sarah Palin and Dick Armey endorsed the Conservative Party's candidate over the GOP's well-liked, moderate candidate, the moderate dropped out, and Democrats won the historically Republican seat just in time to get an extra vote for health care reform. At the time, RedState Editor Erick Erickson wrote a much-derided analysis, calling the race a "win" and arguing that "the GOP now must recognize it will either lose without conservatives or will win with conservatives."
Nine months later, Republican insurgents have this stuff down to a science.
Stage 1: Shameless self-promotion. It really isn't hard to convince Tea Party activists and conservative bloggers that your candidate is the real deal and his opponent is an establishment hack. You just need to be subtle about it and make it sound like you're part of a groundswell. And you need to know which activists and bloggers have credibility. On June 16, Joe Miller proved he understood that by calling Erickson. Voila! Miller soon won an endorsement, in which Erickson told readers that Murkowski was "one of Mitch McConnell's loyal lieutenants who he keeps in place to shut down people like Jim DeMint and the fiscal conservatives in the Senate."
Sarah Palin, who endorsed Miller in June, name-checked him on Facebook. The Tea Party Express, which got onboard at the same time, churned out e-mails about Miller, announced its ad buys, and peddled news of this to influential blogs. Ace of Spades, a conservative blogger who's built a following by being funny and training his guns on establishment Republicans, informed readers that he was getting sick of the Tea Party Express's hard sell but that he supported Miller.
"I didn't push Miller the first day they asked because of that annoyance," he wrote. "But the second time, I realized what I was doing: I was taking out my resentment at the you-do-this-for-free conservative organizations against a very good candidate I would otherwise support, just because I was annoyed that it had been decided I was Mr. Cheap Date."
In other words, the hard sell worked.
Stage 2: From campaign to crusade. Outside the conservative media, Miller's campaign was either ignored or treated as a sideshow to the great saga of Sarah Palin's "mama grizzly" endorsements. Inside the conservative media, Miller was only the latest in a string of Republicans treated as heroes. Some of them, like Wisconsin congressional candidate Sean Duffy, scared the Democrats they were running against into retirement. Some, like Senate candidate Chuck DeVore in California, handily lost their primaries.
All of the candidates who caught fire with the base checked off the right boxes—anti-"Obamacare," anti-stimulus, and so on—but more important, they all offered the chance to hassle the "establishment." The more that Senate candidates irritated the National Republican Senatorial Committee, the better. The more that the mainstream media worried about this candidate making politics more partisan and driving David Gergen to tears, the better. Leave it to the party's leadership to worry about appealing  to the middle. The base wants 2010 to be a base election, a referendum on Democratic failure.
If a Republican campaign can win over the influential activists, it can get all the support it needs without the "mainstream media" paying any attention at all. A post about the candidate at HotAir.com or Jim Geraghty's Campaign Spot is enough proof that the candidate has a chance. This is how the Tea Party movement grew—national groups doing promotion, local blogs and tweets confirming what was happening on the ground, and conservative media verifying the story in a manner that convinced skeptics the movement was real.
Stage 3: Driving in the coffin nails. As insurgent campaigns go, Joe Miller's was relatively slow to catch fire. According to Blogpulse, which tracks mentions of names online, there were 43 posts that mentioned Miller last Monday, 63 on Tuesday, and 372 on Wednesday, when it looked like Miller had pulled the upset. But it was after the election that the base's frenzy really mattered. Miller became a cause, not just a candidate, and conservative blogs went into overdrive to attack any hint of a pushback from the establishment—in this case, from the NRSC. By the time the Club for Growth endorsed Miller, conservatives like Erickson had been on the attack for 72 hours.
How much did the base's energy, and the blogs' furor, change what was already a gloomy picture for Murkowski? It's not clear, but according to sources, the NRSC's lawyer for Murkowski left the state Saturday. And it fired up conservatives to e-mail the Libertarian Party of Alaska and weaken the already-faltering interest in the party handing its nomination to the senator.
"We were getting nudged from all sides," says party Chairman Scott Kohlhaas. "It's amazing, because we had barely even considered the idea of nominating her. It was like Seinfeld, a show about nothing."
When the Tea Party and the GOP split in New York's 23rd District, liberals hoped it was the start of a trend—that the new GOP base, powered by blogs, would actually split the movement. In fact, it did the opposite and perfected the old Club for Growth strategy. The smart strategists are turning their Republican candidates into Spartacuses and Davids. The smart partisans like Erickson are creating a feedback loop and getting the base revved up about those candidates. And the conservative base works out its issues by working even harder for the GOP.
---