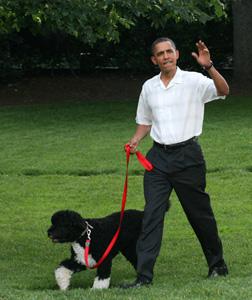 In a few weeks, President Obama will start his summer vacation on Martha's Vineyard. (Before arriving, he'll spend a weekend enjoying Florida's oil-free beaches.) What should he take for beach reading? This is a conundrum for any bookish person, but particularly for the president, whose every move is assessed for meaning. What do Obama's picks say about the state of race in America? How will the independent voter react? Will he use a Kindle or an iPad?
The White House usually releases the president's reading list on the eve of the trip, providing the first item in what the president and the traveling press corps hope will be a week and a half of low-impact news coverage. Last summer we wrote about the meaning of President Obama's reading list. We also wrote about Bush's list. We're threatening to revive the parlor game this year.
But before we do, we'd like to host a contest. We're asking Slate readers to help choose the president's summer reading list. After all, he's received so much unsolicited advice so far, it just wouldn't feel right to leave any aspect of his presidency, however insignificant, unadvised-upon. (The bookstores on the Vineyard aren't likely to miss the chance. They'll send over a basket of books, as they did last year and when Bill Clinton visited as president.)
Your objective is the president's: A set of books that will both entertain and not open him to a lot of grief in the press. The latter may be impossibility, but the public is not too sensitive. After all, President Bush, in the middle of two wars in the Middle East and declining U.S. image in that region, picked as one of his summer reads a tale about a youthful layabout who became an unrepentant Arab killer *: Albert Camus's The Stranger.
Another thing to keep in mind while making your choices is that at least one of the authors should probably be a woman. Obama picked only male writers last year, but this is an election year, and control of Congress may hang in the balance on this crucial question. (Although press secretary Robert Gibbs is not allowed to admit this in public.)
Here's how it will work. On the form below, submit anywhere from one to five books as your choices (feel free to add a brief rationale as well). Or, if you prefer, you can submit your choice via Twitter (in fewer than 140 characters, of course) with the hashtag #obamareads. We'll pick the best ones and publish a list before he leaves for vacation. Here are the categories:
Presidential history: Last year Obama read John Adams by David McCullough. Presidents read about their predecessors for tips about how to do the job but also to put their troubles in perspective. Presidents like Lincoln, Truman, and FDR, now considered great, were also criticized in their time. Ergo, history will prove the current president  right. George Bush made this point a lot. Obama has started to. A president doesn't want to be too literal, though, or the parallels will start to get uncomfortable. With the war in Afghanistan looking so shaky, best to stay away from LBJ biographies.
Fiction: All presidents struggle to escape from the constant pressure of their office. Obama feels this acutely and pines for the simple pleasure of a long walk. Taking a vacation only relieves this condition a little. He probably needs something truly transporting.
Urban crime drama: Last year Obama read two such books—George Pelecanos's The Way Home and Richard Price's Lush Life—so we figure it's a thing with him.
Current events or issues: Last year the president took Tom Friedman's Hot, Flat, and Crowded. At the time it had been on his bedside table for about a year. Given how busy he is, he might still be reading it, but he can't bring it along. It would only highlight that he's not likely to make good on his promise to find the votes for energy reform.
The common touch: Pollsters say voters want politicians to connect with their concerns and way of life. One of the symbolic ways presidents do this is by stopping by sandwich shops and burger joints. Is there a literary equivalent? Or, if you consider yourself one of those people whom the president just doesn't understand, you may submit a book from your own reading list.
We are no longer accepting submissions. Read the results here.
Become a fan of Slate and  John Dickerson  on Facebook. Follow us on Twitter.
Correction, Aug. 5, 2010: This article originally described the central character in The Stranger as "an unrepentant killer of Arabs." The character, Meursault, killed only one Arab. ( Return to the corrected sentence.)
---