Filling out the National League All-Star roster on Sunday, Philadelphia Phillies manager Charlie Manuel picked 40-year-old Arthur Rhodes of the Cincinnati Reds. People who want something to yell about are upset that a 40-year-old relief pitcher was named to the team, while 21-year-old Stephen Strasburg of the Washington Nationals, whose major-league career began a month ago, was left off.
Strasburg has pitched six games in his life, and pitched very well in four of them. He is the game's most exciting, can't-miss prospect in ages? Then let him go ahead and not miss, and he can come back next year when he's done something.
Opportunity comes when it comes. Rhodes strung together 33 consecutive scoreless innings this year. Mostly, these innings did not come at the end of the games. That's when the closer comes out of the bullpen, ready to retire three and no more than three hitters, finish a win, and collect an official save and a fat paycheck. Rhodes has never been that guy. He has only 32 saves in 757 relief appearances, against 41 blown saves.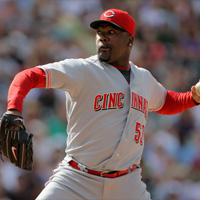 But working mostly in the middle and as a setup guy, Rhodes has 65 wins in relief, a .607 winning percentage, and 232 holds. You have to go deep into the stats to get those numbers, but there they are. Arthur Rhodes gets his job done, and he has been getting his job done for a long, long time.
Arthur Rhodes apparently has a touching off-the-field story, if someone wants to write that. The New York Times reports that Rhodes son died in 2008, at the age of 5, of some illness. Rhodes doesn't say what the illness was, or much more about it except that it is the reason he has kept on pitching, and that "he's my little idol and he's up there." Rhodes does not seem to be interested in making it into an ennobling story about sports and redemption and triumph over adversity. His son is dead.
This is not why I am irrational on the subject of Arthur Rhodes. I am irrational on the subject of Arthur Rhodes because in the summer of 1994, when he was 24 years old and I was 22, and when Stephen Strasburg was 6, Rhodes was trying to break into the starting rotation of the Baltimore Orioles. He had a nasty fastball, up around 94 mph—a moving fastball, coming from a big, young lefthanded pitcher—and a slider that he couldn't quite get into the strike zone. He was up and down between Baltimore and Triple-A Rochester, with a 1-5 record and an 8.83 ERA.
Then, on Aug. 1, 1994, Rhodes got another start in the majors: a complete-game shutout against the Twins. On Aug. 5, he pitched a complete-game shutout against the Brewers. On Aug. 11, he appeared to have given up one run, on a sacrifice fly against the Red Sox, but the game was rained out and the stats were erased.
On Aug. 12, Major League Baseball shut down for the rest of the season, the owners unwilling to come to a labor agreement with the players. The 1994 Montreal Expos, running away with the division title, went on the garbage heap. (The franchise would end up being Strasburg's Washington Nationals.) So did Tony Gwynn's .394 batting average, and Matt Williams'$2 43 home runs.
And so did Arthur Rhodes' future as an unbeatable starting pitcher. Whatever he might have found in the summer of 1994, he lost it over the long winter. When baseball finally started up again in 1995, he was back to being erratic, till for the first time in his career, he got sent to the bullpen. Fifteen years later, he's still in the bullpen. Next week, it will be the bullpen at the All-Star Game.
Photograph of Arthur Rhodes by  by Doug Pensinger/Getty Images.  
---