There are plenty of stinging quotes and anecdotes in Michael Hastings' Rolling Stone profile of Stanley McChrystal , capturing the general's contempt for civilian authority. There's also a telling photo: this shot by official White House photographer Pete Souza of President Barack Obama meeting with McChrystal on Air Force One.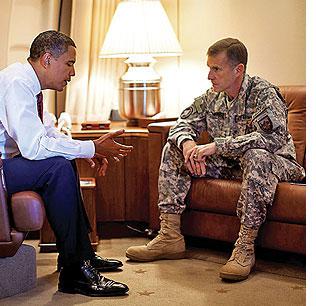 For the occasion, the commander of American and NATO forces in Afghanistan chose to wear a combat uniform, right down to the boots on the airplane's rug. Here, for reference, is General Dwight Eisenhower, meeting with combat troops on the eve of D-Day.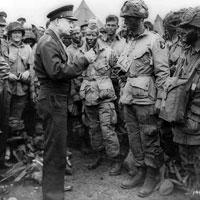 Eisenhower was, if anything, closer to the action than McChrystal was. There was at least a chance that a German bomber or rocket could have hit the patch of soil where Eisenhower was standing. McChrystal met Obama on the runway in Copenhagen, where he had arrived from London.
Here is what the regulations say about when to wear the Army Combat Uniform:
The ACU is not normally considered appropriate for social or official functions off the installation, such as memorial services, funerals, weddings, inaugurals, patriotic ceremonies, etc. The ACU is issued as a combat uniform and is not intended for wear as an all-purpose uniform when other uniforms (Class A or B, dress, and mess uniform) are more appropriate.
Eisenhower was dressed as a commanding officer, distinct from the combat soldiers below him and the civilian authority above him. McChrystal is dressed down to the level of the troops, to distance himself from the commander in chief. He is a warrior, doing things civilians don't understand.
It's not a fake pose. The Rolling Stone piece describes how McChrystal goes out on "dozens of nighttime raids" himself, going bravely into danger with the men he commands.
But it's the wrong pose to take. America is nearly 40 years into a bad and corrupting arrangement, in which ordinary citizens—including me—don't have to be responsible for fighting wars, and Congress doesn't have to be responsible for starting wars, and the military is a professional caste apart. McChrystal is a product of this era of eroding authority. Nobody knows more than the Army knows about the Army's business.

Where does the more-military-than-thou attitude end? Whether he rides along with the troops or not, McChrystal is still less authentic, less aware of What It's Really Like, than the men he commands. Rolling Stone describes the soldiers' disgust with McChrystal's efforts to reduce civilian casualties:

"Bottom line?" says a former Special Forces operator who has spent years in Iraq and Afghanistan. "I would love to kick McChrystal in the nuts. His rules of engagement put soldiers' lives in even greater danger. Every real soldier will tell you the same thing."
The commander, it seems, is not a real enough solder. If he doesn't get fired, maybe he should try being an officer instead.
---