I have no idea what to make of the assault claims against Al Gore. The Talking Points Memo summary of the police-report narrative lurches from the all-too-plausible-sounding ("pleading for release of his second chakra") to stuff that sounds like a particularly over-the-top South Park script ("He put on 'Dear Mr. President' by P!nk").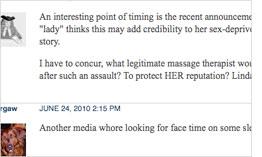 The comments from the Talking Points readership, though, are anything but confusing. They are a textbook presentation of the evil, stupid things people always say in defense of rapists:

Sounds like a load of horse shit. Check if the woman is in sudden need of lots of cash.
---