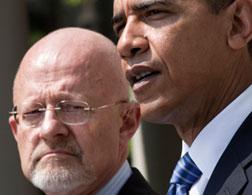 Two key facts have been overlooked in much of the commentary over President Barack Obama's pick of retired Lt. Gen. James Clapper to be his next director of national intelligence.
First, Clapper has very good, long-standing relations with Secretary of Defense Robert Gates.
Second, the Office of the Director of National Intelligence is still a fledgling organization among a gaggle of towering bureaucracies—656 people in a bureau set up five years ago, trying to coordinate an "intelligence community" consisting of 100,000 officials spread out across 16 federal departments and agencies. The only way it can work, at the outset, is through tight personal relationships.
Since the Pentagon controls 80 percent of the intelligence community's roughly $50 billion annual budget, Clapper's relationship with Gates is the main—maybe the only—reason for cautious optimism that the DNI has a fighting chance to do what it was created to do.
And given the close ties between Gates and Obama, it's probably also the reason that Clapper got the nod for the job.
The Office of the DNI, which was created in April 2005, grew out of the 9/11 Commission's report, which concluded that al-Qaida managed to attack the World Trade Center and the Pentagon in large part because of bureaucratic barriers and rivalries that blocked the disparate U.S. intelligence agencies from communicating with one another.
The idea was that a director of national intelligence, reporting to the White House and tasked with coordinating all those agencies, would break through those barriers and break down the rivalries.
From the beginning, many were skeptical, seeing the DNI as just another layer of bureaucracy. These doubts were reinforced as the bill creating the new office got pushed through the legislative meat grinder. Existing departments and agencies, not wanting to give up their own power, maneuvered to strip the new office of meaningful authority. The various congressional committees watered the bill down further.
The telling sign came when then-President George W. Bush asked Robert Gates to be the first director. Gates was torn. On the one hand, he was having the time of his life as president of Texas A&M University after a few decades of government service. On the other hand, he was a loyal friend of Bush's father—for whom he'd worked as CIA director and deputy national security adviser. More generally, Gates was of the generation that felt obligated to salute when a president called.
But Gates turned down the job because he realized that its statutory provisions would give him no authority to hire or fire and very little ability to move money from one agency to another—and, in the world of the federal bureaucracy (which he knew very well), that meant no power. (Not long after, Gates quickly accepted Bush's offer to succeed Donald Rumsfeld as defense secretary.)
This statutory weakness still cripples the DNI today. A report released last year by the DNI's National Intelligence University concluded that the directorate has all the responsibilities of a full-fledged department but none of the power to fulfill them. This past April, at a bipartisan conference on intelligence reform, several high-level intelligence officials made the same point.
Some of these officials said that, ultimately, the DNI won't be able to function as it was intended until it is given real "line authority" over the 16 intelligence agencies—controlling their budgets, coordinating their activities, and hiring, firing, and transferring their personnel.
Meanwhile, some of these formal limitations can be worked around through personal relationships. Retired Adm. Michael McConnell, who was Bush's first DNI, said at the conference that he and the CIA director at the time, Michael Hayden, had institutional conflicts. But, he added, "we were able to work it out because we wanted to work it out. It becomes very dysfunctional if those personalities don't mesh."
Robert Gates is a big believer in personal relationships. When he became Bush's defense secretary in December 2006, Clapper was the first person he brought with him to the Pentagon, making him his undersecretary of defense for intelligence.
The two had met when Gates was CIA director and Clapper was his military counterpart, director of the Defense Intelligence Agency. More recently, and very significantly, Clapper had been director of the National Geospatial-Intelligence Agency, which is in charge of satellite imagery and mapping. In 2005, he proposed moving his agency out of the Pentagon and into the new DNI. His boss, then-Defense Secretary Donald Rumsfeld, angrily disagreed and forced Clapper out of his job.
When Gates brought Clapper back into the fold, he saw a situation ripe for real intelligence reform. McConnell was DNI; Hayden was CIA director; now Clapper was undersecretary of defense for intelligence (he would also soon wear a second hat as the DNI's director of military intelligence). These four men, holding these crucial positions, had known and worked with one another for decades. Here was a chance to break down the bureaucratic obstacles that the 9/11 Commission had identified, if not through statutory reform (which would take decades to evolve) then through personal relationships.
The idea didn't take hold. Hayden was too embroiled in Bush's secret surveillance projects; there was no way that a new president—whether it was going to be Obama, Hillary Clinton, or John McCain—would have kept him on as CIA director. Then McConnell didn't stay as DNI for long, mainly for the same reason that Gates had turned down the job to begin with.
But now, if the Senate confirms Clapper as DNI, here's another chance. Officials say that Clapper has gotten along well with CIA director Leon Panetta. Gates' hope is that the three of them can work out at least some of their institutional differences, and coordinate at least some of their resources, on an informal, day-by-day basis.
As Gates put it at a June 6 news conference, shortly after Clapper's nomination was announced, "I think the president could not have found a better person, a more experienced person, or [a person] with a better temperament to do this job and actually make it work than Jim Clapper."
Which is to say, the president could not have found a closer ringer for Robert Gates.
Become a fan of Slate on Facebook. Follow Slate and the Slate Foreign Desk on Twitter.
---