Also in Slate, Josh Levin asks whether, in the wake of Armando Galarraga's near-perfect game, umpires are really necessary.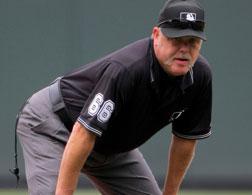 Detroit Tigers pitcher Armando Galarraga was robbed of a perfect game on Wednesday night when umpire Jim Joyce incorrectly called the Cleveland Indians' Jason Donald safe at first base. Joyce apologized for his mistake, but the decision stood.
With columnists around the country calling for Commissioner Bud Selig to overturn the call, Major League Baseball is now deciding whether to reverse Joyce's decision and award Galarraga a perfect game. [Update, 3:10 p.m.: Selig has announced that he will not reverse Joyce's call. The commissioner did add, however, "Given last night's call and other recent events, I will examine our umpiring system, the expanded use of instant replay and all other related features."] What's the precedent for baseball's powers that be overturning an on-field ruling?
It's mixed. There seems to be no known example of the commissioner's office undoing an umpire's safe-out call at first base. The most egregious umpire error in the game's modern history—Don Denkinger's incorrect safe call in the 1985 World Series—was not reviewed or changed.
According to current MLB rules, video replay can be used in only three situations: to determine whether a potential home run is fair or foul, to determine whether a ball has actually left the playing field, and to determine whether a ball was interfered with by a spectator. Those limitations meant that several obvious blown calls in the 2009 playoffs could not be reviewed or overturned. During the American League Division Series between the New York Yankees and Minnesota Twins, umpire Phil Cuzzi called a ball hit by Minnesota's Joe Mauer—that was clearly fair—foul. Then, during the American League Championship Series between the Yankees and Los Angeles Angels, umpire Dale Scott incorrectly called New York's Nick Swisher safe on a pickoff play.
The National Football League has also recently been bedeviled by incorrect on-field decisions that were, by rule, unreviewable. In 2008, National Football League referee Ed Hochuli blew a call that cost the San Diego Chargers a win over the Denver Broncos. Though Hochuli apologized to Chargers fans, the NFL didn't overturn the call.
The baseball commissioner's office has overturned umpires' rulings in the past. In 1983's infamous "Pine Tar Game," umpire Tim McClelland nullified a home run by the Kansas City Royals' George Brett after ruling that the slugger's bat had too much sticky stuff; Brett was called out and the Royals went on to lose the game to the Yankees. Four days later, American League President Lee MacPhail reversed McClelland's ruling, calling the penalty excessive and explaining that "games should be won and lost on the playing field—not through technicalities of the rules." The game was resumed at the point after Brett's home run, and the Royals went on to win. (The NBA also chose to turn back time two years ago, ruling that the last minute of a game between the Hawks and Heat be replayed on account of the referees' failure to keep track of the number of fouls on Miami's Shaquille O'Neal.)
Another of baseball's most-controversial umpiring decisions was not reversed. In 1908, the New York Giants' Fred Merkle became infamous for not touching second base after what appeared to be a teammate's game-winning hit. * (The gaffe is known as "Merkle's Boner.") Despite vehement arguments that Merkle and/or the ball had been interfered with, National League President Harry Pulliam ruled that the call would stand.
Major League Baseball has, though, made some rulings over the years that changed the game's record books. In 1991, a panel led by then-Commissioner Fay Vincent decreed that 50 alleged no-hitters were not actually no-hitters. One of the games that was thrown out of the books was a supposed perfect game by Boston's Ernie Shore; in 1917, Shore retired 26 * straight batters after replacing his teammate, then-pitcher Babe Ruth, who had been ejected after walking the first batter. (The hitter who Ruth walked was subsequently caught stealing.)
Got a question about today's news? Ask the Explainer.
Correction, June 3, 2010: This piece originally and incorrectly stated that a 1908 gaffe by the New York Giants' Fred Merkle happened in the World Series. It occurred during the regular season. (Return  to the corrected sentence.)
Correction, June 4, 2010: This piece also incorrectly stated that Ernie Shore retired 27 straight batters in a 1917 relief appearance. Shore retired 26 straight batters; the first of the 27 outs was recorded on a caught stealing. (Return to the corrected sentence.)
Like Slate and the Explainer on Facebook. Follow us on Twitter.
---