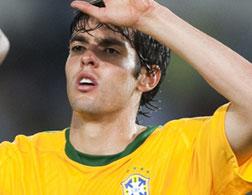 On Friday, the planet's biggest sporting event will kick off in South Africa. During the World Cup in Germany four years ago, the Explainer answered a spate of questions about soccer rituals. Below you'll find a sampling of our previous columns.
Who are those World Cup kids?
The kids you'll see taking the field during pregame ceremonies are "player escorts." The McDonald's-sponsored program selects 1,408 children between 6 and 10 years old from around the world to escort players from all 32 countries in the World Cup. The application process differs from country to country. In England this year, the winners were picked—after a competition sponsored by the Sun—by Sir Geoff Hurst, the only player ever to score a hat trick in a World Cup final. (Click here for a more thorough explanation.)
Why do the players exchange jerseys after every game?
It's just a sign of good sportsmanship. Players have been exchanging jerseys after matches since at least the 1954 World Cup in Switzerland. Players often hope to snag the jersey of an opposing team's star. The most famous exchange came in 1970, when England's Bobby Moore traded shirts with Brazil's Pelé. (Click here for a more thorough explanation.)
What's that magic injury spray? 
There's nothing supernatural about it. The liquid that team doctors and trainers use to treat injured soccer players on the pitch is likely cold water (to cool off an overheated athlete) or a tincture of benzoin (to get a bandage to stick to sweaty skin). It's also safe to assume the spray contains chemicals that freeze and numb the surface of the skin. Still, the restorative powers of the magic spray are thought to be exaggerated by diving players. If the magic spray works on a player who looks badly injured, chances are he's faking it. (Click here for a more thorough explanation.)
What language do soccer players use when they bicker with the refs?
Any language, as long as it gets the point across. It helps to know a few choice phrases from around the world. That way, you can berate a German referee or a Spanish referee with equal amounts of fury. Vulgar phrases, some have said, are the most effective. (In Italy's Serie A, however, cursing out a ref can get you thrown out of a game.) The U.S. national team likely won't have any communication problems when it faces England on June 12. In 2006, all World Cup refs had to pass an English test. (Click here for a more thorough explanation.)
Why do so many Brazilian soccer players go by a single name?
Nicknames and first names are used in all settings in Brazil, even by government officials, clergymen, doctors, and other professionals. So while you won't see Ronaldinho this summer—he was left off Brazil's squad—you will be able to check out Kaká, Robinho, Lucio, and Maicon. In fact, 14 of the 23 players on Brazil's World Cup roster go by a single name. The phenomenon is not totally unique to Brazil. Spain and Portugal also field players known by only one name. (Click here for a more thorough explanation.)
Does Zinedine Zidane know how to use his head?
Self-defense experts say he couldn't have executed his legendary head butt any better. The French superstar, who was ejected from the 2006 World Cup final when he slammed his head into the chest of Italy's Marco Materazzi, showed great technical proficiency. By positioning his feet close to the trash-talking Materazzi, clenching his abs to curve into the blow, and keeping his chin down, Zidane was able to make contact with the top of his balding head. The move, "a forward head butt"— known to street fighters as a "Liverpool kiss" or "Glasgow kiss"—is used most often on an adversary's face. (Click here for a more thorough explanation.)
Got a question about today's news? Ask the Explainer.
Like Slate and the Explainer on Facebook. Follow us on Twitter.
---