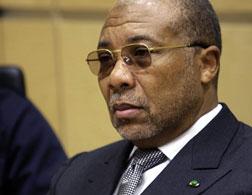 For more than two years, a recurring scene has played out in an antiseptic courtroom in The Hague. Charles Taylor, the former president of Liberia—looking natty in bespoke suits and gold-rimmed eyeglasses, his hair salt-and-pepper—has listened as witnesses have bandied charges and countercharges about horrific crimes that prosecutors allege were committed with Taylor's complicity in neighboring Sierra Leone in the 1990s.
In that decade, Taylor's Liberia was a hub from which violence radiated out through West Africa. His charismatic manner and the grisly crimes his forces were accused of drew international attention. After he began an insurrection with a small band of soldiers in 1989, years of civil war eventually resulted in Taylor's election as the country's president in 1997. (His supporters were said to have chanted: "He killed my ma, he killed my pa, I'll still vote for him.") Taylor didn't invent child soldiering, but he certainly put his own spin on it with his Small Boys' Unit, his personal protection force of devoted, AK-47-armed orphans. It's been estimated that wars Taylor started or helped to fuel resulted in 300,000 deaths.
The prosecution now charges that Taylor wreaked havoc in the region in order to get his hands on some of Sierra Leone's notorious blood diamonds. Taylor was indicted in 2003 by the U.N.-backed court charged with trying those with "greatest responsibility" for the crimes committed during the war in Sierra Leone. That year, with Monrovia besieged by rebel forces seeking to unseat him, Taylor agreed to asylum in Nigeria. He was finally arrested and shipped to The Netherlands in 2006.
For most people, the story ended there. But although Taylor's trial moves at a pace that makes the O.J. Simpson proceedings seem speedy, it is far from staid. The proceedings have unfurled a series of grotesque allegations, bizarre accusations, and unexpected celebrity cameos. In the process, the trial has exposed some of the seamier American connections to a gruesome era in West Africa and the country founded in 1847 by returned slaves.
Beginning in January 2008, the prosecution—led by two diligent, dry American lawyers—spent 13 months sketching a web of connections between Taylor and the rebels in Sierra Leone. Taylor, the prosecution alleged, had buddied up with Foday Sankoh, the now-deceased leader of Sierra Leone's Revolutionary United Front, in Libya in the late 1980s, when both were guests at one of Muammar Qaddafi's training camps. Once back in West Africa, the prosecution claimed, the duo joined together to vacuum up the region's resources while their forces raped, pillaged, and chopped off hands.
The prosecution case depends on proving two things: first, that crimes were committed in Sierra Leone; second, that Taylor had direct involvement in their execution. Of the 91 witnesses called by prosecutors, some of the most disturbing testimony came from Joseph "Zigzag" Marzah, one of Taylor's former Liberian militia commanders. Much of Marzah's time on the stand was spent establishing that Taylor was a truly horrible leader of Liberia. Marzah described roadblocks adorned with human intestines and severed heads and said Taylor had ordered a pregnant woman to be buried alive behind the presidential palace for a sacrifice. He also claimed that Taylor had ordered his Liberian soldiers to eat their slain enemies in order to instill fear in the population. Marzah detailed how human bodies were prepared. "We lay you down, slit your throat and butcher you," Marzah said, "put it in a pot and cook it." Salt and pepper, he explained, are added to taste.
Importantly for the prosecution, Marzah linked Taylor to the war next door, stating that Taylor had him shuttle weapons from Liberia to Sierra Leone to exchange with the rebels for diamonds. The prosecution also connected Taylor to the neighboring war through a radio operator who testified that he had relayed direct commands from Taylor to a Sierra Leonean rebel commander.
Taylor's defense began in July 2009. His attorney, dapper, Jamaican-born Courtenay Griffiths, played the post-colonial card in his opening, blaming Western meddling and even managing to drop in a random Bob Marley lyric. (Griffiths accused the case's first prosecutor of "working inequity to achieve vanity.") Far from being a warlord, Griffiths argued, Taylor was simply a well-intentioned peacemaker who had gotten in the way of British and American geopolitical maneuvering. Once Taylor was elected president of Liberia, Griffiths said, he was so busy that it was "not very surprising if, from time to time, there was something or another which escaped his notice."
When Taylor took the stand for 13 weeks of testimony, he worked to impugn the motives of the United States (which has been a stalwart backer of this particular tribunal). One part of Taylor's biography that has always been fuzzy was how he managed, in 1985, to escape from a Massachusetts jail. (In exile in the United States, Taylor had been arrested on charges that he had embezzled from the Liberian government.) When Griffiths asked him about his "Houdini episode," Taylor, in a roundabout story, implied that the CIA had arranged it so he could go back to Liberia and help lead a coup to install a U.S.-friendly general. (Taylor missed his flight, and the coup began and failed without him.) Taylor also testified that he had given information to the CIA in the early 1990s, when he was leading the rebellion in Liberia.
Some of Taylor's stranger U.S. connections surfaced when he presented his side of the story. One was his relationship with Pat Robertson, who received a Liberian gold-mining concession from Taylor in 1999. (It was, Taylor said, the preacher's "little adventure in Liberia.") Taylor testified that Robertson later lobbied President George W. Bush on his behalf. (Robertson has denied any "quid pro quo.") After conferring with Robertson, Taylor said, he made an effort to gain Bush's sympathy: "We then launched the famous religious program in Liberia called Liberia for Jesus." (At the time he met Robertson, Taylor was a Baptist; in an unexpected twist, he converted to Judaism midway through his trial, thus necessitating his absence for holidays such as Passover.)
Prosecution evidence also showed that during his presidency, Taylor shelled out about $1.5 million to influence U.S. policy. This included $300,000 to Cohen and Woods International—a consulting firm run by George H.W. Bush's assistant secretary of state for Africa, Herman Cohen—and about $680,000 to the law firm Swidler & Berlin, which was run by Lester Hyman, a D.C. lawyer with ties to then-President Bill Clinton. When asked whether spending so much money on lobbying was appropriate for the president of a destitute country, Taylor said such a judgment was "subjective." "I know other governments and friends of mine, presidents, that paid up to $5 million to firms in Washington D.C.," he said. "Most little governments, if you don't lobby in Washington, you really get smashed."
Perhaps the oddest accusation came in the form of a statement from Mia Farrow, who described a 1997 dinner in South Africa hosted by Nelson Mandela. Guests included Quincy Jones, Naomi Campbell, and Charles Taylor. The next morning, Farrow said, Campbell told her that Taylor's men had come to her room to present her with an uncut diamond. The prosecution charges that Taylor was in South Africa at the time to exchange blood diamonds for weapons. If his men did indeed give the supermodel a gift, it would help to prove that Taylor had a supply with him at the time. On the stand, Taylor dismissed the allegation as "Total, total nonsense." (Notably, this is the one part of the trial that has gotten significant coverage. When asked about the incident by Nightlineduring a Fashion Week interview, Campbell responded by hitting the camera and storming away.)
In The Hague, the trial continues. The defense is now calling a series of witnesses to rebut the prosecution's charges. Griffiths has said he hopes to close his defense by midsummer. The case will then go to the panel of three judges, and a decision could come by early next year. In the meantime, an unsettling era in West Africa unfolds to a courtroom sometimes devoid of spectators.
Like  Slate on Facebook. Follow Slate and the Slate Foreign Desk on Twitter.
---