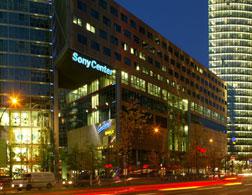 Being inside Berlin's Sony Center is like being inside the Axiom, the huge spaceship that serves as a temporary floating ark for the future human population in Wall-E. It's a vast techno-dome, a shimmering neon-sided bubble that's partially open to the sky, managing to suggest both snug containment and surging upward movement. It houses several restaurants, a Sony gadget store, a Legoland playspace, and three different cinemas with no fewer than 40 screens among them, including a wonderful film museum and cinematheque that's currently featuring retrospectives on Marlene Dietrich and Romy Schneider.
The Sony complex, constructed on a site just yards from where the Berlin Wall once stood, is a place that makes you cautiously hopeful about the future of cinema. What staggering resources they command, these global entertainment behemoths! Just like the Sony building in New York, the German complex can be identified from the street by its crouching figure of Spider-Man. Yet, there's something heartening about the notion that a fraction of Spidey's profits are helping to ensure the conservation of German film history.
Sony has invited me to Berlin with a group of journalists to report on the filming of a new Roland Emmerich movie, Anonymous. Emmerich, who directed 2012, Godzilla, and The Day After Tomorrow, is making a film about the authorship of Shakespeare's plays. * In the movie, Rhys Ifans will play Edward De Vere, the earl of Oxford; with Vanessa Redgrave as Queen Elizabeth; and David Thewlis as her chief adviser. (The cast list doesn't seem to include the man from Stratford as a character.)
As far as I can make out from this letter written by the film's screenwriter, John Orloff, to the Shakespeare scholar James Shapiro, Anonymous will make the case that De Vere was the true author of Shakespeare's plays. This assumption about the movie may be proven wrong when I visit the set tomorrow and hear more, but even if Anonymous remains ambiguous on the authorship question, it's an unexpected career move for the man who just foretold the earth's destruction based on the Mayan calendar to now weigh in on the Stratfordian/Oxfordian debate. Or maybe Emmerich is just upgrading the company in which he wears a tinfoil hat. Two current Supreme Court justices, along with Sigmund Freud, Mark Twain, Orson Welles, Malcolm X, and Keanu Reeves, have expressed doubts about the Bard's identity.
The peculiarity of Anonymous as a project is matched by the oddness of this junket. Why is it happening? I've never before been invited to spend a day on any film set watching the moviemaking process, much less flown to a foreign country for that purpose. Is Anonymous running over budget, threatening to become a white elephant? Did the studio think that, because I found 2012 to be a camp masterpiece of a sort ("giddy, operatic, deranged"), I would be a good candidate to cover Emmerich's new venture in the making? I don't pretend to understand the workings of film marketing. For all I know Anonymous is humming along on budget and on schedule, and Sony is just inviting press for all the normal buzz-building reasons. I do know that Berlin is lovely in the spring, all linden trees and duck-yellow trolley cars, and that after a day exploring the city in a manic fugue straight off the red-eye, I'm curious and excited to spend tomorrow touring the historic Babelsberg film studio just outside the city.
Like Slate on Facebook. Follow us on Twitter.
Correction, Apri 30, 2010: This article originally stated that Emmerich was the director of Armageddon. Michael Bay directed that film. (Return to the corrected sentence.)
---