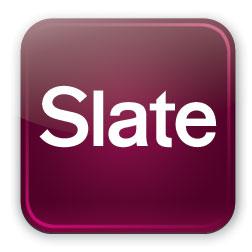 You love your iPhone, but there has always been something … missing. Perhaps it was that long car ride when you wished you had some "Political Gabfests" to listen to. Or maybe it was that three minutes before a meeting when the "Slatest" could have supplied the latest news. Or that 27-hour layover in O'Hare when you almost went insane listening to CNN and eating soft pretzels. How nice it would have been to have Slate in the palm of your hand.
Problem solved. The new SlateiPhone app offers the latest Slate articles, the "Slatest," all of our blog posts, and all of our staff tweets. You can also stream every one of our podcasts and Slate V videos. All of this fresh, surprising content is yours for the price of $1.99. That's half a latte. That's a slice of greasy pizza. That's practically nothing.
But it's not nothing. On the Web, we intend for Slate to stay free. On mobile devices, we'd like you to pay something. You might think of the distinction this way: Our content itself is free, but if you want it in a more convenient, portable form, such as a Kindle feed or a mobile app, we ask you to contribute to the cost of customizing and creating it.
Despite the foregoing, Slate's mobile site, mobile.slate.com, will remain a free way to read Slate articles on the go. But this app offers a truly enhanced user experience: podcasts, video, art, live links, and the ability to read offline. We intend to continue refining it until it's one of the finest procrastination tools in your mobile arsenal. As we do, we would love any feedback or ideas you have for improving it. Please e-mail your suggestions to us at mobile@slate.com or submit a rating at the iTunes store.
Those of us who've been working on the app have had the prototype on our phones for a few weeks now, and we can't get over how much we like using it to consume great Slate content like this, this, and this. So, what are you waiting for? Add Slate to your iPhone or iPod. It's available now at the Apple Store. Your commute just got a lot more interesting.*
* The Slate app is also recommended for long airplane flights, doctor's waiting rooms, boring lectures, jury duty, lunchtime, wisdom teeth extraction, and 3 a.m. insomnia, when you don't want to turn on the light and wake the person next to you.
---